Update - Broadway Shutdown Extends To September 6 - Click Here
Holler If Ya Hear Me - Broadway
HOLLER IF YA HEAR ME, the world inside Tupac Shakur's music and lyrics, blazes to life in a non-biographical story about friendship, family, revenge, change and hope. Inner city lives struggle for peace against the daily challenges they face in this entertaining and original musical. Through the poetry of one of the 20th century's most influential and culturally prominent voices, we are given a window into realities of the streets still relevant today.
HOLLER IF YA HEAR ME, written by Todd Kreidler, directed by Kenny Leon, will begin performances on June 2nd, 2014 (1564 Broadway at 47th Street).
Video preview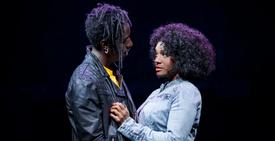 Featured Reviews For Holler If Ya Hear Me
Review: Tupac's Gangsta Rap Comes to Broadway in "Holler If Ya Hear Me" - NBC New York
It's a safe bet that a swath of theatergoers has steered clear of hip-hop -- at least, the kind not scripted by "In the Heights" composer Lin-Manuel Miranda -- because it's gritty, racy and has a perception problem in some quarters. If that's you, then "Holler If Ya Hear Me," the Broadway musical "inspired by" the lyrics of Tupac Shakur, is a chance to correct a grave omission. If, however, you've been on the Tupac train all along, then "Holler,"...is a banner opportunity to stand in awe of a rich canon that, it's difficult to grasp, originated with a man who died at only 25. But the two-dozen songs lushly presented...are threaded together by a fictional story so tired, and so often told, that you can't help but walk away feeling that an opportunity has been missed.
To Be Young, Besieged and Black - New York Times
The beats are sweet, and the words often have an electric charge in "Holler if Ya Hear Me," a new Broadway musical inspired by the lyrics of the popular but troubled rapper Tupac Shakur, who was shot and killed at 25 in Las Vegas in 1996. Unfortunately, much else about this ambitious show, which opened on Thursday at the Palace Theater, feels heartfelt but heavy-handed, as it punches home its message with a relentlessness that may soon leave you numb to the tragic story it's trying to tell.
Holler If Ya Hear Me Broadway Cast