Holler If Ya Hear Me - 2014 - Broadway Tickets, News, Info & More
HOLLER IF YA HEAR ME, the world inside Tupac Shakur's music and lyrics, blazes to life in a non-biographical story about friendship, family, revenge, change and hope. Inner city lives struggle for peace against the daily challenges they face in this entertaining and original musical. Through the poetry of one of the 20th century's most influential and culturally prominent voices, we are given a window into realities of the streets still relevant today.
HOLLER IF YA HEAR ME, written by Todd Kreidler, directed by Kenny Leon, will begin performances on June 2nd, 2014 (1564 Broadway at 47th Street).
Video preview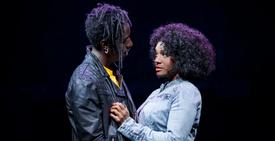 Featured Reviews For Holler If Ya Hear Me
Review: Tupac Shakur musical tests limits of rap - Associated Press
The high-energy, deeply felt but ultimately overwrought production opened Thursday in a blaze of N-words at the Palace Theatre, proving both that rap deserves its moment to shine on a Broadway stage and that some 20 Shakur songs can somehow survive the transformation -- barely...Unlike other jukebox musicals, the songs in "Holler If Ya Hear Me" are rarely ever delivered in the style of the original artist. Instead, the show's creators test their elasticity by turning them into duets or group songs -- and one even gets a folky acoustic guitar treatment. The danger is that the urgent, free verse style of Shakur's very personal songs gets diffused, lightened and flattened...Either way, rap is firmly on Broadway, and that's something to celebrate.
Holler if Ya Hear Me review – all eyez on the exit - Guardian
Pour one out for Holler if Ya Hear Me, the dead-on-arrival Broadway jukebox musical inspired by the lyrics of Tupac Shakur. As Tupac's life rights were unavailable, director Kenny Leon (a recent Tony winner for the Raisin in the Sun revival) and playwright Todd Kriedler have fitted a dozen and a half of his visceral tracks to a profoundly un-engaging story.
Holler If Ya Hear Me Broadway Cast