Memphis: A New Musical - 2009 - Broadway
From the rockin' dance halls of Memphis, Tennessee comes this hot and bothered new Broadway musical with heart, soul and energy to burn. Set in the turbulent south in the 1950s, it is the story of Huey Calhoun, a white radio DJ whose love of good music transcends race lines and airwaves. Get ready to experience all the exuberance and the emotion... the beauty and the controversy... of a wondrous, defining time in our history. You're tuning in to Memphis, so turn up that dial!
MEMPHIS features a brand new score with music by Bon Jovi's founding member/keyboardist David Bryan and lyrics by Bryan and Joe DiPietro (I Love You, You're Perfect, Now Change), who also pens the musical's book. Bryan and DiPietro also collaborated on the current award-winning off-Broadway hit, The Toxic Avenger. MEMPHIS is based on a concept by the late George W. George (producer of the Tony nominated Bedroom Farce and the film My Dinner With Andre), with direction by Tony nominee Christopher Ashley (Xanadu) and choreography by Sergio Trujillo (Jersey Boys).
Video preview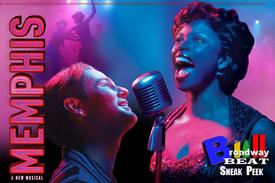 Photo preview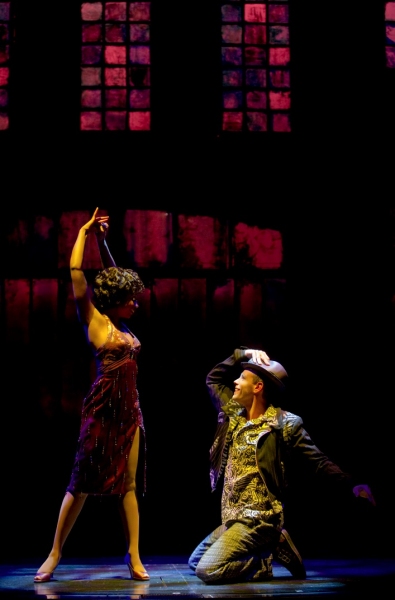 Schedule
Running Time: 2 hours and 30 minutes, with one intermission
Featured Reviews For Memphis: A New Musical
Memphis - On Off Broadway
Occasionally, "Memphis" feels clichéd and reminiscent of storylines already seen in "Hairspray," "Dreamgirls" and "Jersey Boys." But more often than not, its careful balance of pure fun and character drama proves to be irresistible.
Memphis - Entertainment Weekly
On the one hand, the stage design is inventive and fairly lavish, the gospel numbers penned by Joe DiPietro and Bon Jovi keyboardist David Bryan are more than acceptable, and Montego Glover shines as an African American club singer named Felicia Farrell whose socially taboo relationship with Calhoun powers the plot. On the other hand, much of that plot is simply ridiculous, the rock 'n' roll numbers are ploddingly inauthentic, and Calhoun's naivete about the problems likely to be caused by his love for Farrell leads one to believe that he has beamed in from some more racially tolerant time and place (possibly the set of Heathers, given the Christian Slater-ish vibe of Chad Kimball's performance).
Memphis: A New Musical Broadway Cast