Seattle Theatre Legends Collaborate on Pulitzer Prize-Winning Classic THE GIN GAME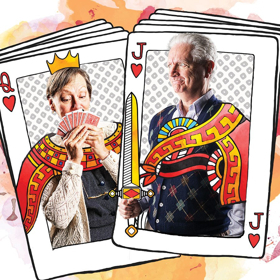 Snappy dialogue and quick wit crackle in this Pulitzer Prize-winning play that was called "the closest thing the theatre offers to a duel at 10 paces" by The New York Times. A collaboration between local Seattle theatre legends Jeff Steitzer (director), Kurt Beattie (Weller), andMarianne Owen (Fonsia), the story follows two strangers who enter into a seemingly harmless game of Gin Rummy. When one goes on an instant winning streak, tensions build within their friendship and the conversation starts to get personal.
"The story is simple," says director Jeff Steitzer, "but as we dig deeper and discover the complexities of these characters we've been really impressed by how universal the story is. And how funny! Kurt and Marianne are two of the most incredible talents I know, and watching them bring these characters to life has been great." Joining Jeff will be real-life married couple, Kurt Beattie and Marianne Owen. "To me," says Beattie, "this is a perfect play. It's funny and heartfelt, and it's really about life. It also continues Village Theatre's tradition of doing these wonderful, open-hearted plays in the midst of their season of musicals."
Seattle residents Beattie and Owen have been active and valued members of the Puget Sound and national arts communities for decades. While The Gin Game marks Beattie's Village Theatre debut, he has been working in Seattle theatre for over 60 years as an actor, playwright, dramaturge, and producer. He is the Artistic Director Emeritus of Seattle's ACT Theatre, and a recipient of ArtsFund's Outstanding Achievement Award, and the Theatre Puget Sound Sustained Achievement Award. Owen has been seen on Village Theatre's stage twice before (Steel Magnolias, Driving Miss Daisy) and is also a frequent performer at Seattle Repertory Theatre, The 5th Avenue Theatre, and ACT Theatre. She performed in the national tour of The Real Thing, is a founding member of American Repertory Theatre Company, and has worked at many prestigious theatres across the country.
Audiences will truly feel as if they are on the sunporch of a home for the aged, with true to life scenic design by Bill Forrester and lighting design by Rick Paulsen. Costume designer Laura Crow will keep Fonsia and Weller grounded in reality as they battle over cards, and Brent Warwick will provide the sound design for the show.
Full of humor, spirit, and more than a touch of warfare, The Gin Game is on stage in Issaquah January 18 - February 25, 2018 before moving to Village Theatre's Everett location from March 2 - 25, 2018. The production is sponsored in part by The Daily Herald, ArtsFund, Microsoft, The Seattle Times, The Shubert Foundation, Snohomish County hotel-motel tax fund, United, Black Label IT, Lombardi's, Pogacha, City of Everett, and City of Issaquah. For more information, or to purchase tickets, please visit http://villagetheatre.org/the-gin-game.php.
About Village Theatre
Based in Issaquah, WA, with operations in Everett, WA, Village Theatre is a leading producer of musical theatre in the Pacific Northwest. Producing entertaining, quality productions since 1979, Village Theatre has grown into one of the region's best-attended theatres, with more than 20,000 Subscribers and 220,000 projected total attendance each season. Through its Village Originals program, Village Theatre is nationally recognized for its contribution to the development of new musicals, having supported the development of over 160 new works to date. Village Theatre also takes pride in nurturing tomorrow's audiences through its Youth Education and Outreach programs, KIDSTAGE and Pied Piper, serving over 58,000 young people and their families annually.
Photo: The Gin Game Pre Production photo.
© 2017 Mark Kitaoka
Property of Village Theatre.

Related Articles View More Seattle

Stories

Shows
More Hot Stories For You