Review: A THOUSAND SPLENDID SUNS at Seattle Opera
Now through March 11th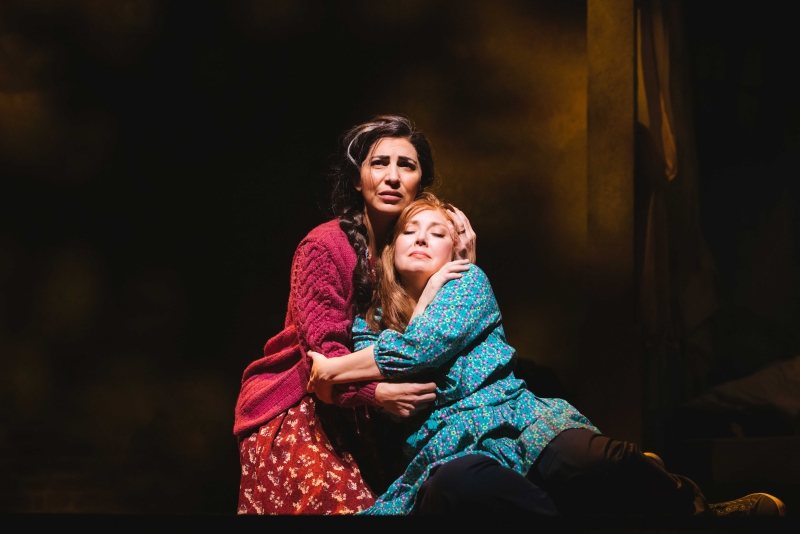 Expectation and electricity spark the air and light the eyes of everyone waiting to witness this moment. With a collaboration of talents from around the world and spanning years of work, Seattle Opera presents the world premiere of A THOUSAND SPLENDID SUNS. Haunting and beautiful, the story and music merge as one in this formidable show. The central truths of hope and love will echo long past the last note and curtain fall.
A THOUSAND SPLENDID SUNS tells the story of two women, Mariam and Laila, who are trapped in a system that leaves them with little to no power or choice over their own lives. Mariam is an illegitimate child and as such an outcast who is forced into an arranged marriage at the age of fifteen by her father. After failing to produce a child, her husband Rasheed turns bitter and abusive. Laila is the young daughter of a more progressive couple that live on the same street. Laila's love, Tariq, is forced to move to Peshawar with his parents as the war with the Russians escalates, but leaves Laila lonely and expecting their child. A bomb kills Laila's parents and leaves her buried in the rubble of their former home. Rasheed rescues Laila and takes her to his home. Rasheed decides to marry the very young Laila in his continued pursuit of offspring. He hires someone to tell Laila that Tariq has died in Peshawar so that she will marry him. Laila, desperate to secure a home for her unborn child, agrees to marry Rasheed but finds no more happiness in the union than Mariam did. At first the two women approach each other as rivals, but soon find mutual companionship in the care of the newborn Aziza and in their disdain for their husband. Their relationship grows to one of mother and daughter, and they seek to support each other in their small world filled with hardship. Rasheed suspects that Aziza is not his daughter and sends her away to an orphanage and spends all his time and money spoiling his long-coveted son Zalmai. The already fractured home reaches a breaking point when Rasheed learns that Tariq has returned and visited Laila. The women are forced to make unimaginable choices in a world that gives them none.
The cast of A THOUSAND SPLENDID SUNS is an indomitable force. Led by Karin Muchegain (Mariam), they tell the story with power and nuance. Muchegain's remarkable voice is earthy and full. She casts a spell over you with her heart-breaking spirit that refuses to lose hope. Soprano Maureen McKay as Laila is full of both girlish charm and determined grit. Her effortless lyricism is enchanting. John Moore as Rasheed seethes with menace and bitterness. His baritone voice is commanding and rich with depth. Rafael Moras brings romance and heartbreak with his soaring tenor tones. Tess Altiveros, Ibidunni Ojikutu, and Sarah Mattox as the Market Women bring some much needed lightness and fun to the show. They each show individual flair, but it is their play off each other that makes the magic of this scene. Undoubtedly the strongest moments of the show come during the duets - Laila and Tariq and then with Mariam and Laila. During these moments, everything was heightened and the storytelling at its best. The connection between these two pairs was palpable. The performance of the orchestra was magnificent, and it was a joy to watch Conductor Viswa Subbaraman.
The creation of A THOUSAND SPLENDID SUNS required a collaboration unlike any other opera. The work begins with the creation of the story by Khaled Hoessini in 2007. His powerful storytelling left a profound impression that fueled the desire to transform the story into an opera. Composer Sheila Silver creates a world-scape of sound that includes Hindustani music, Pakistani classical music, and her own western compositional background. The inclusion of the bansuri flute (Steve Gorn) and tabla percussion (Deep Singh) bring an authenticity to the music. The music is rich and full at times and stark and jolting at others, just like the lives of Mariam and Laila. Librettist Stephen Kitsakos has the monumental task of adapting Hosseini's work into an opera. The libretto is most successful when it echoes Hosseini's language or that of poet Sahib-e-Tabrizi. Kitsakos builds tension and creates an atmosphere of fear and oppression and limits the actual depiction of violence on stage to a minimum, but those familiar with the novel can easily read between the lines. Director Roya Sadat guides the show in such a way as to emphasize the courage of the two women. At times the pacing seems slow and transitions feel labored, but perhaps it is all a metaphor for life in an autocracy where choices and directions are so limited. Act I is all mood, shape, and tone. Act II is action, decision, and revelation. Sadat requires you to have patience and endurance, and that is the first lesson required in order to begin to understand the women of Afghanistan. The costumes by Deborah Trout run the gamut of contemporary to traditional. They reflect a society with one foot in the past and one in the future. The set design by Misha Kachman flows from stark and harsh to lush and detailed. With a revolving centerpiece, we move back and forth from Rasheed's home to the outside world and other places. The transitions often began while the characters were still singing, soon to be hidden behind the mud brick walls, a constant reminder that we do not always know what is happening behind the walls of a closed society.
A THOUSAND SPLENDID SUNS is a story from the past that is repeating today. It is a story of hope and courage and love. Over a decade in the making, this opera represents the efforts and labors of love of so many. Representative Pramila Jayapal, in attendance on opening night stated, "it was a reminder of the importance of what we are fighting for." On a night of magic, we were all reminded that hope and courage live in the cracks between the hard rocks of oppression and subjugation. A reminder that love exists in all places, and the yearning in the hearts of those behind the closed walls will always be a light like that of a thousand splendid suns.