CHOP SHOP Reveals The Dance Artists Featured In The 2018 Festival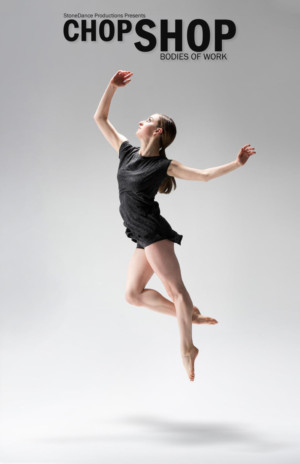 CHOP SHOP: Bodies of Work is embarking on its second decade of providing a platform for outstanding dance artists to share their work with audiences on the Eastside. In 2018 CHOP SHOP presents the work of:
Alicia Mullikin|MORENA // Alicia Mullikin (Seattle)
Bellingham Repertory Dance // Mark Haim (Bellingham)
Courtney Mazeika in collaboration with Marlie Couto (Berkeley) - World Premiere
Kyle Davis (Seattle) - World Premiere
Mari Meade Dance Collective // Mari Meade (Brooklyn) - World Premiere
Spectrum Dance Theater // Donald Byrd (Seattle)
Stewart/Owen Dance // Vanessa Owen (Asheville, NC) - West Coast Premiere
The Stone Dance Collective // Eva Stone (Eastside) - World Premiere
"This year's edition of CHOP SHOP showcases an impressive collection of artists, each with an independent voice in the world of contemporary dance, and we are thrilled to give them a platform to express that voice to the fullest," explains festival producer Eva Stone.
Of the eight dance works and one dance film on the CHOP SHOP 2018 program, four are world premieres and one is a West Coast premiere. Festival performances will be held Saturday, February 17, 2018 at 7:30 p.m. and Sunday, February 18, 2018 at 3:00 p.m., at The Theatre at Meydenbauer Center in Bellevue, Wash. Both performances present the same program. Tickets for the festival go on sale November 24 at brownpapertickets.com.
Alicia Mullikin|MORENA // Alicia Mullikin
Alicia Mullikin is the artistic director of MORENA, meaning brown girl. She has been making work in Seattle for the past five years, recently shifting from her previous company Entropy to a project based entity. Each MORENA project will continue to stem from her personal experiences as a Chicana. The work is enriched by the dancer's own stories. Woven together through lived experiences, truth, and self reflection, MORENA aims to spotlight authentic voices and bring the hustle, grit, and queen spirit to the stage.
Alicia Mullikin is a Chicana choreographer, dancer, and teaching artist. Her work is intrinsically linked to her experiences as a Mexican-American woman. She is dedicated to representing her truth through dance and allows for cultural expression and deeply emotional content to inform her works. Her activism is apparent in her classes and rehearsal processes, where discussions about race and social justice are fundamental. Alicia believes that art and social change are deeply connected, and aids in the development of active thinkers through her teaching. In doing so, she hopes it leads to individual empowerment and global awareness. She is currently on staff at Seattle Academy of the Arts and Sciences, eXit SPACE School of Dance, and Bainbridge Ballet. She was honored to be the 2016/17 guest artist for the Au Collective, a group which spotlights people of color, queer persons, and female artists, and is an eXit SPACE artist in residence for the 2017/18 season. Alicia teaches Intermediate/Advanced Modern Tuesday evenings from 6:30-8:00 p.m. at The NEST at eXit SPACE School of Dance.
CHOP SHOP presents Alicia Mullikin's dance film TRAPPED and live work En brazos entre líneas enemigas. TRAPPED premiered in the Next Fest Dance Film Festival and received the Audience Choice Award. It was also accepted into the Los Angeles Dance Shorts Festival and was a semi-finalist (top 3) in the Paris Music Video Underground Festival. Carrying the voices of a new found community to the stage, Alicia Mullikin's En brazos entre líneas enemigas aims to shed light on the assemblage of experiences that inform their lives. A cast of multi-cultural dancers with diverse dance backgrounds fill the stage with spacious momentum driven phrase work. Staying true to Alicia's movement aesthetic, the dance features daring partner work and bottom heavy dance phrases while bringing a sense of community to the dance through subtle more intimate encounters. This work explores what it means to have your place among people. As a first generation Mexican-American, the straddle of two contrasting cultures has weighed heavily on Alicia's creative path. Searching for a place among her people, either by blood or by choice, Alicia sheds light on the moments your community holds together to lift you up and stands by your side when the fight is nearing. En brazos entre líneas enemigas features an original composition by Seattle composer and multi-instrumentalist Daniel Mullikin. vimeo.com/aliciamullikin
Bellingham Repertory Dance // Mark Haim
Bellingham Repertory Dance 501(c)(3) is a collective of accomplished dancers dedicated to bringing high-quality, vibrant contemporary dance to Bellingham. As a dancer-driven organization, BRD members share performance, administrative, marketing, production, and artistic direction duties. Established in 2005, BRD has built a reputation for producing fresh, engaging, diverse, audience-pleasing concerts that appeal both to established Modern Dance enthusiasts as well as to new audiences. To date, the company has worked with regionally and nationally recognized choreographers, including Wade Madsen, Josh Beamish, Pablo Cornejo, Mary Sheldon-Scott, Deborah Wolf, Daniel Stark, Paige Barnes, Eva Stone, Melissa Rolnick, Dionne Noble, Andy Noble, Lindsey Drury, and many others. Community outreach each season involves two notable youth intensives and the 7-Day Dance Festival, a new choreographic laboratory aimed at involving regional dancers and choreographers.
Mark Haim has been choreographing for over 30 years, and founded his Seattle-based company, Mark Haim & Dancers, in 1984. He served as Artistic Director of Companhia de Danca de Lisboa from 1987-1990 and created new works for dance companies such as the Nederlands Dans Theater, Ballet Frankfurt, the Limon Dance Company, the Joffrey II Dancers, and the Rotterdamse Dansgroep. His works have been performed at the American Dance Festival, the Danspace Project at St. Mark's Church, The John F. Kennedy Center, On The Boards, the ArtDanThe Festival (Paris), Joyce Theater (NYC), and the Nasher Museum of Art. Mark has served on faculty of the American Dance Festival since 1993 and was the Senior Artist in Residence at the University of Washington Dance Program from 2002-2008. He has taught at the NC School of the Arts, University of Illinois, Ohio University, SMU, VCU, Cornell, JMU, Reed College, Simon Fraser University, and for schools and companies in Belgium, Holland, Germany, Italy, Portugal, Poland, Latvia, Russia, Argentina, Chile, and Japan. He is a recipient of many international awards for choreography and study, and is a Fulbright Senior Specialist. He holds a BFA from The Juilliard School and an MFA from Hollins University.
CHOP SHOP presents Mark Haim's Parade, described by the choreographer as "a brooding, atmospheric work for a large group of women, drenched in water, with an ironically appropriate musical twist." bhamrep.org
Courtney Mazeika in collaboration with Marlie Couto
Courtney Mazeika received her BFA in Dance from the University of Texas at Austin. Upon graduation, she moved to the Bay Area to train with Summer Lee Rhatigan at the San Francisco Conservatory of Dance and join Alex Ketley's company, The Foundry. As a freelance artist, Courtney has had the opportunity to perform in various projects including works by Crossings SF, burnsWORK, Project20, UNA Projects, Bobbi Jene Smith, and Tom Weinberger. Courtney has taught and created her own work at a number of schools and companies including the San Francisco Conservatory of Dance, SALT Dance Company, Brigham Young University, and solo commissions for LINES/Dominican BFA program, Booker T. Washington High School, and the Ailey/Fordham BFA program. She currently works closely with Tom Weinberger on new work, commissions, and workshops throughout Europe and North America and she is proudly on faculty at the SF Conservatory of Dance.
Marlie Couto began her dance training at the age of two in San Diego, California. After graduating magna cum laude from The Boston Conservatory in 2013, she moved to the Bay Area to work extensively with Summer Lee Rhatigan at the San Francisco Conservatory of Dance and join The Foundry. As a freelance artist, Marlie has had the pleasure of working closely with and performing works by Christian Burns, Bobbi Jene Smith, Tom Weinberger, Marissa Brown, and Margot Gelber. In 2016, she performed in New York, San Diego, Houston, Austin, Montreal, and San Francisco. Marlie is looking forward to continued collaborations with burnsWORK and Crossings.
CHOP SHOP presents the world premiere of eventually, choreographed by Courtney Mazeika in collaboration with Marlie Couto. The work is part of the ongoing research that is specific to the relationship between the two artists. They have developed a movement partnership over the last five years: from conservatory students to friends, co-workers, collaborators, and roommates. Courtney and Marlie's research together is based on what happens when communication moves beyond paying attention and nears mutual instinct. This duet is fueled by the depth of their history and their shared interest in the rigor of movement research. Together, Courtney and Marlie attempt to examine and organize their sense of care, effort, and levity. vimeo.com/courtneymazeika
Kyle Davis
Kyle Davis is from Green Bay, Wisconsin. He trained at Makaroff School of Ballet and on scholarship at Rock School for Dance Education and North Carolina School of the Arts. Kyle joined Pacific Northwest Ballet as an apprentice in 2008 and was promoted to corps de ballet in 2009 and soloist in 2016. Kyle has also performed as a guest artist with Mari Meade Dance Collective. In 2008, Kyle won the Prix de Lausanne competition in Lausanne, Switzerland. He also won various awards in the Youth American Grand Prix Regional and Finals in 2005 and 2006. He was a 2007-2008 recipient of the Elizabeth Harriet Weaver Memorial Scholarship and the Martha and Spencer Love Foundation Scholarship for Excellence in the Arts at the North Carolina School of the Arts.
In addition to performing with Pacific Northwest Ballet, Kyle has choreographed several works for the Professional Division students at Pacific Northwest Ballet School. In 2017, Kyle was a choreographic resident at University of North Carolina School of the Arts.
CHOP SHOP presents a world premiere work by Kyle Davis.
Mari Meade Dance Collective/MMDC // Mari Meade
Mari Meade Dance Collective (MMDC) was formed in 2009 as the culmination of Mari Meade's Kenan Fellowship at Lincoln Center Education. Since then, MMDC has grown into a team of 13 artists and administrators who rehearse and create work year-round. MMDC has received the Brooklyn Arts Council Regrant and Andrew W. Mellon Rehearsal Subsidy at Triskelion Arts. MMDC's newest work dialogue: a trio was the winner of Spoke the Hub's 2016 Winter Follies and is currently a finalist in the McCallum Theatre's 2017 Choreography Festival. MMDC has shown work nationally and internationally. Highlights include: the Clark Theatre at Lincoln Center; Dance:Access at Danspace/St. Mark's Church (NYC); STUFFED at Judson Memorial Church (NYC); Triskelion Arts (Brooklyn); FLICfest (Brooklyn); Battery Dance Festival (NYC); New Orleans Fringe Festival (LA); Asheville Fringe Festival (NC); Baltimore Dance Invitational (MD); Katlehong Arts Center (South Africa); and Lake Studios Berlin (Germany).
Mari Meade is a Brooklyn-based artist born in California and raised just outside New Orleans. She graduated from the New Orleans Center for the Creative Arts and University of North Carolina School of the Arts (BFA), where she was the recipient of the Betsy Friday Endowed Scholarship in Dance. In 2009, she relocated to NYC as a recipient of the Kenan Fellowship at Lincoln Center Education and founded Mari Meade Dance Collective (MMDC). Her work has been shown nationally and internationally. Meade was awarded the 2017 University of North Carolina School of the Arts Choreographic Institute Development Residency, Doug Varone's Devices: Choreographic Intensive and Mentorship, and was an Artist in Residence at Chez Bushwick (NYC) and Lake Studios Berlin (Germany). She has taught intensives at Kas'Art Exhibition (South Africa) and Lelia Haller Ballet Classique (New Orleans) and master classes at Dance Complex in Boston, Idyllwild Arts Academy, University of Southern Mississippi, and Asheville Fringe Festival, among others. She is currently a teaching artist for New York City Ballet and Dancing Classrooms.
CHOP SHOP presents the world premiere of Mari Meade's dialogue: a duet, an excerpt from a larger work entitled dialogue. Created during the University of North Carolina School of the Arts' Choreography Institute in summer 2017, for which Mari was an awardee, dialogue is highly physical, includes intricate rhythmic patterns, and exhibits a strong communicative sense between the dancers. The two dancers' relationship is alternately catty and flirtatious amidst balletic movement and music that conveys an abstract narrative of aggression, competition, and fraternity. The audience is invited to create their own narrative as the dancers demonstrate gestural exchanges, partnering, moments of camaraderie, tenderness, physicality, unity, and humor. Though MMDC is based in Brooklyn, this duet is a national collaboration-Bekah Downing from North Carolina, Kyle Davis from Seattle, and myself from Brooklyn. mmdcbrooklyn.com
Spectrum Dance Theater // Donald Byrd
Spectrum Dance Theater ignites audiences through the ambitious artistic agenda of Donald Byrd, whose appetite to explore the arts knows no boundaries. The enfant terrible of the New York dance scene of the 1980s and 90s achieved international visibility for the creation of the Harlem Nutcracker and his choreography for the Broadway smash, The Color Purple. No less ambitious in the 21st century, Byrd leads his company through several programming themes that gives an insight into his far-ranging artistic ambition. Under Donald Byrd's visionary artistic leadership since 2002, Spectrum has emerged as a company of regional and national significance.
Donald Byrd, TONY nominated and Bessie Award winner, is the Executive Artistic Director of Spectrum Dance Theater, formerly Artistic Director of Donald Byrd/The Group. He is credited with over 100 dance works for his own groups plus Alvin Ailey, Dayton Contemporary, Philadanco, Pacific Northwest Ballet, Joffrey Ballet, and Dance Theater of Harlem, among others. He's worked with The New York Shakespeare Festival/Public Theater, La Jolla Playhouse, SF Opera, Seattle Opera and NYC Opera. Honors include Masters of Choreography Award (Kennedy Center), Fellow of The American Academy of Jerusalem, James Baldwin Fellow of US Artists, and Fellow at the Institute on the Arts and Civic Dialogue. He was an NEA and Princess Grace Awards panelist, and served as Cultural Envoy for The U.S. Department of State. He currently serves on the SDC Diversity Task Force and SDC Journal Editorial Board, and recently completed his term on the Tony nominating committee.
CHOP SHOP presents Donald Byrd's Geekspeak (or just another dance with dancers wearing socks for no apparent reason). spectrumdance.org
Stewart/Owen Dance // Vanessa Owen
Stewart/Owen Dance was founded in 2012 by Vanessa Owen and Gavin Stewart to foster collaboration between dancers, choreographers, and artists from other mediums. Now based in Asheville, North Carolina, their projects aim to engage communities and maintain an environmentally conscious approach to art and performance.
Vanessa Owen is originally from Amity, Pennsylvania and she received her BFA in Dance from Wright State University in Dayton, Ohio. Vanessa was awarded a 2013-2014 Fellowship in Choreography by the Virginia Commission for the Arts, and her choreography has been presented at Wright State University, the 30th Annual Choreographer's Showcase, YES! Dance Virginia, Velocity DC Dance Festival, Malayaworks' Intersections, Agora Dance, Shenandoah University, The Outlet Dance Project, and Company E. As an artist with Company E, Vanessa worked extensively with the U.S. Department of State as a Cultural Ambassador, taking her to Kazakhstan, Turkmenistan, England, Russia, Cuba, Israel, Palestine, Azerbaijan, and Uruguay. On these tours Vanessa performed and choreographed many concert dance and musical theater productions and led intensives and workshops in contemporary dance. Vanessa now lives in the mountains of Western North Carolina and freelances as a choreographer and dancer.
CHOP SHOP presents the West Coast premiere of Vanessa Owen's Afterparty. This solo explores an individual's struggle to reconcile the person she presents to others with the person she is behind closed doors. This piece gains inspiration from the women's movement of the 60s and 70s, and keeps a sense of humor all along the way. stewartowendance.com
The Stone Dance Collective // Eva Stone
The Stone Dance Collective, directed by Eva Stone, originated in London, England in 1993 and became a permanent part of the Seattle/Eastside dance community in 1995. This project-based company has experienced various stages of activity over the past 20 years, but it is most important to note that cake is served, without exception, after every rehearsal. The Stone Dance Collective has appeared in multiple dance festivals and in all ten previous editions of CHOP SHOP.
Eva Stone's approach to choreography evolved from learning the art form in reverse, choreography before technique, and is unique with its intent based in humor and authentic human connection and emotion. Her work has been presented at On the Boards, Men in Dance, the ArtsEdge Festival, Bumbershoot, and the Seattle International Dance Festival, where she has also served as a guest curator. Her work has been commissioned throughout the Northwest by companies such as Spectrum Dance Theater, Seattle Dance Project, and Bellingham Repertory Dance, and has been seen as far afield as Europe and Russia. As a commissioned choreographer for Regional Dance America/Pacific Stone has created works for South Bay Ballet in Los Angeles, Mid-Columbia Ballet, and Santa Cruz Ballet Theatre. Most recently, her work was commissioned by Pacific Northwest Ballet and Seattle Art Museum for Sculptured Dance, a site-specific dance event held at the Olympic Sculpture Park.
CHOP SHOP presents the world premiere of Eva Stone's A Series of Lies That Tell The Truth. This piece examines the nature and structure of lies and untruths. Some are passed on in error, others with intent. We look to the culpability of the speaker and the dividing lines these words create within our lives and internal/external spaces. facebook.com/TheStoneDanceCollective
About CHOP SHOP: Bodies of Work
CHOP SHOP's mission is to offer insight on contemporary dance and its creative process, in order to forge deeper connections between artists and audiences through presentation, education, dialogue, and experience. The festival is committed to promoting work that is accessible to a diverse audience, comprising both new and experienced dance viewers, and educating the community-at-large through free outreach classes offered through our innovative Experience Dance Program.
Since its founding in 2008, CHOP SHOP has shared and championed the work of more than 300 individual artists from 54 dance companies, welcomed 800+ Experience Dance Program participants to free and open to all ages and abilities dance classes, and invited countless dance students to engage directly with professional artists in over 50 different master classes. Artists featured in past editions of the festival include Spectrum Dance Theatre (Seattle), Joshua Beamish (Vancouver, B.C.), zoe | juniper (Seattle), Adam Barruch Dance (New York City), Kiyon Gaines (Seattle), Grand Rapids Ballet (Grand Rapids, Michigan), //TECTONIC MARROW SOCIETY (Seattle), Price Suddarth (Seattle), Gabrielle Revlock (Philadelphia/New York City), Whim W'Him (Seattle), Donald Sales (Vancouver, B.C.), Mark Haim (Seattle), and Alex Ketley/The Foundry (San Francisco). For more information visit chopshopdance.org.
CHOP SHOP: Bodies of Work is supported by grants from 4Culture, the Bellevue Arts Commission, the Washington State Arts Commission, and the National Endowment for the Arts.
CHOP SHOP: Bodies of Work and StoneDance Productions are powered by Shunpike.
Photo credit: Rachel Neville