BWW Review: Village's MATILDA Big on Talent and Charm but Short on Magic and Flow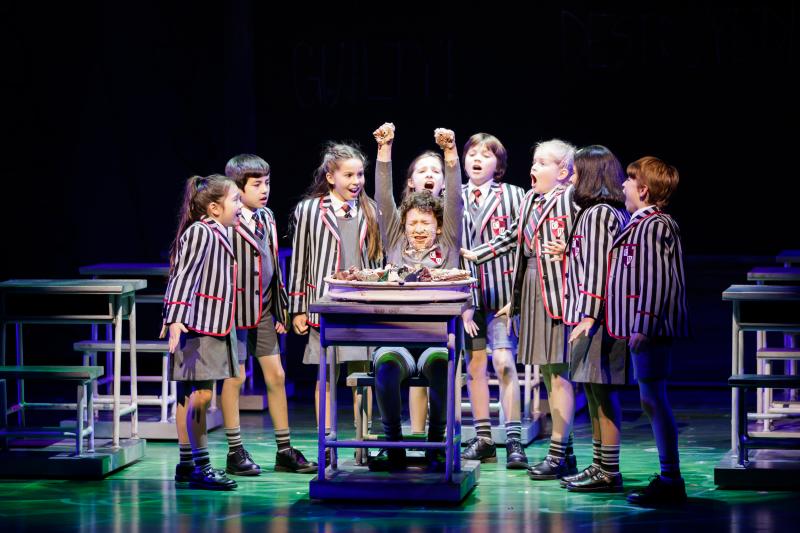 A few years ago, Dear Readers, Seattle audiences were treated to the tour of Dennis Kelly and Tim Minchin's lovely musical version of Roald Dahl's "Matilda". A clever little tuner that managed to go beyond simply adding songs to a beloved book and find the heart of the story. Unfortunately, the complaint I heard most often back then from people who saw it was that they couldn't understand the lyrics owing to a bad sound mix in the theater and a bevy of child actors putting on quite thick British accents. So, if you didn't know the lyrics then maybe you didn't get to know them. Well, Village Theatre has picked up this tale of these revolting children (not a judgment of the kids, it's one of the songs) and while the lyrics are much clearer in the more intimate setting and the talent from the kids and adults alike is top notch (with some excellent diction) the show at times feels like it's striving to find it's rhythm and barely finds its magic.
In Dahl's beloved book we meet the Wormwoods, a horrible family to say the least. Dad's (Chris Ensweiler) a used car salesman looking for his next get rich scheme, Mom's (Ann Cornelius) a vapid bimbo with an obsession on her looks and her dance instructor, and their son Michael (Maddox Baker) seems to only have a few brain cells rattling around due to watching too much TV. And none of them can understand or appreciate the precocious and intelligent daughter Matilda (Holly Reichert) who is all about books and learning at her young age. Matilda thinks her time has come when she's sent off to school and meets the encouraging teacher Miss Honey (Marissa Ryder) but the abusive and controlling headmistress Miss Trunchbull (Basil Harris) wants nothing more than to squash any kind of spirit in these kids. But as Matilda's intelligence grows so does a strange new ability of hers to be able to move things with her mind.
As I said, the talent is there. Ensweiler and Cornelius are hilariously over the top as the worst parents in the world and Maddox may not say much but when he does, it's gold. Ryder is sweet and likable as Miss Honey and has a beautiful voice, but I didn't feel the chemistry with her and the kids. Harris completely steals any scene he's in and not just due to the insane costume by Melanie Taylor Burgess and wig by Douglas Decker. Every look, gesture, or aside from Harris is perfection and a joy to behold. But this is a show about and full of kids. Reichert has a stunner of a voice and definitely has the attitude to back up the little hero. But she didn't feel settled in the role yet. The same could be said for many of the kids as it just felt a bit stiff but I'm sure they'll settle in over time and what they'll have there is wonderful. As for the remaining ensemble, they are fantastic filling in as other parents, older kids, and the occasional Russian gangster. And I must mention Shaunyce Omar as the librarian Mrs. Phelps who was adorable as Matilda tells her a harrowing tale throughout the play as well as to Matthew Posner and Ivanna Wei as the Escapologist and the Acrobat for their stirring moments in that tale.
Director and choreographer Kathryn Van Meter along with Music Director Tim Symons have reportedly been working with these kids for months getting them ready for this and while the talent is there, the flow isn't as it just feels a bit clunky getting that story out. And the magic that's a focal point of the show is fun to see but unfortunately the way it was staged I had no indication that it was Matilda who was doing it.
Overall, I think the show is a fun one and will be a great one to bring the family to for the holidays once they have a little more shake down time. And so, with my three-letter rating system, I give Village Theatre's production of "Matilda" a not quite there yet YAY-. Sure, I could hear them better, but this story is more than just the words.
"Matilda" performs at Village Theatre in Issaquah through December 30thand then moves to their Everett location running January 4ththrough February 3rd. For tickets or information contact the Issaquah box office at 425-392-2202 or the Everett box office at 425-257-8600 or visit them online at www.villagetheatre.org.
Born and raised in Seattle, WA, Jay has been a theater geek for years. He attends as many shows as he can around the country (read more...)