BWW Review: PAGEANT at ACT - a Hilarious Ride from Beginning to ... Well Almost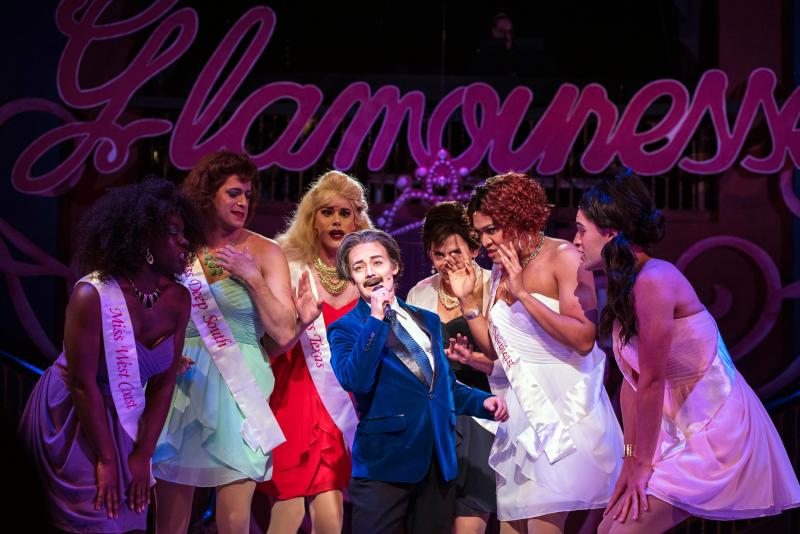 Dear Readers, I recently commented on a show at ACT on how it was the veggies to your theatrical diet. A show that may be hard to swallow but it's good for you. Well if that show is your veggies then another show currently at ACT is your dessert. "Pageant: The Musical", currently being offered from A Sensible Theatre Co., is a frothy, glitzy good time filled with oodles of gorgeous "real women with a little something extra". And while I certainly had a blast and laughed my butt off throughout, there was one moment that stuck with me and made me say, "huh?" But we'll get to that in a bit.
First let's talk about these gorgeous contestants all competing for the title of Miss Glamouresse. There's the down-home farm girl Miss Great Plains (Clayton Cooper), the evangelical Miss Bible Belt (Paul Flanagan), the sassy yet dense Miss West Coast (Jelani Kee), the beautiful (and she knows it) Miss Texas (Andrew Murray), the extremely ethnically diverse Miss Industrial Northeast (Christian Quinto), and the southern belle Miss Deep South (Nicholas Tarabini). All of them aching to represent Glamouresse cosmetics as Miss Glamouresse if they can impress the judges enough as well as the host for the evening, Frankie Cavalier (Helen Roundhill).
Now if you haven't figured it out by now from the cast names, yes, these are all guys in drag (except Frankie who's a girl in drag). So, prepare yourself for double and triple entendres right now. Also prepare yourself for the most wonderfully cheesy send up in both script and song of beauty pageants with book and lyrics by Bill Russell and Frank Kelly and music by Albert Evans. The contestants go through all the paces from various horrifying "talents" to interviews to spokesmodel presentations to, of course, the bathing suit competition. That's not to say that it's all complete fluff. There is a quasi-serious moment at the very end of the play (I said we'd come back to this) at least I think it was supposed to be serious. To be honest I'm not entirely certain what they were trying to get across. Suddenly, with no warning, a character had a complete change of tone and ... well ... I don't want to give it all away. Suffice to say I was still trying to decipher the next morning what all they were trying to say with that ending.
Endings aside (although you can never really discard an ending) the cast is Glamourific. Each and every one has their moment to shine in song or dance or comedy or all three and had the audience in stitches as did Roundhill as the emcee whose swagger apparently knows no bounds. And as good as all the "girls" were I personally would have voted for Miss Great Plains but I was not one of the judges. Oh, did I not mention that some audience members are selected to be the judges for the evening? Yeah, it's that kind of show. And I'm not telling you which seats get picked on. You'll just have to guess.
Director and choreographer Charlie Johnson has crafted a wonderful show with some killer dance routines (in heels no less) and that fantastic set from Reiko Huffman is worthy of the Miss America Pageant. And of course, I must mention the gorgeous costumes and wigs from Pete Rush and Denis Milam Bensie that made the evening sparkle. But that ending still weighs on me and so, with my three-letter rating system, I give A Sensible Theatre Co.'s production of "Pageant: The Musical" a YAY-. There's an old adage that you can forgive a lot in a show if you give them a strong ending. The reverse also holds true that a fantastic show can be tarnished by a bad ending. Or in this case, a confusing one.
"Pageant: The Musical" from A Sensible Theatre Co. performs at ACT through July 8th. For tickets or information contact the ACT box office at 206-292-7676 or visit them online at www.sensibletheatre.co or www.acttheatre.org.