BWW Review: MISS BENNET: CHRISTMAS AT PEMBERLEY at Taproot Theatre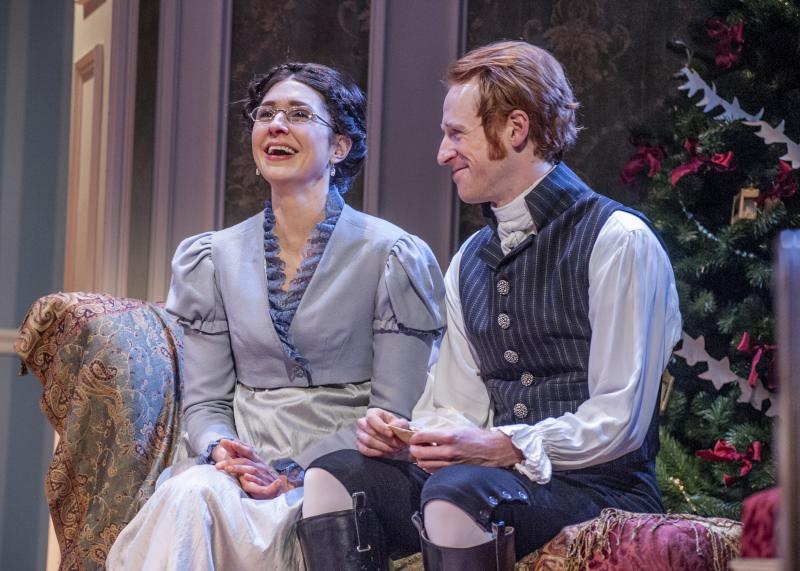 Taproot Theatre's production of MISS BENNET: CHRISTMAS AT PEMBERLEY offers a holiday diversion of wit, charm, and heart. Mary Bennet, the middle sister, steps from the shadows to take command of her own story. With a gathering of family and a visit from a distant cousin, the recipe is ripe for misunderstandings between people who manage to talk so much and say so little. Taproot Theatre has provided a show that should be on everyone's holiday wish list.
MISS BENNET: CHRISTMAS AT PEMBERLEY is a new play that explores the lives of the characters of Pride & Prejudice two years after Lizzy & Darcy have married. They are hosting Christmas at Pemberley and family members begin to arrive. Jane and Bingley with Mary are the first to arrive. The soon notice that Mary has matured but seems restless. Darcy has also invited his distant cousin Lord Arthur de Bourgh who has recently inherited Rosings Park. Lord Arthur and Mary quickly discover that their mutual love of books and science is only surpassed by their enjoyment of each other's company. Lydia and Anne de Bourgh arrive separately and each contributes their share to upending the decorum and budding romance. Will the machinations of well meaning family member be enough to save the holiday and Lord Arthur from a loveless future?
Playwrights Lauren Gunderson and Margot Melcon craft the words of the characters in a most Austen-like manner. The comedic overtones and social commentary are very much like an original Austen work. They allow characters to grow and age in believable ways while maintaining recognizable identities. Mary is utterly changed, yet ever so much herself. With a story that allows her room to breath, she becomes an immensely interesting character. Shanna Allman's portrayal of Mary is quick-witted, wry, and full of heart. In her hands, you feel Mary's struggle to find herself in a world has offers so few options for ways that are acceptable for women to be. She is the champion of every serious girl who refuses to be silly for the benefit or attention of a man.
Melanie Hampton as Jane Bingley is so very Jane. All smiles and graciousness, Hampton reminds us why the eldest Bennet daughter was always known for her kindness. Hana Lass as Elizabeth Darcy provides a Lizzy that has grown into her role as mistress of a great house yet retains the spark of individuality that we have always loved in Lizzy. Kelly Karcher as Lydia Wickham is as mischievous as ever. Her character seems to struggle between her natural impulses and her desire to be more like Jane and Lizzy. Karcher provides a tiny window into the complexities of Lydia and makse her redeemable despite her poor decisions. Sarah Ware as Anne de Bourgh provides the villain the want. Yet in Austen-like manner, we find that she is also a victim of her circumstances. Ware shapes her character admirably while maintaining her signature haughty airs.
Brian Pucheu as Fitzwilliam Darcy and Dimitri Woods as Charles Bingley are best when they are together. Their friendship and ease with one another seems to be something made of years. Their comedic timing and reading each other's minds is impeccable. Calder Shilling as Arthur de Bourgh is perfection. His timidity, self-consciousness, sense of honor, and studious nature blend into a most unsuspecting leading man. You can't help but root for him and want all nature of good things for him.
The costumes by Pete Rush are exquisite. The fabrics were lush and rich. The basic shapes of the era were adorned with marvelous details. The best part was that the characters seemed to be at home in the costumes as opposed to wearing costumes. Amanda Sweger provides a set that is allows different areas for activities without ever having to move a single piece. This flexibility meant that the transitions were smooth and quick as the actor's feet. Director Karen Lund has found her sweet spot in the regency era. She uses her understanding of the subtleties of the dialogue and the rules of society to build a playground for her actors.
While I enjoyed all that the show had to offer, I wish it had been infused with a bit more of Christmas. It is billed as a holiday show, but the time of year really only provides a reason for the family to come together. The side story of the Christmas tree is interesting, but not quite enough to make it a true holiday show in my opinion. However, the lack of holiday festivities does nothing to dampen the cheer you will feel from seeing a quality show with great storytelling. MISS BENNET: CHRISTMAS AT PEMBERLEY is an escape from the bustle of the season and like a visit with old ,dear friends.
MISS BENNET: CHRISTMAS AT PEMBERLEY is playing at the Taproot Theatre through December 29th. For more information of tickets, visit www.taproottheatre.org.