SINNER/SAINT Gives History and Future of LGBTQ
Santa Barbara is a small enough town that when my timetable for producing reviews slacks, I inevitably run into someone involved in the production I've yet to write about. (Call it a karmic reminder to prioritize writing.) Embarrassingly, it's been over a month since I saw Lindsey Twigg and Danielle Draper's Sinner/Saint, so, obviously I run into them everywhere possible: the coffee shop, art receptions, a party bus, etc.... And each time I sharpie a note on my brain to write about their kickass show. (I guess the fumes finally settled in.)
These two young playwrights conceived Sinner/Saint as a senior project at Westmont College. It's a riveting portrayal of two young adults' complicated relationships with homosexuality within a conservative Christian culture (like that at Westmont). Because Westmont students are all incredibly polite, there doesn't seem to be an overt traditionalist stance of intolerance on the LGBTQ student community; yet the unspoken undertones of confusion surrounding these queer Christians is harmful, as shown in Draper's story of coming out to her friends, who were concerned that she was breaking the laws of their faith. Same-sex love isn't kosher for certain Christians, yet gay Christians are definitely here; practicing, praying, and spreading tolerance. This inter-culture conflict creates a delicate balancing act amongst friends and family--and it makes for authentic, personable drama.
Sinner/Saint is more than a two-pronged confessional about coming out: it's a poetic story of love, loss, grieving, and forgiveness. Draper's exploration of her sexuality is a grounding element of the narrative; her story stresses the importance of mending the divide in a community fractured over an issue of sexual preference.
The Saint of the play's title refers to a gay bar in the village, a hotspot before the AIDS crisis. Twigg's seductive narrative sees her piece together bits of a deceased uncle's storied history. Discovered details of his exploits are the historical landscape of the piece, the difficult truth of how staggering the struggle for LGBTQ acceptance has been. Draper and Twigg braid their personal connections to the LGBTQ community with the deeply disheartening history of a culture ravaged by disease and rejection.
Performed in a conversational, open structure, the narratives--one women struggling to come out to her conservative Christian community, and one women searching for the forgotten details of her uncle's life--are infused with levity, music, metaphor, and optimism. Sinner/Saint is not an indictment of the Christian community--it's a bittersweet and genuine storytelling experience that offers a view into the vulnerable aspects of the Christian-LGBTQ reconciliation movement: anxiety, denial, desperation for approval, sadness, forgiveness, and healing.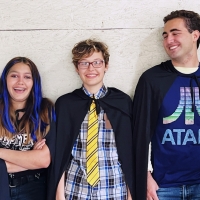 BWW Previews: PUFFS at the Anacapa School Of Witchcraft And Wizardry

May 10, 2022

'Puffs,' or 'Seven Increasingly Eventful Years at a Certain School of Magic and Magic' (by Matt Cox and presented this week by the students of the Anacapa School of Witchcraft and Wizardry), seeks to tell the stories of one of the less visible houses at a "certain school of magic": the "puffs."
---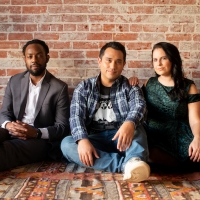 BWW Previews: TICK, TICK ... BOOM! at Out Of The Box Theatre Company

April 25, 2022

The main character is a musical theater writer named Jonathan who's trying to get his foot in the door in the New York theater scene. He's turning 30, his friends are moving up in their careers, and he's learning to manage expectations and reality in his life's endeavors.
---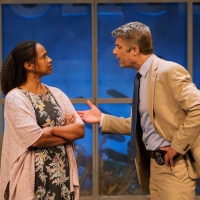 BWW Review: AMERICAN SON at Ensemble Theatre At The New Vic

April 13, 2022

There's a lot to like about Ensemble's production of American Son, Christopher Demos-Brown's play about race and privilege in American society. The play feels timely and pertinent, broaching topics that bear weight on the minds of today's human in America: namely those born from the insistent racism that seems grossly intrinsic to our culture. This representation of current events and culture is an important role for theatrical storytelling.
---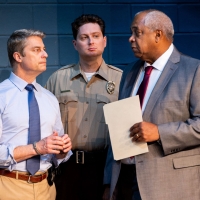 BWW Previews: AMERICAN SON at Ensemble Theatre Company

April 6, 2022

Kendra (played by Tracey A. Leigh) is a Black protagonist who is managing anxiety around her missing, bi-racial son. She and her estranged partner (played by Jamison Jones), who is white, are forced to interact in the police precinct as they play this high-stakes waiting game that unfolds in real time.
---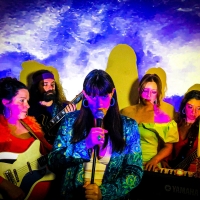 BWW Previews: WHO KNOWS WHAT YOU ARE at Community Arts Workshop

March 16, 2022

Small, Ponce, and Tautz have partnered with local artists and artisans to produce free mythmaking workshops to perpetuate the arts of story creation and storytelling. From these workshops evolved 'Who Knows What You Are,' the finale performance showcasing work developed throughout the workshops. An original song cycle that incorporates theater, music, and film, this production depicts the birth of the world, 'in a mythic, surreal way.'
---