Review: DEATH OF A SALESMAN at Ensemble Theatre Company
Arthur Miller's Death of a Salesman isn't about the life (or death) of a salesman, per se; it's about the mentality of the hardworking American and the anticipation of the sometimes-unattainable greatness internalized within the culture as an entitlement. Willy Loman, an aging travelling salesman, is a man of deep pride and intense expectations. These qualities create an emotional roadblock that plunges him into an existential detour when he can no longer earn enough to support his family. Loman is wrapped up in the pyramid scheme of the "American Dream"--he bought in, and has been selling the lifestyle to his sons despite lacking returns on his own investment.
Ensemble's production of Death of a Salesman, directed by Joseph Hanreddy, is a funeral procession toward the inevitable fall of the spiraling Willy Loman (Henry Woronicz). The cast provides live music on stage (music direction by Barry G. Funderburg), a melancholy soundtrack to Loman's last days. Set mostly in the Lomans' home, Ensemble's production features a bare room with furniture basics to create a space of undeniable discomfort. It feels more industrial than homey, which mirrors the distress rising in Willy as the years turn their Brooklyn neighborhood into a high-rise jungle.
The Loman family includes Linda (Gigi Bermingham), Willy's supportive but frequently disrespected wife, and their two sons. Biff (Trevor Peterson) is in his 30s and roams the mid-west taking labor jobs. A former high school football hero, Biff's life changed drastically when he failed to make up a math class that cost him a high school graduation and college scholarships. Younger son Happy (Alex Nee) lives a frivolous, playboy life in a low-level sales position. Both boys' lifestyles are a disappointment to their parents. Though the story takes place in the mid-20th century, Willy's relationship with his family speaks to the timeless tendency of parents to entwine their own sense of self-worth with the accomplishments of their children.
While travelling salespeople have been rendered mostly unnecessary by the changing modes of wholesale and retail, the emotional crises Willy and his family face--fear, shame, ambition, denial, and frustration--are certainly not antiquated. An interesting connection between the play and the current culture is Willy's obsession with being "well-liked" while ignoring that "liked" and "respected" are not synonymous--a concept everyone on social media should consider as they watch the "likes" tick upward on a post.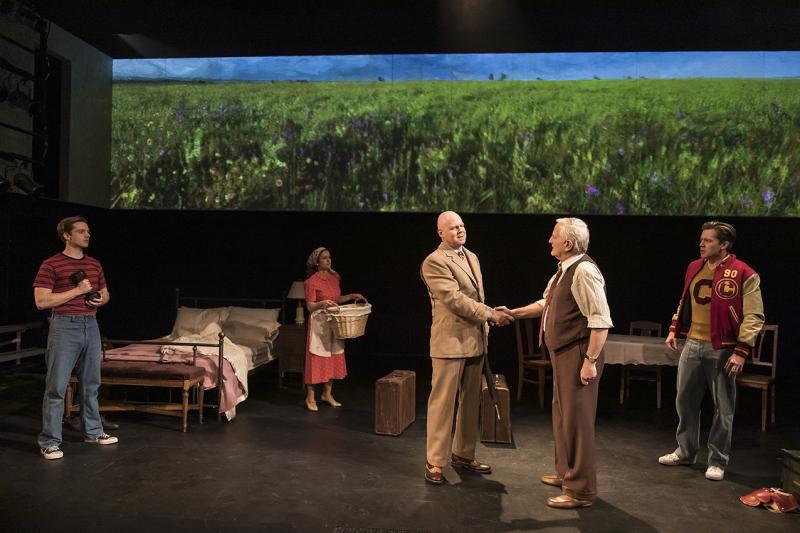 Willy's awareness vacillates between the desperation of his present-day identity lost, in which he's borrowing weekly from his neighbor to make ends meet, and memories of an idealized past, in which he's a provider and patriarch that handily navigates the road to success. His inability (or unwillingness) to avoid losing himself in these flashbacks is manifested with lights, sound, and projections that fill the emptiness of his current existence with specific sensory details. When the veil between the present and the past is lifted, the walls of the Loman home rise to become an overhead canvas for projections that set the tone for his life remembered. Reminiscences of a forested Brooklyn lost to development are highlighted with an autumnal halo of foliage, the last leaves before the long winter to come. Loman's desire to reinvigorate his life is complemented by a vision of sprouts--sprouts that will never grow in a backyard blocked from sun by buildings on all sides. These nostalgic fantasies are isolated on stage with pools of light, and sometimes involve the appearance of Uncle Ben (Paul Michael Sandberg), Willy's long-estranged older brother, a man of wealth and achievement. Willy holds his brother in worshipful esteem, and yearns for the advice and approval that the ghost of Ben will never offer.
Ensemble's production of Death of a Salesman is intimate and Willy's final sacrifice is tragic and inevitable. The production offers high-caliber performances and a unique visual narrative, and it engages the audience with timely questions about inter-generational disconnect, the definition of success, and our relationship to the expectations and entitlements ascribed by our culture.
ENSEMBLE THEATRE COMPANY Presents
DEATH OF A SALESMAN
by Arthur Miller
Directed by Joseph Hanreddy
February 7-24
The New Vic Theater
TICKETS