Review: DEAR EVAN HANSEN at Orpheum Theatre
Dear Evan Hansen runs through February 19, 2023.
Based on this stunning touring production, Dear Evan Hansen, winner of six Tony Awards, will have a long, long shelf life with audiences touched by its universal depiction of teenage angst, loneliness and the aching desire to fit in. With an extraordinary performance by Anthony Norman as the anxious misfit trapped in a series of escalating lies, this production will resonate with anyone with a pulse.
DEH, like all successful, long-running musicals, is greater than the sum of its parts, and the parts here are all exemplary. The book by Tony Award winner Steven Levenson is creative and emotionally raw, the haunting and energetic score by Grammy, Tony, and Academy Award winners Benj Pasek and Justin Paul (La La Land, The Greatest Showman), and the smart direction by four-time Tony Award nominee Michael Greif (Rent, Next to Normal).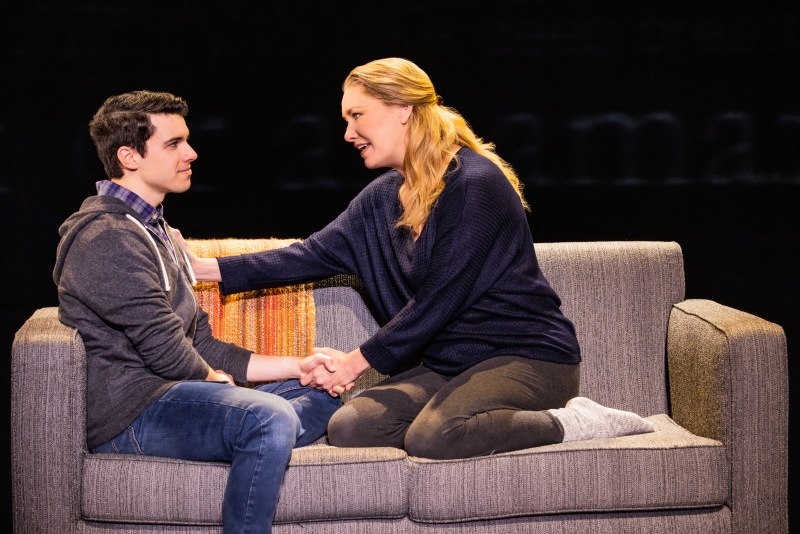 The first two numbers set the tone of the piece. "Anybody Have a Map?", where both struggling mothers search for answers of how to deal with their hurting children, and Evan's heartbreaking "Waving Through a Window" where he sings "On the outside, always looking in, will I ever be more than I've always been? 'Cause I'm tap, tap, tapping on the glass, I'm waving through a window" grab you by the heartstrings and leave you with a lump in your throat.
Evan is anxious as most teenagers are, unsure of themselves and desperate to be included. As Evan, Norman shifts seamlessly between his obvious distress evidenced by his scrunched face and hand twitches, and the newfound confidence he experiences when he becomes the focus of unwarranted attention. His voice is pure, innocent and sweet, making us empathize even more with this tortured soul.
When a troubled student commits suicide (a strong performance by August Emerson as Connor Murphy), a self-help letter Evan wrote to himself is found in his possession and mistaken for friendship between the two. As Connor was the only one to sign Evan's cast, this and some falsified emails between the two escalate a false friendship that will affect the lives of Connor's family, Evan's schoolmates and his mother.
Evan is trapped in his web of deceit, not a malicious intent, but hurtful when tinkering with people's grief. All the teens in DEH are flawed; the tech geek Jared (Pablo David Laucerica) who assists Evan create a false backstory, Alana (Micaela Lamas) who jumps right in to the deception in her grab for acceptance, the druggie outsider Connor, and his sister Zoe (understudied by Gillian Jackson Han) who resented her distant brother. These kids are as fractured as David Korin's wonderful scenic design of hanging panels projecting Facebook feeds of tweets and emails.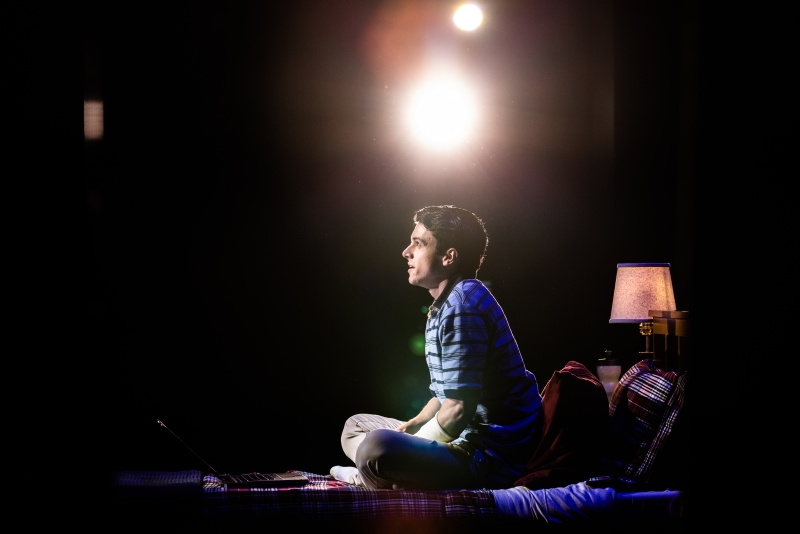 The parents fare no better, dysfunctional in their parenting skills. Connor's grieving parents Larry (John Hemphill) and Cynthia (Coleen Sexton), so eager to latch onto Evan's stories of their son's final days, is beyond heartbreaking. Evan's single mother Heidi (a strong performance by Lili Thomas) is so busy trying to fend for them both that she misses out on the depth of Evan's real distress.
As with most web of lies, it almost always falls apart. The good that was done is destroyed as Evan must confront his misguided intention in "Words Fail". Anyone who's ever been bullied, misunderstood and shunned will still root for Evan and wish him peace. DEH is tough stuff emotionally, cathartic and rewarding . It may trigger deep memories of your teen years which is a good thing in my book.
Dear Evan Hansen continues through February 19, 2023. Tickets available at broadwaysf.com or calling 888-746-1799.
Photo credit: Evan Zimmerman