PianoFight Closes San Francisco and Oakland Locations March 18
The Bay Area institution had venues in two cities, housing 4 stages, rehearsal studios, a restaurant, bar, office space and an art gallery.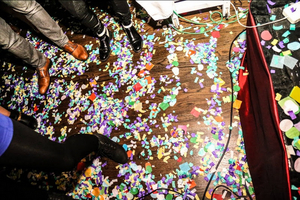 What began in 2007 with an unproduced play by a few young artists with no other option but to make it themselves, and grew from a two man producing team into a prolific New Works by New Artists production house, and evolved into a Bay Area institution with venues in two cities, housing 4 stages, rehearsal studios, a restaurant, bar, office space and an art gallery, local company PianoFight will cease operations at 144 Taylor Street in San Francisco and 1540 Broadway in Oakland on Saturday, March 18, 2023. For a full schedule of remaining events including SF SketchFest, The SF Neo Futurists, Leela Improv, and many more please visit www.PianoFight.com and www.PianoFightOak.com

"Of course it's sad to close," says Executive Director Dan Williams, "But we're so grateful, and so proud of what we've been able to do." Since opening in 2014, PianoFight's SF location has hosted 6,702 performances (when all is said and done the number will be north of 6,800) and paid $1.3 million directly to Bay Area artists, sold 198,000 tickets and generated $25 million in local economic activity. "We've hosted comedy, plays, music, dance, drag, magic, burlesque, circus, podcasts, films, video game tournaments, and game shows," Williams continues, "We said yes to everything because we could, we wanted to, and it was more fun than saying no." PianoFight estimates that over 10,000 artists have tread its boards.

Since PianoFight Oakland opened in May 2020, it has been home to middle and high school students from Oakland School for the Arts, writing scenes and choreographing dance routines every school day, while artists such as Dr. Ayodele Nzinga, Oakland's Poet Laureate of 2022, and The Formerly Incarcerated People's Performance Project staged new work in the evenings.
"PianoFight started because we thought there could be a different and fun way of doing things," says Artistic Director Rob Ready. "We wanted to lower the barrier to entry so more people could perform; provide infrastructure so artists could focus on art; program eclectically to cross-pollinate creative mediums; and sell burgers and beers so artists could build their communities over a meal. We wanted all that to be sustainable and until COVID struck, it was."

In less than four years at 144 Taylor St, PianoFight had hosted over 5,000 performances making it the most active live performance venue on the West Coast. Major partners included a who's who of Bay Area indie artists, acts and festivals like SF SketchFest, Killing My Lobster, The SF Neo Futurists, Theatre Pub, Awesome Theater, the SF Improv Festival, the SF Frozen Film Festival, and Faultline Theater to name a few. Additionally, PianoFight has been an ardent community organizer in the Tenderloin and was proud to call the TL its home, partnering for years with groups like Code Tenderloin, The Transgender District, Swords to Ploughshares, TLCBD, and Safe Passage.
The pandemic, however, ground that forward momentum to a halt. "We designed the SF space to serve a diverse community of indie artists and adventurous audiences," says Financial Director Kevin Fink. "And that community funded its creation, fueled our business, and kept us going during the pandemic." In 2020 that community raised $100,000 to see PianoFight through the year, but the pandemic persisted.
"Early on we got involved with the National Independent Venue Association (NIVA), and helped form local chapters in San Francisco and the East Bay ," says Operations Director Duncan Wold. "Through a grassroots organizing campaign, we passed legislation at all levels of government that granted emergency funding to independent venues across the country." The San Francisco Music and Entertainment Venue fund, for which PianoFight advocated and helped author, granted $35,000 to 70 live performance venues in the City.
After some fits (Delta variant), and starts (Omicron), PianoFight finally reopened for regular business at the end of February 2022. "We made a lot of assumptions about the pandemic, most of which ended up being wrong," explains Wold. "The most off base being that once we reopened artists and audiences would be so hungry for live performance the business would be there. Unfortunately that wasn't the case."
"Almost the entire community was scattered by COVID. In 2019 80% of our customers were returning. Now in 2022 80% of our customers are new," says Wold. Business stayed at about 35% of pre pandemic levels, and the venue, which had hosted 719 shows in 2019, staged only 201 in last year. Wold sums it up like this: "There's been a massive restructuring of people's lives: where they live, their habits, how often they go out, but those Bay Area expenses just keep going up."
While Ready holds out hope someone will drop a million dollars in their laps, closing on March 18 will mark the end of a 15 year run for PianoFight. In 2007, PianoFight produced its first play and shortly thereafter took over management of a 55-seat black box on the second floor of an office building in SoMa. Within three years they'd taken over the other 65-seat theater and rehearsal studio at Off-Market Theaters, and formed a 30-person creative company.
Before that venue closed in 2011, PianoFight was staging the largest, audience-judged theater competition in the world, creating fully scripted choose-your-own-adventure plays, producing world premieres, sketch comedy, live music, short films, and inviting audiences to Throw Rotten Veggies at the Actors Night which the New York Times called, "Good for theater."
While touring California, producing in Los Angeles, and creating site specific work around the Bay, PianoFight raised $1.2 million, designed and built its own space, and opened its palace of off-beat performance at 144 Taylor St in December of 2014.
In 2020, PianoFight took over operations of the 99 seat black box theater at 1540 Broadway, formerly known as the Flight Deck, expanding operations to a second city and preserving Downtown Oakland's only black box theater through the worst years of the pandemic.
"On a fundamental level, PianoFight operated by just saying yes to basically everything," says Ready. "We thought that SF needed a place where someone could show up to see a world premiere play, grab dinner, catch a band after, and hang out with all the artists in the bar - or be the person making any of those. A generation of artists and audiences have made their way through our doors and woven their way into the cultural fabric of San Francisco." Ready continues, "We feel very fortunate. This has been the experience of a lifetime. Thank you!"