Golden Thread Launches 2023 Season: Building Forward
Artist-in-Residence Wafaa Bilal curates Amreeka: The Comedy Show featuring Eman El-Husseini.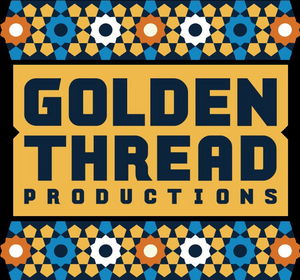 Golden Thread Productions, the first American theatre company devoted to the Middle East, presents a season of new work highlighting our commitment to uplift one another as we explore ways to connect, cope, and be moved to make a change. Join us as we look for comfort in comic relief, seek unity in collaboration, and find inspiration in the stories of those fighting for justice and equality.

Executive Artistic Director Sahar Assaf states, "This year, as we commemorate the 20th anniversary of the US-led invasion of Iraq, we explore the role of theater in reconciliation and healing, and the power of comedy as a coping mechanism and a form of resistance. I am honored to collaborate with the exceptional Iraqi American artist Wafaa Bilal and to showcase the work of Iraqi, Iranian, Afghan, Syrian, Yemeni and American women addressing global conflict."

The 2023 season will begin with Amreeka: The Comedy Show, an evening of stand-up comedy birthed in the aftermath of the 2016 election at monthly comedy shows in NYC. Our 2023 Artist-in-Residence, Wafaa Bilal, an Iraqi-born artist and Arts Professor at NYU's Tisch School of the Arts, curates this unique comic offering, where the toxic culture and politics in "Amreeka," as many Middle Easterners pronounce it, offers ample fodder for cathartic and witty venting. The show, Bilal says, just like his solo works, "is an artistic platform for creating dialogue and bringing people together on highly charged topics. Not politicizing laughter, but laughing at politics as a form of solidarity and resistance."
The season will conclude with the return of our signature program, ReOrient. This year's innovative and spirited festival features a line-up of new, emerging and established playwrights including Karin Arefy, Adam Ashraf Elsayigh, Yussef El Guindi, Arti Ishak, Hamed Sinno, and Judith Strang-Waldau. A dizzying collection, these short plays are diverse in content and style, with 6 plays selected from 113 submissions, highlighting a multiplicity of Middle Eastern perspectives and identities.

"The line-up this year offers a glimpse into the complexities of our world and human experience," says Assaf, "through timely stories on immigration, reconciliation, identity and representation, and historical events with contemporary repercussions among other thought-provoking themes. With a diverse array of aesthetic styles and genres, our audiences can expect a theatre experience that will entertain, challenge, and inspire them."

In addition to the festival, the ReOrient Forum will offer in-depth conversations with artists, activists, and scholars in panels and round table discussions related to themes explored in the festival plays as well as topics about theatre and the Middle East, including a MENATMA (Middle Eastern and North African Theater Makers Alliance) convening.

The 2023 season will also include our three annual offerings What Do the Women Say?, New Threads, and No Summary. Our celebration of International Women's Day What Do the Women Say? 2023: Fighters for Freedom features the work of Middle Eastern women artists who are fighting against injustice through their art and includes presentations by Lujain Jo, an Iraqi filmmaker, activist, and performance artist based in Beirut; Her Story Is, a collective led by independent women writers and artists from the United States and Iraq; Marjan Vahdat, Persian vocalist; Andrea Assaf, writer, performer, director, and cultural organizer along with Syrian coloratura soprano Lubana Al-Quntar from Art2Action; and emerging Afghan performer Mahjabin Khanzada directed by Polina Smith from Crescent Moon Theatre Productions and accompanied by Yemeni Oud artist Layle Omeran. Executive Artistic Director Sahar Assaf will facilitate a conversation between the participating artists and the audience following the presentations.

Our New Threads 2023 Staged Reading Series includes our two new play commissions. Alaa, by Adam Ashraf Elsayigh with dramaturg Salma Zohdi is inspired by the life of political prisoner Alaa Abd El-Fattah and Black Panthers in Algiers by Tariq Hamami with dramaturg Dawn Monique Williams explores the intersection of the Black American and Algerian battle against colonialism and white supremacy.

And our digital series born of the pandemic, No Summary: Conversations with Artists Who Don't Fit in a Box will enter its third season with all new episodes. Conversations topics include comedy as a form of solidarity and resistance, intergenerational MENA playwrights, fighters for justice, and the unique process of our signature program ReOrient.

Find out more about Golden Thread and its 2023 Season at goldenthread.org/season.