DON'T BE EVIL Will Be First Play to Debut in Virtual Reality and Live Onstage at the Same Time
The Department of Badassery and CloserVR are poised to make entertainment and tech history. On September 10,
The DBA
, a San Francisco-based production house, and
CloserVR
, an award-winning Virtual Reality production studio, will capture the world premiere of the new play, DON'T BE EVIL for Virtual Reality content before an invited live audience. It is the first time a new play has debuted both live in a theater and in Virtual Reality concurrently.
The groundbreaking event will take place Thursday September 10 at 8pm at San Francisco's hottest performance venue, PianoFight. RSVP at www.DepartmentofBadassery.com/VR to attend. CloserVR's camera rig will capture the event in 360 degrees, including the audience in attendance, for an immersive 3-dimensional experience that is as close to being at the theater as it's possible to get. The final output will be viewable as a virtual reality film using any virtual reality headset, including Oculus Rift, Samsung Gear VR, or on mobile phones with Google Cardboard.
A darkly comic subversive cocktail, the new play DON'T BE EVIL, by rising-star playwright Bennett Fisher, tells the story of William Webster, a genius programmer who creates a new search engine that learns to breach national security to supply its answers. He is hauled into a secret interrogation site on domestic soil for questioning by two overworked and underpaid inspectors. Hilarity and moral dilemmas ensue as the tech world and the terror-industrial complex collide. Think "The Office" meets Guantanamo Bay with a side of Dr. Strangelove. After the VR filming on September 10th, the play will have a 4-week run for San Francisco theater audiences from September 11th through October 3rd at PianoFight.
The Department of Badassery's mission is to deliver new ways of experiencing the world through storytelling using the oldest methods combined with new technologies. Co-founders Robin Fontaine and Gabriel Montoya are working on a slate of projects that combine live performance with Virtual Reality, of which this is the first step.
"Never before has it been possible to provide an experience to a viewer that feels as immediate and immersive as being in the same room as the performers," says Fontaine, who has a background in theater, VFX and video games. Future projects include capturing actors in live action as holographic video and integrating them with sets built in a game engine, and allowing audiences to watch or participate in immersive experiences in a shared 3D space in Virtual Reality.
"I think it's important to see VR as a completely distinct new storytelling medium. It's still developing a language, and the techniques that have been honed by theater makers for thousands of years will have a role to play," says Fontaine. "Our production house would like to take part in this conversation, and this project is just the beginning."
DON'T BE EVIL's director, Gabriel Montoya, who moonlights as one of the most respected professional boxing pundits in the country, says of working with CloserVR, "Empathy, the loss and gain of it, its very nature, is a theme in the play. But more, it's what we come to the theater for. We come for an emotional adventure. VR opens theater artists up to the world in a way we've never had before. The live experience of a play is hard to capture and share beyond the four walls of a theater space. But with VR, the audience is brought into the room. It will be impossible not to connect to the material on a deeper level." Dave Arendash, CTO of CloserVR, agrees, saying, "It's not just 360 degrees. We also provide a 3D experience. Beyond that we're operating in not just a 3D space, but an emotional space that really pulls you in."
With the first historic step towards the marriage of Virtual Reality and live performance, Fontaine sees the future for one of our oldest and most treasured mediums. "Virtual reality may eventually solve the scale problem that theater has always had," says Fontaine. "A theater has a limited number of seats, and a play is performed in one city at a time. But with virtual reality, an unlimited number of people from across the globe could experience an immersive story together. We could connect artists and audiences across the globe and lose nothing of the immediacy of the live experience that makes theater such a unique and vital art form."
The 360 video Virtual Reality capture session will be Thursday, September 10th at 8pm. To be a permanent part of history and the captured studio audience. Please join us by RSVP'ing here. The play DON'T BE EVIL runs Thursdays, Fridays and Saturdays at 8pm, September 11 through October 3, at PianoFight, 144 Taylor St in San Francisco. Get tickets at www.thedepartmentofbadassery.com. Follow @DeptofBadassery on Twitter for updates, live Tweets from the rehearsal process and tasty morsels from The DBA Research Department. The final DON'T BE EVIL VR experience will be available at www.departmentofbadassery.com/vr.
Watch a trailer for the play below!
| | |
| --- | --- |
| Vote Now for the 2022 BroadwayWorld San Francisco Awards | |
| voting ends in | |
More Hot Stories For You
Bread & Butter Theatre to Return to the Stage This Winter With David Hare's SKYLIGHT

December 8, 2022

After a three year hiatus, Bread & Butter Theatre will return to Potrero Stage with David Hare's Tony and Olivier award-winning play Skylight. Skylight runs January 12 - 21, 2023. Opening Night is January 14, 2023 at 7:30 pm.
---
World Premiere of Claude Jackson, Jr.'s CASHED OUT to be Presented at San Francisco Playhouse Winter 2023

December 8, 2022

San Francisco Playhouse will present the World Premiere of Cashed Out by Native American playwright Claude Jackson, Jr. Cashed Out will perform January 26 – February 25, 2023 (opening night: February 1) at San Francisco Playhouse.
---
Berkeley Rep Names David Mendizábal as New Associate Artistic Director

December 8, 2022

Berkeley Repertory Theatre has announced the appointment of David Mendizábal (they/he) as the award-winning theatre company's new Associate Artistic Director. Mendizábal joins Berkeley Rep's artistic team beginning December 27, 2022.
---
DADDY LONG LEGS Announced At Cinnabar Theater This January

December 7, 2022

​​​​​​​Petaluma's premier theater company, Cinnabar Theater, under the leadership of Artistic Director Nathan Cummings and Executive Director Diane Dragone, is proud to continue their 50th anniversary season with the musical romance "Daddy Long Legs", performing live January 6-22nd at Cinnabar Theater, and streaming online January 27-29th. 
---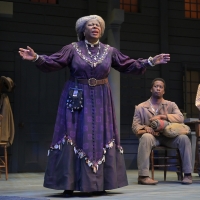 FANNIE: THE MUSIC AND LIFE OF FANNIE LOU HAMER is Coming to TheatreWorks Silicon Valley Starring Greta Oglesby

December 7, 2022

TheatreWorks Silicon Valley will present Fannie: The Music and Life of Fannie Lou Hamer, starring award-winning actor Greta Oglesby in the title role. Oglesby reunites with TheatreWorks Artistic Director Tim Bond, who will direct this stirring musical play about the famed civil rights activist.
---