BWW Review: DAMES AT SEA at 42nd Street Moon is a zany spoof of 1930s movie musicals
In a rundown, soon to be demolished Broadway theatre, harried producer Hennesey (Keith Pinto) is juggling a temperamental diva, a starry-eyed ingenue straight off the bus from Utah, sailor-turned-songwriter Dick, a wise-cracking chorus girl, and her randy boyfriend Lucky. In this spoof of old Busby Berkeley musicals mixed with the newcomer-turns-star formula of 42nd Street and Anything Goes, broad mugging and comic exaggeration can't go too far and seems totally genuine. Director and choreographer Nicole Helfer has created an often corny, always charming, over-the-top reminder of the innocent golden days of early musicals.
The plot goes something like this: talented hopeful Ruby arrives in New York City and stumbles into the cast of a troubled show, Dames at Sea, run by the harried producer Hennesey. He's being terrorized by his star, Mona Kent, a bitch-on-wheels. Ruby is befriended by chorus girl Joan and falls for Dick, a singing sailor who happens to be from her hometown of Centerville, Utah. Of course, romance goes awry when Mona digs her claws into Dick for his songwriting abilities. Hennesey loses the theatre, there's a zany plot to open the show on a battleship commanded by Mona's old fling, and all ends well in this fairytale satire of old '30s movie musicals.
A huge portion of the credit goes to the talented cast, who inhabit their caricature-ish roles with great relish. Lauren Meyer's Ruby, in her Midwestern flowery housedress with its fluttery carpet sleeves, comes to the Big Apple with dreams of stardom and a suitcase containing a pair of ruby tap shoes. She instantly gets a spot in the chorus, falls for a handsome sailor, learns the steps, and will, of course, become a star. Meyer plays up her Midwestern innocence with her big doe-eyed looks and the crocodile tears when her man gets involved with the show's diva, Mona Kent.
Jeffrey Scott Parsons is adorable as the good-guy sailor Dick, who falls for Ruby but is used by Mona for his songwriting abilities. A natural hoofer, Parsons reminded me of Donald O'Connor with his combination of comic and dancing skills. His sailor friend Lucky, played with macho zeal by Chaz Feuerstine, is a player but falls for the saucy Joan. Melissa Wolfkain is delightful as Joan, the glue that holds the show together. Doubling as the dance captain, Wolfkain is a fine dancer and singer. Keith Pinto, no stranger to 42nd Street Moon (Me and My Girl, The Secret Garden) doubles as the frenetic, pessimistic Hennesey and the ship's captain. Ashley Cowl takes her role as Mona Kent to the nth degree, with her exaggerated facial mugging and use of ridiculous vocal inflections and dialects.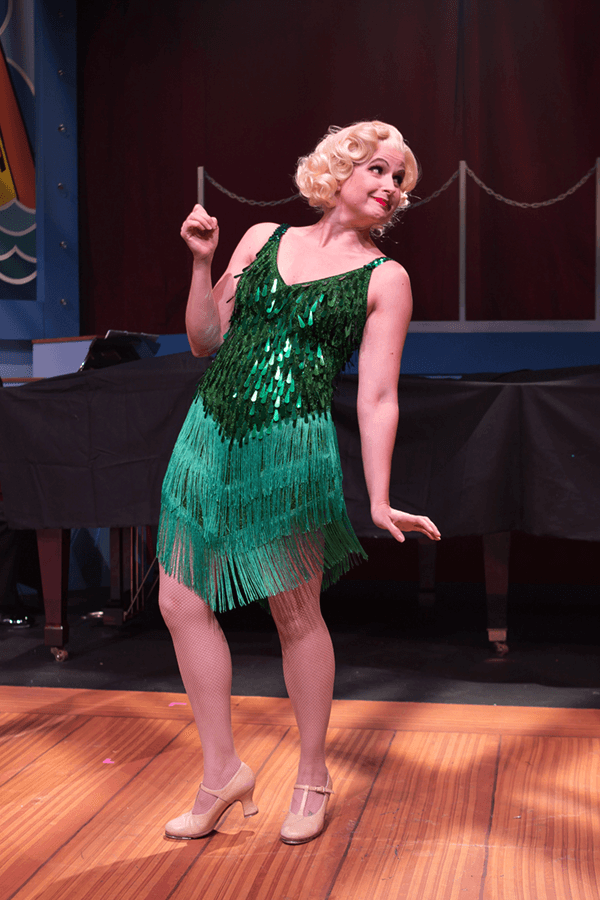 The combination of this excellent, hardworking ensemble and the sparkling choreography ensure a fun time is had by all. Brian Watson's clunky, amateurish set design fits the threadbare, inexpensive look of the dilapidated theater. Ashley Garlick recreates the period costuming of old movie musicals like Singin' in the Rain. Musical director Dave Dobrusky, working his 83rd production, shares onstage dueling pianos with Ken Brill. The George Haimsohn and Robin Miller book is full of vintage slang, and plenty of wisecracks enhanced by lovely songs by Jim Wise ("Good Times are Here to Stay," "Raining in My Heart," and tropical "The Beguine"). For silly, escapist fare, you can't do better than Dames at Sea.
---
Dames at Sea runs through December 16, 2018
Gateway Theater, 215 Jackson Street, San Francisco
Tickets: 42ndstmoon.org or (650) 255-8207
Photos: Ben Krantz Studio