BWW Interview: Melissa Gialdini of RODGERS & HAMMERSTEIN'S CINDERELLA at Foothill Music Theatre Talks about Combining Performing with Doing Hospice Work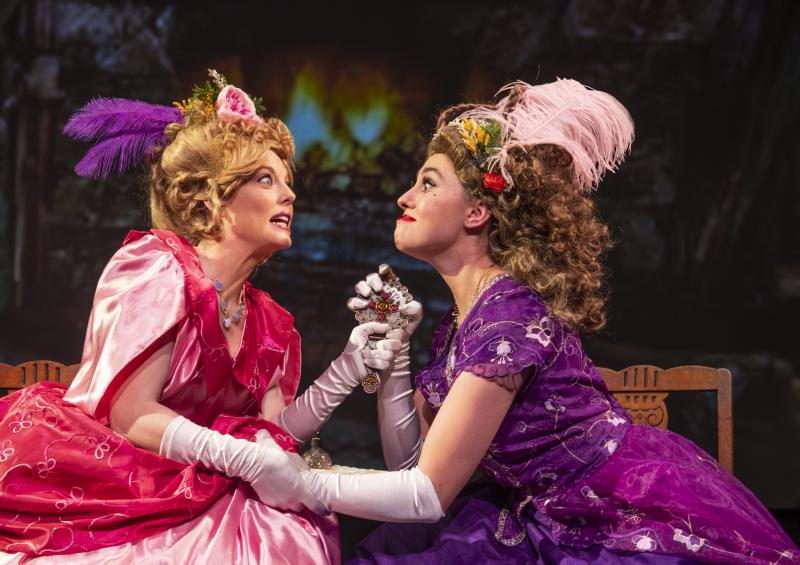 Melissa Gialdini is thrilled to be playing stepsister Gabrielle in "Rodgers & Hammerstein's Cinderella" at Foothill Music Theatre now running through August 4th. Melissa recently spoke to BroadwayWorld about the show, her love of performing and her rich life outside the theater. The following is an edited version of that conversation.
People are mostly familiar with "Rodgers & Hammerstein's Cinderella" through its various TV broadcasts over the years, but this stage incarnation is actually relatively new. How does it differ from the earlier versions?
This is a different version because it has a couple added characters and different interpretations of the characters as well. My character is Gabrielle, who is a stepsister, and she is not the traditional ugly or mean stepsister. She is actually very kind. It's very hard for her to be herself, and to show her true heart and her kindness because her mother and sister aren't kind, so she really struggles with that. My character also has a love interest, Jean-Michel, and this is a new character. He is someone who wants to talk to the prince about what's going on in his town, with the villagers and how they're losing their land. He really wants to make a difference and Gabrielle loves that about him and she wants to be part of it, too.
I feel like the stepsisters get kind of a bad rap in the original fairy tale. What is your take on your character's relationship with Cinderella?
She has a friendship with Ella [aka the title character] that is different from other versions. She is kind to Ella, and Ella really shows her that she can be herself and not be like her mother and her sister. Ella helps her find her courage to stand up to her mother and be her own person.
The score is classic Rodgers & Hammerstein, chock full of gorgeous ballads and buoyant comedic songs. What is currently your favorite number from the show?
I love our songs two songs that are back to back, one goes right into the other - "Driving through the Moonlight" and "A Lovely Night." These are the songs where my character, my sister Charlotte, and [mother] Madame along with Ella - for the first time you see them really be a family. They sing about the ball and Ella's singing to us about it, pretending as if she's just imagining it, even though she knows what it was really like. We are all just so happy and in the moment, and it's so cute. Those two songs back to back are just so fun and such a nice moment for the family.
Part of Foothill Music Theatre's mission is to provide college students with the opportunity to work with theater professionals. What has it been like to work with the students?
It's been great! It's almost something I would prefer is to work with students just because they're there to get better and to learn so they take everything very professionally. I just love seeing the growth. There's a student in the show who I've actually done another show with right before this, so getting to see her and work with her now in a second show and learn from Milissa Carey, our director, who is also her teacher, is really amazing. It almost puts myself in the student spot as well because I'm learning and growing. Even though I'm not a student at Foothill anymore, I'm still learning.
What has your own educational path been?
I was at Foothill for my AA in Psychology and then I went on to California State University Monterey Bay where I got my Bachelor's in Health and Human Services and concentrated in Social Work. I've always wanted to work with people. Theater and music was always just something on the side, a passion and a love of mine that I do for fun. It wasn't part of my schooling.
Like most working actors, you also have a day job, although yours is a little uncommon - you're a hospice care consultant. What a wide-ranging skill set you must have! Do you see any commonality between your performing and hospice jobs?
For my position specifically, I'm the first point of contact for patients and families who are new to hospice so I really have to meet them where they are. I can't just approach every situation the same. I really have to adapt, and I also feel like that's also a very large part of performing. You adapt to the character and director's notes and choreography and everything so you have to be good at adjusting to your surroundings, and that definitely is a part of my day job.
I would imagine that when people learn about your hospice job, you get some reactions like "Oh, I could never do that, it sounds too depressing." How do you see the job?
My first experience with hospice was as a family member so I got to see it from that side. It gave so much support to not only my grandfather, but to our family, and the support they brought us - without it, it would have been much harder. It was such a good experience for us that then going into the field, to me it's not depressing. I see it as great support for the patient and families and it just makes such a difference. It's not a happy thing - obviously it's a very difficult time - but I'm very happy to be here and provide these services and support for patients and families.
You are also a former Miss Silicon Valley. Did you learn any helpful lessons from that experience?
I started back when I was 16, and I've had 3 titles through the Miss America organization. There is a private Interview section and there is a Talent portion. The skills that I gained for Interview have gotten me every job that I've had. Also the Talent segment of the competition - just performing onstage is always more experience, and the opportunities helped me grow.
A quick google search reveals that you have a sort of side career singing the national anthem at major sporting events. How do you get those gigs, and are they as terrifying as I might imagine?
A lot of the gigs now I get by word of mouth. It usually starts with one national anthem performance for, say, a 5K in downtown San Jose and usually the company that puts them on knows or is the same company that does a different one. The initial [contact with] like the San Jose Sharks, you send them a tape or CD - back then you sent a CD in, now I'm sure it's all youtube links - but you send something in and they call you and set it up.
If it was just me and five people, I would be terrified, but you add 17 thousand [people] and I'm surprisingly OK. Also, it's really fun for me. It's exciting, I love the crowds, I love the atmosphere. Because it is such a difficult song, I use a pitch pipe to find my starting note. If I didn't have that, I would probably be a lot more nervous!
Photo by David Allen
Foothill Music Theatre's production of "Cinderella" runs through August 4th at the Foothill College Smithwick Theater, 12345 El Monte Road, Los Altos Hills, CA 94022. Tickets and further information are available at https://foothill.edu/theatre/productions/Cinderella.html or by calling 650-949-7360.
Related Articles View More San Francisco

Stories

Shows