Interview: Directors Kate Rose Reynolds & John Wells III Talk RIPPED at Loud Fridge Theatre Group
RIPPED from Loud Fridge Theatre Group is playing Jan. 21 through Feb. 5.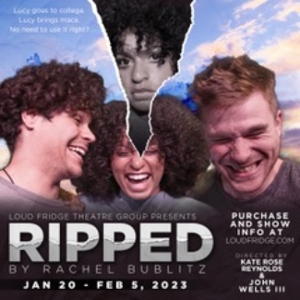 After debuting with their excellent performance of STRAIGHT in 2019, and then being waylaid by that pesky pandemic, Loud Fridge Theatre Group is kicking off 2023 with the play RIPPED. Directed by Kate Rose Reynolds and John Wells III, this play explores from multiple angles an incident of a female college freshman who believes she was sexually assaulted. Reynolds and Wells take a moment to talk about working together as joint directors, and why this play is more topical than ever.
Written by former San Diegan Rachel Bublitz, RIPPED is an 80-minute play that explores the gray areas of consent, relationships, and trauma around sexual assault. Originally planned to premiere in the spring of 2020, this play was put on hold due to the pandemic, but find that years later it still is s relevant as ever.
Kate Rose Reynolds says that exploring these kinds of topics and difficult conversations is a key reason they chose the play.
"If anything, it seems that the questions RIPPED raises - about consent, burdens of blame and responsibility, and the repercussions of our collective discomfort discussing sex - are even more topical and relevant now than they were in 2020.
One of Loud Fridge's founding beliefs is that theatre can foster candid, loving conversations about some of the thorniest parts of the human experience. Because the plays powerful ability to do just that - to ask us to examine our beliefs and our reactions, to ask questions but not offer answers - we knew it needed to be the inaugural show of our inaugural season."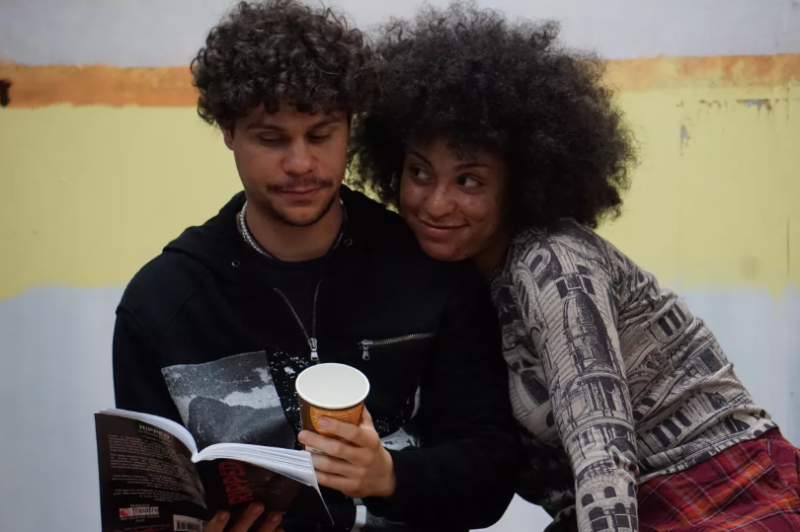 The play has a cast of three, including Amira Temple, Marcel Ferrin, and Devin Wade with direction by Reynolds and Wells. Loud Fridge has a core belief that "collaboration breeds creativity" so working in partnership on this production felt like the right approach for the project and to be as innovative as possible in their approach.
John Wells III says that in an effort not to overwhelm with too many voices in the rehearsal room, he and Reynolds took great care in their approach before working with the performers.
"With a topic such as sexual assault, we knew it was of the utmost importance to handle the material with sensitivity and care. Thus, there was no one better than Kate to be the leading force captaining this directing duo. The two of us discussed each scene before and after blocking them and worked together to tell the most cohesive story possible. We also understood very early on that too many voices can be confusing for the actors, so during the rehearsal period the two of us discussed our notes separately to ensure that we were on the same page, and tasked only one of us to deliver those notes."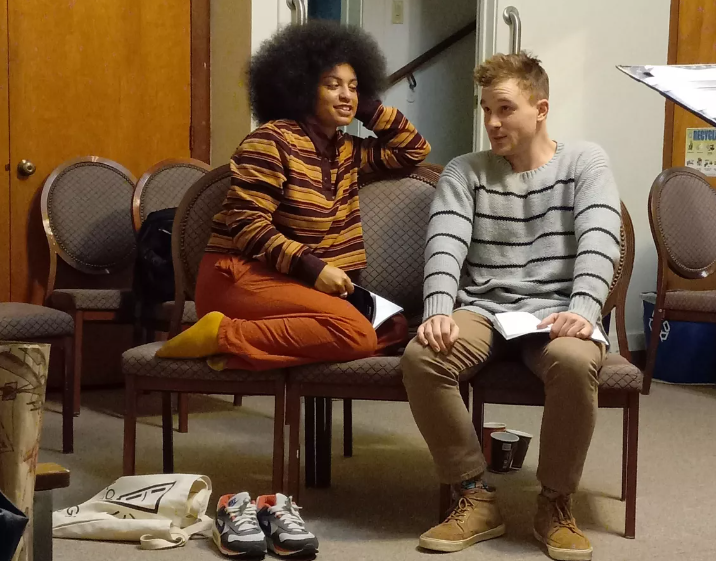 Reynolds says that co-directing, which she also did with Andrea Agosto for Loud Fridge's STRAIGHT in 2019, is a process that she both enjoys and finds very helpful.
"This is my second time co-directing a production and I have found co-directing to be a joyful process. It's so wonderful to have another person to bounce ideas off of, to discuss tricky moments with, to explore the text with. John and I have similar working styles, so it's also a pretty seamless process for us. And as he said, communication is key!"
Another part of the collaboration process was their agreement that this show needed to bring in Kandace Crystal as the Intimacy Coordinator to help with the sensitive moments in this show so everyone involved felt safe and that they had an advocate during some more intimate scenes.
For anyone not familiar with the work of an Intimacy Coordinator Reynolds provided this definition from Intimacy Directors and Coordinators (a certifying and training body for Intimacy Professionals) "An intimacy professional is a choreographer, an advocate for actors, and a liaison between actors and production for scenes that involve nudity/hyper exposed work, simulated sex acts, and intimate physical contact."
Between the topic of the play and the theatre's value of collaboration, Reynolds says that they knew they would be bringing in this position from the moment they chase this play.
"Given the content of this show, particularly surrounding non-consensual intimate acts, we knew that it was vital for us to create a space that was professional and safe for the actors. Kandace brought a wealth of resources and experience with choreographed intimacy to the rehearsal space, and created a framework that has allowed the actors to explore this complex story with confidence."
Having Crystal there as an Intimacy Coordinator meant that the performers not only felt supported during the process but that Reynolds and Wells also felt that way in their positions as well.
"Kandace always maintained that she was there to help John and I tell the story that we were trying to tell. Kandace came in with clear, strong, exciting choreography, and really facilitated conversations about consent and physical autonomy as it comes to rehearsal practices. She was constantly checking in not only with the actors, but also with John and me, to ensure that we were not only telling the physical story we needed to tell, but that we were doing it safely, professionally, and respectfully."
One of the unique things about RIPPED is that it doesn't allow the audience to settle in on one side or the other, but instead challenges them from different angles and has a lot of material that can lead to in-depth conversations. Wells says he hopes that this play encourages further discussions of the topic after the audience has left the theatre.
"This is a show that makes you question everything, even your own responses to the material. I think it is time for us as a society to have a candid conversation about the definition of consent, and how the nature of consent can shift from moment to moment. Unfortunately, we live in a world where college campus sexual assault happens way too often, and it doesn't always- and actually usually doesn't- present itself in the cut-and-dried manner that we would like to label under sexual assault. It is a sticky topic, and cannot be pieced together with a nice little bow on top. I hope that this show is just the beginning of the conversations that can be fostered around this timely topic."
Loud Fridge Theatre Group calls themselves "noisemakers" and that's just what Reynolds says they are doing with RIPPED.
"RIPPED is here to make some noise. It is our hope that Ripped gets you thinking, gets you talking, and stays with you long after you leave the theatre."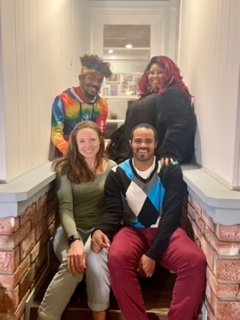 How To Get Tickets
RIPPED from Loud Fridge Theatre Group is playing Jan. 21 through Feb. 5 at OnStage Playhouse, 291 Third Ave., Chula Vista. For details on tickets and showtimes go to Click Here.
You can follow them and the rest of their season at