BWW Review: MAINLY MOZART FESTIVAL at Balboa Theatre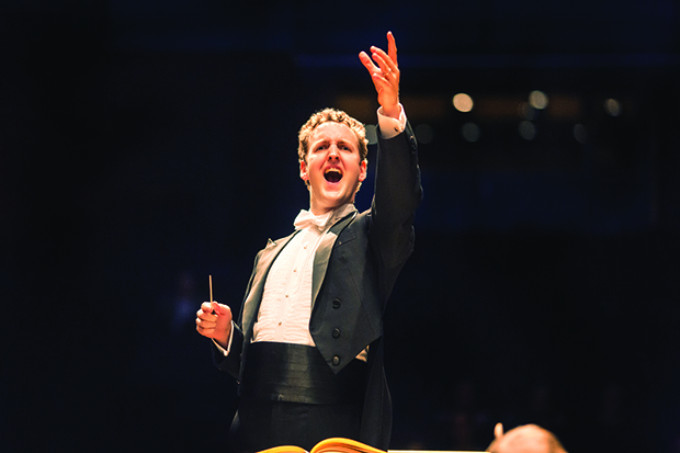 "Mozart in a party mood," conductor Michael Francis announced as he introduced the composer's Contra Dances to begin the concert. And the same party mood prevailed throughout much of the evening. The first and third movements of Beethoven's Piano Concerto No. 1 owe a lot to the most spirited of Mozart's concertos; Mozart's Symphony in D Major, K. 204 (213a), was written while he was still heavily influenced by the gallant style of the Manheim School; and Prokofiev's first symphony, which concluded the concert with a burst of youthful energy, is a tuneful delight, written, with tongue in cheek, in the style of Haydn.
Eleven members of the full Mainly Mozart Festival Orchestra performed the contra dances at their music stands stage-forward. Francis called for sprightly tempos with an appropriate touch of royal stateliness that made it easy to imagine a ball room full of periwigs, knee-breeches, and elaborate floor-length gowns. (It's a courtly 18th Century party, not a modern rave.)
The concerto labeled Beethoven's first was actually composed after the second, but published first. Its regal extended orchestral opening in sunny C Major made for a smooth transition from the preceding Mozart. Most of the subsequent Beethovian thunder belongs to a piano score written to display the composer's tremendous technique. Jorge Federico Osorio's liquid even runs up and down the keyboard were a pleasure to hear, as was his entire performance. He brought appropriate bravura to a difficult cadenza, sensitivity to the slow middle movement, and a bouncy playfulness to the swiftly paced finale.
Mozart's "Symphony" in D Major, K. 204 (213a) isn't listed among his numbered symphonies because it's actually a suite of four movements taken from his Serenade No. 5. At 19 he was composing more serenades, for use at outdoor festivities, than symphonies. Never one to disdain commercial success, he would make sure one selection of movements could be sold as a symphony, and another set as a concerto, in this case, for violin. Although the program listed the four movements usually extracted for the symphony, I believe Maestro Francis chose to substitute two of the concerto movements. A good idea. It fit the program's more casual vibe, and made good use of concert master William Preucil's impressive technic and rich tone. The final movement, for orchestra, bubbled along with high spirits that carried over into the following Prokofiev "Classical Symphony."
Prokofiev was a pampered prodigy who hated being outdone. Not long after Stravinsky's Rite of Spring caused a controversial sensation, Prokofiev wrote the Scythian Suite to show he could be just as barbarically modern. I doubt he was displeased when the premiere evoked reviews that included comments such as, "Prokofiev is a musical hooligan, a brazen musical futurist, his insolence knows no bounds." The first symphony, dubbed by the composer the "Classical Symphony," followed a few years later to show critics he'd chosen to be a musical hooligan in the suite, though a master of traditional forms. The work is usually performed by a large modern orchestra, but its Haydn-like instrumentation and structure are well suited to the closer to chamber-size Festival Orchestra. The final movement, played at an exhilarating virtuosic pace, produced many admiring smiles, including mine.
The Mainly Mozart festival continues through June 24 with a mix of chamber and orchestral performances. Visit the Mainly Mozart website for more information.
Related Articles View More San Diego

Stories

Shows