Click Here for More Articles on FIDDLER ON THE ROOF
BWW Interview: Carol Beaugard as Yente in FIDDLER ON THE ROOF on Tour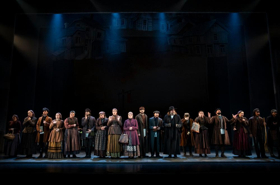 When the first production of FIDDLER ON THE ROOF opened on Broadway, many wondered how it would do post war and what people would think of the strong history of the Jewish people of Russia. It didn't take long to find out that the show was a hit amongst many theater goers and has made history itself as the history of the story takes us back to when things were very different. BWW was able to chat recently with Carol Beaugard who plays Yente the matchmaker as FIDDLER ON THE ROOF prepared to make a stop in San Antonio, Texas at the famous Majestic Theatre.
Why don't you start out by telling us a little more about yourself and your road to FIDDLER ON THE ROOF?
My mom says that I was singing before I could talk. I was performing ever since I was a little girl. I truly began in church. I sang in the choir and then I did church shows and I moved on to doing school shows. I went to college at Emerson College and studied theater but also was doing radio and television. I began to act professionally right out of college, but I had gotten married young and was offered an Equity tour and I had just gotten married and my husband didn't want me to go on the road. So, I stayed in New York and did some New York theater but a little later moved out of theater and went back to radio. Then I did public relations and event planning. Then, years later, I had since remarried. My husband saw me do a community theater show and he encouraged me to do this. He knew me through music. He's a musician and knew me through my work on radio. He said, "You really have a talent for theater." I went back to acting school. I went back to school then I did some off Broadway and some television and film. I vowed that I was going to do a national tour within a year of graduating school. I booked this national tour a few months after I graduated. I was so happy. At the heart of everything I've done, it's always been creative. I loved doing radio. I'm looking forward to being in San Antonio because I was very well known for traditional music. My background is Hispanic, so I'm drawn to Hispanic music, country music, Tex-Mex music - dancing; I've done a lot of dancing. I'm very drawn to that. When I did radio, our show was very interactive and it was very creative. When I did event planning, it was also very creative because I used to do design - for instance, an empty warehouse and make it into a circus, things like that. When I did public relations, I happened to work with music clients. I went around the world creating events for them. So, it just seems like music and creativity has always been at the center of everything I did. It all started with music and it comes back to music. In New York, the majority of shows have been straight plays. But, music has always at the center of my heart.
How did you get the role of Yente in FIDDLER ON THE ROOF?
It was an exciting journey to land this role. What I understand, the audition process went on for several months and they interviewed people across the country. I actually submitted originally for Golde, a video audition. There was interest in that and then the casting people came back to me and they said, "You know, you're really funny. We would like you to audition for Yente. So, I went in and auditioned in July and got the callback the next day. I really got the role pretty much immediately. I was so excited.
What can people look forward to when they come to see FIDDLER ON THE ROOF?
I'm so excited for people to see this production of FIDDLER because it's very traditional and yet it's very contemporary. That is thanks to the vision and direction of Bartlett Sher and to the choreography of Hofesh (Shechter). It's very alive. I hope that people will take away the universal theme of love because, for me, that's really the most important message that this show shares. The people in Anatevka- their lives are hard. They're faced with a lot of challenges. They have a deep state and a deep conviction to endure it. Always moving forward despite hardships. I think everybody in the world can relate to that. In New York, where I'm from, we faced tragedy in 9/11. When we saw the natural disasters of the hurricanes and tornados that hit Texas and the south. And other countries. We were so devastated and our hearts went out. Yet you see how people so quickly rally and help each other and endure despite hardships. They'll see that type of endurance and faith in the show. I think that's really special. I would like to especially say that I'm very proud of this show because I think the contemporary message of this show is more than just acceptance of differences between people. I think it has a powerful message for women because the time when this show was set, 1905, was a very patriarchal society. If you look at the show, you'll see that even though the men seem like they're in charge, Yente, the matchmaker, she actually is incredibly prestigious in the village. The matchmaker role was responsible for making sure marriages would continue and therefore marriages and the culture would continue. She was second in importance in the village only to the Rabi and she was a woman. You'll see that women in the show have their own minds. There's a wonderful line from My Big, Fat Greek Wedding that says, "Man is the head of the family, but the woman is the neck. She is the one that turns everything." I think that each of the daughters has their own opinions. They're falling in love because they love someone. They have new revolutionary ideas. They are the ones who are moving towards change and towards progress. I think that's a very relevant message for the world today. I think that women are very underestimated in how important we are and how powerful we are. When I do a show it's sort of with a big nod and a wink to all the women in the audience. Like, "Look at us. We're the change for the future."
What have you been doing while you're on the road?
I've been having such a wonderful time in each city to visit a historic sites and museums and to get to know the local people. There was a chance to see the Art Institute in Chicago. That was fantastic. In Memphis, I went to Sun Recording Studios. That was a lifetime dream. In St. Louis, I happened to befriend a woman who was a guide at the Arch. We just became friendly and she took me all over the city. We saw every historic site even eating a delicious Italian meal. It's striking up conversation with people who live in each city. That is the best part about being able to travel. The more I travel, the more I realize that every person in every part of the country; we're all the same. We all have families, we all are struggling to raise our kids right; we all want the best for ourselves and our neighbors or our loved ones. We all have life and death events. Everybody can relate. I think that's also what's so beautiful about the show. There's a common theme in it that everyone can relate to on a personal level.
To life! To FIDDLER ON THE ROOF! At the Majestic Theatre for one week only, March 26-31, 2019. Get your tickets at the Majestic box office or their website. Don't miss it!
PHOTO CREDIT: Joan Marcus
Related Articles
Kathy Strain grew up outside of Philadelphia and enjoyed listening to many genres of music including Broadway musicals. She also enjoys attending Broadway shows wherever (read more...)