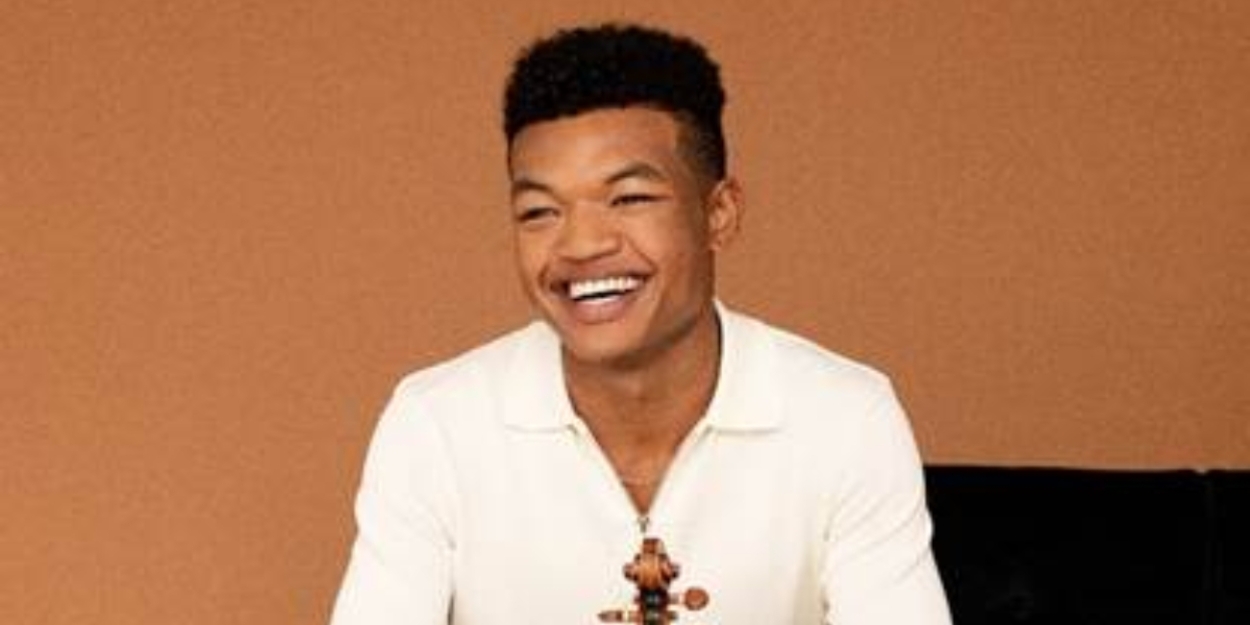 Utah Symphony Welcomes Randall Goosby For His Debut Performance
In addition, the Utah Symphony will perform Ana Sokolović's Ringelspiel (Merry-Go-Round) and Bruch's Violin Concerto No. 1. 
Like gathering sunshine, the Utah Symphony's performances of Dvořák's Symphony No. 5 will bring bubbly and bright music to center stage. The final evening concert will take place tonight, Saturday, March 4, at Abravanel Hall in downtown Salt Lake City. In addition, the Utah Symphony will perform two expressive pieces that continue to channel the nostalgia of childhood- Ana Sokolović's Ringelspiel (Merry-Go-Round) and Bruch's Violin Concerto No. 1.
Written for the child in all of us, Canadian composer Ana Sokolović's Ringelspiel (Merry-Go-Round) will be introduced to Utah audiences this weekend. The connected sections of Ringelspiel have clever titles that bring to life the merry-go-round vision-mechanical; heavy-footed; merry-go-round ballerina; and broken merry-go-round-each evoking different ways of experiencing the beloved playground attraction. The publisher's note briefly states, "To most of us, a merry-go-round brings back memories of childhood and conjures up emotional responses of nostalgia and naïveté...Sokolović has derived inspiration from the mechanical aspects of a merry-go-round-its simplicity of movement, its circular motion, and its status as an icon of the machine age." This youthful piece allows the listener to reminisce about their own childhood as they board the merry-go-round with this program opener
Channeling a vibrant spirit similar to an outgoing (and sometimes petulant) child, Bruch's Violin Concerto No. 1 became a fast favorite for audiences and musicians alike. With soaring melodies, lush and passionate orchestral writing, and devilishly difficult virtuoso passages for the violin, this piece challenges both the orchestra and the soloist as each work through its intricacies. American violinist Randall Goosby makes his debut performance with the Utah Symphony performing this exceptional work. Signed exclusively to Decca Classics in 2020 at the age of 24, Goosby is acclaimed for the sensitivity and intensity of his musicianship. "For me, personally, music has been a way to inspire others" says Goosby. Balancing a virtuosic display of technical bravado and the emotional intensity of the piece, Goosby brings passion, approachability, and expert skill to this famous work, continuing to ensure its place in history books.
Dedicated to the legendary conductor-pianist Hans von Bülow, who stated that Dvořák was "next to Brahms the most gifted composer of today," Dvořák's Symphony No. 5 is the first intimately personal masterwork in his repertoire that distils the essence of his Czech homeland. The Fifth Symphony was written int five short weeks during the summer of 1875 and was a huge departure, in terms of style and mastery, from his Symphony No. 4 of 1874. While the Fourth Symphony was filled with gallant pretense and other Wagner derivations, the Fifth presented a rustic Bohemian overtone that came to define Dvořák's voice and work for the rest of his life. As such, this incredible piece marked the beginning of a new personal era for the composer-shaping Dvořák's future compositions to better reflect his cherished heritage.
For more information, please visit utahsymphony.org.
Dvořák's Symphony No. 5
Saturday, March 4, 2023 / 7:30 p.m. / Abravanel Hall
(123 W South Temple, Salt Lake City, Utah)
PERFORMERS:
Jiri Rožen, conductor
Randall Goosby, violin
Utah Symphony
PROGRAM:
ANA SOKOLOVIĆ: Ringelspiel (Merry-Go-Round)
BRUCH: Violin Concerto No. 1
DVOŘÁK: Symphony No. 5 in F Major, op. 76

TICKETS start at $21
50% STUDENT & UNDER-30 DISCOUNT

PURCHASE NOW:
Online: utahsymphony.org
USUO mobile app
By Phone: USUO Patron Services, (801) 533-NOTE (6683)
In person: 123 W South Temple, Salt Lake City, Utah
ArtTix outlets
Season Sponsor for Utah Symphony | Utah Opera is the George S. and Dolores Doré Eccles Foundation. The Utah Symphony expresses its gratitude to Masterworks Series Sponsor O.C. Tanner and Guest Artist Sponsors Lawrence T. and Janet T. Dee Foundation and Conductor Sponsor Nora Eccles Treadwell Foundation.
About the Utah Symphony
Founded in 1940, the Utah Symphony performs more than 175 concerts each season and offers all Utahns access to extraordinary live performances of the world's greatest music in the state's top venues. Since being named the orchestra's seventh Music Director in 2009, Thierry Fischer has attracted leading musicians and top soloists, refreshed programming, drawn increased audiences, and galvanized community support. Fischer becomes Music Director Emeritus in the 2023-24 season.
In addition to numerous regional and domestic tours-including the Mighty 5 Tour of Utah's national parks and the Great American Road Trip to Utah state parks and national monuments-the Utah Symphony has embarked on seven international tours, from Europe to Central and South America, and performed at Carnegie Hall in 2016 coinciding with the orchestra's 75th anniversary celebrations. The Utah Symphony has released more than 100 recordings; recent releases include a set of Saint-Saëns symphonies, Mahler's Symphonies No. 1 and 8, and Dawn to Dust, which features three Utah Symphony-commissioned works by Nico Muhly, Andrew Norman, and Augusta Read Thomas. The orchestra's celebrated discography with former Music Director Maurice Abravanel includes not only the complete Mahler symphonies, but also premiere recordings of works by Honegger, Milhaud, Rorem, Satie, Schuman, and Varèse.
Utah Symphony | Utah Opera, the orchestra's parent organization, reaches 450,000 residents in Utah and the Intermountain region, including students engaged through education programs that serve every school district in Utah on a three- to five-year rotation. In addition to performances in its home in Salt Lake City, Abravanel Hall, and concerts throughout the state of Utah, the Utah Symphony plays for all of the Utah Opera's productions at the Janet Quinney Lawson Capitol Theatre and presents the six-week Deer Valley Music Festival each summer in Park City, Utah.
For more information about Utah Symphony | Utah Opera and the Deer Valley Music Festival, visit usuo.org, utahsymphony.org, utahopera.org, and deervalleymusicfestival.org.