Storm Large Performs LOVE, STORM With the Utah Symphony
Performances are Friday and Saturday, February 10 and 11, both at 7:30pm, at Abravanel Hall in downtown Salt Lake City.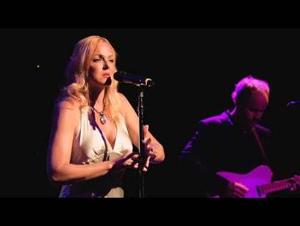 Romance is on the rise this Valentine's weekend as the Utah Symphony invites audiences to take in a love story with songs from across generations, from Old Hollywood to the present. With heightened glamor and enchanting charisma, audiences can immerse themselves in a speakeasy-like concert performance with Love, Storm. Paired with the full sound of the Utah Symphony, the incomparable Storm Large delivers a "love letter" as only she could-bringing her incredible vocals and sultry dynamic to the stage with a variety of classic and modern love songs, blues to rock and beyond. The two evening concerts will take place Valentine's Day weekend-Friday and Saturday, February 10 and 11, both at 7:30pm, at Abravanel Hall in downtown Salt Lake City.
Storm Large shot to national prominence in 2006 as a finalist on the CBS show Rock Star: Supernova, where she built devoted fan base. With her impressive musical background, she has continued to share her big powerhouse voice and even bigger personality with audiences worldwide. Large was a finalist in the 2021 season of America's Got Talent in which she wowed judges including Heidi Klum and Simon Powell with a soulful rendition of "I've Got You Under My Skin," qualifying her to move forward into the competition. (Large will bring her same signature song to the stage with the Utah Symphony.) Large went on to win the first-ever AGT: America's Wildcard, securing her a place in the quarterfinals.
Large is also well known as a multilingual lead singer with the band Pink Martini, which draws inspiration from music from all over the world and merges the genres of classical, jazz and old-fashioned pop into a vibrant blend of musical prestige. A graduate of the American Academy of Dramatic Arts in New York, Large founded her band, Storm and The Balls, in Portland. The Balls developed a cult-like following in clubs for their "mash up" renditions of artists such as ABBA, Billy Idol, Led Zeppelin and Olivia Newton-John as well as their own compositions.
True to those roots, Large will bring a wide range of song styles to the Abravanel Hall stage, with everything from "It's a Man's Man's Man's World" to "Hopelessly Devoted"-a song she has been singing with her comedic flair since her days with The Balls. Tying together the set list is the love theme-and Large's arresting vocals and the sultry edge she brings to each song.
On par with the romantic season, the Utah Symphony is offering a special Valentine's Date Night package-the Cupid Special. Individuals who purchase tickets under this package deal will receive prioritized seating on the orchestra level for their evening performance as well as an exclusive pre-concert reception featuring complimentary beverages and light hors d'oeuvres. The Cupid Special also qualifies ticket holders for a free Market Bites appetizer at Pago on Main Street. As one of Salt Lake City's most highly decorated eatery, Pago has received awards from Best of State, City Weekly Best of Utah, OpenTable.com, and Wine Enthusiast Magazine. In total, this package offer is valued at $100.00 per seat; it is available for a limited time, through February 6, for $49.00.
For more information, please visit utahsymphony.org.