Interview: Stars of Tuacahn's THE PRINCE OF EGYPT, MATILDA, and CINDERELLA on Their Experience
This summer and fall, Tuacahn Center for the Arts is presenting three exciting productions in repertory at its one-of-a-kind outdoor amphitheatre, including one of the very first productions in the world of DreamWorks' THE PRINCE OF EGYPT, the first production of Roald Dahl's MATILDA THE MUSICAL following its national tour, and one of the first regional productions of Rodgers and Hammerstein's CINDERELLA.
Jacob Dickey, who was the first replacement for the leading role in ALADDIN both on Broadway and on tour, plays Moses in THE PRINCE OF EGYPT.
Brad Bradley, whose Broadway credits include the original casts of SPAMALOT and the ANNIE GET YOUR GUN revival, plays Mr. Wormwood in MATILDA, Aaron in THE PRINCE OF EGYPT, and ensemble and u/s Jean-Michel in CINDERELLA.
Yale graduate Rebecca Brudner, whose resume includes regional productions such as OKLAHOMA! at Goodspeed Opera House, plays Ella in CINDERELLA, ensemble and u/s Miss Honey in MATILDA, and ensemble in THE PRINCE OF EGYPT.
The three actors were happy to speak with BroadwayWorld about their time at Tuacahn.
1. How has your experience been performing at Tuacahn? What makes it unique?
J.D.: I've loved my time at Tuacahn! There's no other theatre like it in the nation, and there couldn't be a better space for a show like THE PRINCE OF EGYPT. The choice to use the natural canyon as a "backdrop" is one of my favorite aspects of the design and one they take advantage of in a beautiful way. Performing outside in the driest of dry 100 degree heat has been quite a challenge to say the least, but it has definitely helped me push my limits as a performer and see how far I can go. Honestly, the entire team has pushed themselves to their limit for this show in the best way possible. Every trick Tuacahn has up its sleeve has been pulled out, and you can really see the passion and ambition everyone has for this piece.
B.B.: I have thoroughly enjoyed working at Tuacahn this season. Performing in an outdoor amphitheatre reminds me of growing up in San Diego where I got my start at the Starlight Bowl. The big difference is that this Utah amphitheatre has the backdrop of natural stunning red rock. When you are dealing with something that is so incredible to look at, the show better be able to compete with the view.
R.B.: Performing at Tuacahn has been a truly incredible experience. It is the largest house I've ever played to, and the stage itself is enormous, so it really makes me feel like a rock star! There are a lot of unique aspects of Tuacahn, but I think the natural setting is most exciting to me. The feeling of performing in the canyon is unbeatable. There's a moment in CINDERELLA where I sing, "The stars in a hazy heaven tremble above you," and to look up and see this vast sky filled with stars while singing that line is just amazing.
2. What led you to audition for Tuacahn?
J.D.: Growing up, THE PRINCE OF EGYPT was a family favorite in my house, and I have said for many, many years that I would give anything to play Moses when/if it was ever adapted for the stage. So when I got the appointment in NYC, I knew I had to be at that audition no matter what and that if it worked out I was going to take it no questions asked. It's cliche, but it's a dream come true.
B.B.: It is a theatre company that has been on my radar for several years because it's a six-month contract that makes a union member eligible for a year's worth of insurance. This year it was the thought of playing Mr. Wormwood in the regional premiere of MATILDA that was the kicker. He is traditionally cast as a tall, lanky man, and so I was never considered for it before. The idea that the theatre and Wojcik/Seay casting would look outside the box and consider someone short and scrappy made me run to the audition.
R.B.: I auditioned for Tuacahn mainly because of the exciting season they had put together. CINDERELLA and MATILDA are both regional premieres, and THE PRINCE OF EGYPT is a new musical! I was excited by the prospect of getting to create something new and also by the diversity of the season. There's CINDERELLA, with its gorgeous Rodgers and Hammerstein score and funny, contemporary script; then MATILDA, which is one of the smartest, most heartfelt musicals of the last decade; and finally, THE PRINCE OF EGYPT, with luscious, epic music by Stephen Schwartz and, obviously, a hugely important narrative. It's an incredible and varied season.
3. What is your favorite onstage moment, and what is your favorite song to perform?
J.D.: Parting the seas, while it may be the expected answer, is definitely one of my favorite moments on stage. What they have been able to achieve technically, coupled with the incredible score Stephen Schwartz has created, makes for an awe-inspiring moment, and I can't help but feel moved. My favorite song to perform is definitely "For the Rest of My Life." Not only is it a stunning standalone song and a gift to be able to sing, but within the context of the show it serves as a much needed insight into Moses' inner turmoil following the completion of the final plague, the death of the firstborn. It is raw and heartbreaking and beautiful and real, and as an actor I couldn't ask for anything more.
B.B.: Getting to be in honest acting moments with our brilliant Matilda, Lydia Ricks, is always so special to me. Our director, Igor Goldin, encouraged me to take a more human and realistic approach to my Mr. Wormwood. He has allowed me some vulnerable moments so I'm less of a two-dimensional villain and more a flawed father. This has a huge payoff in the last moment in the show when for the first time I actually show my daughter some compassion. Performing "Telly" at the top of Act II is not only my favorite number to perform in the show, it's maybe my favorite song I've ever performed. There is something about breaking the fourth wall and letting the audience in that is thrilling. In the world of British panto, the monologue leading up to the song allows me to not only make fun of myself, but the audience as well. In Tuacahn's version, I actually bring someone up onstage, embarrass them, and call them a bookworm. I always pick a child. It warms my heart to share this story with children, let them in on the joke, and then tell them to bugger off. If it goes well, I have the audience in the palm of my hand. Doesn't get much better than that. An empty stage, a spotlight, and a mic stand, singing a very clever song about television, in a green wig. To me that's perfection.
R.B.: This is a tough question, because I find new and different moments each time I do the show. I think my favorite song to perform is "Ten Minutes Ago," which is the duet with Prince Topher (played by the wonderful Aaron Young) at the end of Act I. It's beautiful because it comes out of the craziness of the ball, where everyone is wearing colorful costumes and crazy wigs and running around and dancing, and all of a sudden everything stops and Topher and Ella just get to connect to one another. I love the simplicity of the storytelling in that moment, and it's doubly rewarding because it's with Aaron, who is such a dear friend. I also relish every second I get to play onstage with Linda Griffin (my fairy godmother)! She is such a brilliant and hilarious scene partner, and every show is a blast with her.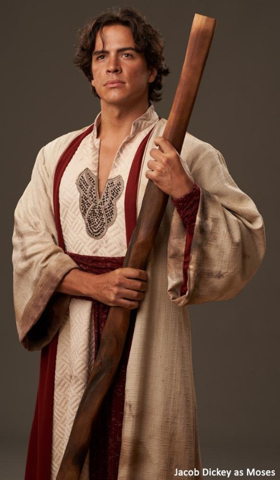 4. Jacob, as only the second person to play the role of Moses onstage in THE PRINCE OF EGYPT, how did you approach the role?
J.D.: Because I am only the second person to play Moses, I was able to bring a lot of myself to the role. My goal with any character I play is to find the similarities between us and ground it in honesty. Moses was, after all, just a man struggling to find his place in the world, and like any person ever in the history of the universe, I can easily relate to that! It's one of the most epic coming of age stories of all time, so I didn't want to focus on how he spoke or moved so much as how he grew from start to finish. Pinpointing the moments when he made another step toward maturity was crucial to my understanding of who he was and who he needed to become.
5. Brad and Rebecca, what is it like being a member of all three casts in repertory?
B.B.: Working in rep is an actor's dream. I've gotten to create three distantly different roles--a Hebrew slave, a horrible father, and a French revolutionary. The best part is we really feel like equal company members. Every person in the company, from the nine-year-old kids to the crew who work until the wee hours of the morning with changeover, are all part of the same team. A degree of humility is necessary at times when you have to step back in the shadows after being in the spotlight (I put my dance background to use in the ensemble of CINDERELLA and covering Jean-Michel). We do feel like a family who support each other in their triumphs and get to watch the children grow in performance (and in height). Being a part of a show in the beginning phases is another joy an artist hopes for. THE PRINCE OF EGYPT is such a project. This show is still in the beginning phases of creation, and I was really able to contribute. The opening of Act II is Aaron's number "One of Us" (opening the second act is my gig this season). This number was on the chopping block from day one because the powers that be were on the fence about it. Due to this, I actually had a work session with Stephen Schwartz himself. It was changed and edited, and DreamWorks is happy with the final product. Being able to be part of creating something firsthand is an honor. If the show has a future, I can say I'm a part of that, even if just a small part.
R.B.: This is my first repertory theater experience, and I love it! It can be difficult and exhausting, for sure, but performing three shows in rotation means that the shows never feel stale or repetitive. They feel new every performance. And it's so exciting that different cast members get to shine in each show! It makes for a very supportive environment.
6. Why should people see the shows at Tuacahn this year?
J.D.: My favorite thing about the three mainstage shows this season is the diversity of entertainment options they provide! All three musicals are completely different in tone and style, but they are all magical in their own right! Tuacahn is known for their over-the-top visuals and displays, and it is almost always a guarantee you will be wowed at some point in every show, but all of that would mean nothing without the quality of performers and artists they employ to bring a story to life. These actors and crew members work their butts off seven days a week to bring full out, full energy, full life shows to St. George, and their level of skill and professionalism is unbeatable and inspiring. If I had to summarize it in one sentence I would say come for the magic, stay for the talent. (And the churros. The churros are really good...)
B.B.: The three shows this year are so different and so magical, each in their own way. I think there is something for everyone but also a through line of heart and the importance of kindness to others.
R.B.: So many reasons! The talent in the cast is amazing--among us there are Broadway veterans, Radio City Rockettes, and pop music stars! On the technical production side, Tuacahn is one-of-a-kind. This theater has a capacity for special effects and technical feats unlike any I have seen. It's breathtaking. But more than any of that, I think people should come for the stories. Whether about a young woman learning how to have confidence in herself, a little girl discovering the power that lies within her, or a man bearing the responsibility of freeing an entire people, these stories are powerful and worth slipping into for a few hours.
MATILDA THE MUSICAL runs through October 18, CINDERELLA runs through October 19, and THE PRINCE OF EGYPT runs through October 20 at Tuacahn. For tickets, call the box office at 1-800-746-9882 or visit www.tuacahn.org.
Photo Credit: Tuacahn