Moscow Pushkin Drama Theatre Presents SHAKESPEARE IN LOVE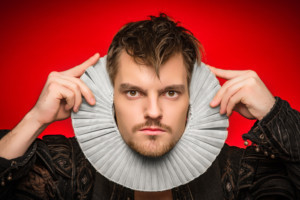 The most anticipated premiere during this theatrical season is "Shakespeare in Love" presented by Moscow Pushkin Drama Theatre. Lee Hall's stage adaptation of the Oscar-winning film will take place on the main stage of Moscow Pushkin Drama Theatre on May 11 and 12, 2018.
Rehearsals started on last Monday of this month. The cast includes actors from Moscow Pushkin Drama Theatre, some of them are invited from Russia's leading theatres.
"Shakespeare in Love" makes Russian stage debut in Moscow for the first time. Screenplay written by a British world famous playwright and screenwriter Tom Stoppard depicts a love affair involving Viola de Lesseps and playwright William Shakespeare. It presumably inspired stuck Shakespeare to write his masterpiece "Romeo and Juliet". The play will be staged by one of Moscow's most prominent theatre directors - Evgeny Pisarev.
Stoppard's play is set in Elizabethan England with its wonderful atmosphere. "Shakespeare in Love" includes many memorable characters, the story provides nice twists along the play. All in all, this performance full of sincerity and fine poetry is aimed to unite people during these hard and cynical times.
Evgeny Pisarev, Director - Graduated from the Moscow Art Theatre College in 1993 (studied under Yuri Eryomin), then joined Pushkin Theatre group. Performed the roles of Augustin in One of the Last Carnival Evenings, Fernando in Story of a Stairway, Podhodtsev in The Funhouse, Nick in The Great Gatsby, the Simpleton in The Lady of the Cabaret, Octave in Skapin, John in Nobody Dies on Friday, Khlestakov in The Government Inspector, Agishin in The Marriage of Belugin, Nikolai in In the Apple of an Eye, Tim in Some Explicit Polaroids, etc. Theatre director since 1996. His productions at the Pushkin Drama Theatre include Treasure Island after Robert Louis Stevenson's novel (1996), Love and Squalor by J. D. Salinger (1998), The Government Inspector by Nikolai Gogol (2001), Puss in Boots after Charles Perrault, Lend Me a Tenor by Ken Ludwig (2005), Bullets over Broadway by Woody Allen (2007), Barefoot in the Park by Neil Simon (2010), Much Ado About Nothing by William Shakespeare, Is He Dead? by Mark Twain (2012), The Great Magic by Eduardo di Filippo (2012, Theatre Union 'Hit of the Season' award),The Marriage of Figaro by Beaumarchais (2014), Chamber Theatre. 100 Years (2014, Oleg Tabakov award).
Pisarev's productions at the Moscow Art Theatre include Leading Ladies by Ken Ludwig (2006), Magic Horseby the Presnyakov Brothers (2008), The Pickwick Club after Charles Dickens (2009) and These Ghosts by Eduardo di Filippo (2010). In 2009 the production of Magic Horse received the Golden Mask award as the best operetta and the Chrystal Turandot award as the best production of the year 2008.
Worked as an assistant director of Declan Donnellan's productions of Boris Godunov, Twelfth Night (where he also took on the role of Feste the jester) and Three Sisters (also took on the role of Kulygin).
In 2007-2010 worked as an assistant to Oleg Tabakov, artistic director of the Moscow Art Theatre. Artistic director of the Moscow Pushkin Drama Theatre since 4 July 2010. Teaches Acting at Moscow Art Theatre College since 1999, head of Acting course since 2013. His musical theatre engagements include staging of The Sound of Music by Rogers and Hammerstein at the MDM Palace, Moscow, 2011, and staging of Rossini's L'italiana in Algeri at the Stanislavsky Theatre, 2013 - a production that was nominated for the Golden Mask award as the best director's work in musical theatre.
Related Articles View More Russia

Stories

Shows
More Hot Stories For You