Click Here for More Articles on Hamilton
BWW Review: HAMILTON Lives up to the Hype at Providence Performing Arts Center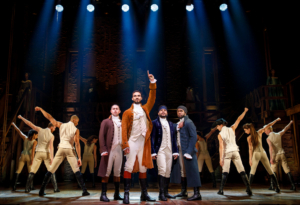 Have you heard of this little musical called HAMILTON? Considering how much attention this show has gotten for the past three years, it almost seems impossible for it to be as good as people say it is. Surely people are just caught up in the hype and the moment? I'm happy to say that that's not the case at all, and all praise for this musical is well-earned. It hits the sweet spot of compelling characters, catchy songs, excellent performances and fantastic dance sequences.
Alexander Hamilton is best known as an American Founding Father, first Secretary of the Treasury and the author of most of The Federalist Papers. What the musical HAMILTON examines is his early life in pre-American Revolution New York, and the hand that he and others had in shaping what would become the United States of America. What's interesting about this production is that even though Hamilton is the title character, Aaron Burr, Hamilton's friend/nemesis and the man who ultimately kills him in a duel, is really the person who shows the audience what Hamilton is all about. In fact, Hamilton is such a workaholic, that the musical bearing his name ends up being a lot of other people talking about him, rather than him really driving things.
It's nice that the narrative doesn't turn into a three-hour slog of hero worship. It's very canny to show the mistakes he makes along the way and give us a well-rounded picture of a brilliant writer and statesman, who could use a bit of coaching in diplomacy, and who is almost consumed by his own striving. Edred Utomi plays this role with a nice subtlety, as he's often the man behind the scenes-- making George Washington's plans come to fruition, writing 51 of the 85 essays of The Federalist Papers, and trying to move through his agenda for creating The Constitution.
Surrounding him we have Aaron Burr, played by Josh Tower. Tower's performance is heartbreaking and tinged with both regret as he announces right in the beginning "I'm the damn fool that shot him." Burr is measured and calculating, where Hamilton is impetuous and seems to just have things handed to him. While we know that Hamilton works feverishly, writing like he's "running out of time", it's still easy to see where Burr's resentment comes from, and Tower's performance really creates empathy as he's reduced to being Hamilton's Salieri.
As expected, the performances are across-the-board fantastic. Hannah Cruz as wife Eliza Hamilton nee' Schuyler has a voice so clear and lovely that it fills the massive space of PPAC with a feeling of purity and light. Thankfully her character is not reduced to merely the role of wife, but she portrays a range of emotions from joy at new love to utter heartbreak. She's never not compelling to watch, and has a lovely rapport with Hamilton and her sister Angelica Schuyler, played with equally matched vocal talents by Stephanie Umoh.
Other standout performances include Paul Oakley Stovall as George Washington. He's a giant of a man, with a gorgeous baritone, and the gravitas one would expect from the general and president. Bryson Bruce shines in the dual role of Marquis de Lafayette in Act I and Thomas Jefferson in Act II. Unfortunately, due to some garbled sound issues, his showstopper number as Lafayette was largely unintelligible, but his energy and physical performance in both roles was larger than life. Peter Matthew Smith is hilarious as hopeless King George, who seems to have a lot of trouble accepting the loss of his colonies.
Not to be overlooked, the Andy Blankenbuehler's choreography in this production is absolutely fantastic and adds an extra dimension that keeps the pace up and and energy high. While the Founding Fathers plan the revolution, the ensemble circles and moves around them in a dance style that is clearly inspired by hip hop, but with a Broadway finesse. It fits the mood of the musical perfectly and communicates wordlessly the determination and unwillingness to back down that is felt by all characters.
It's deeply satisfying to finally see a show that has been so talked about and find that it is as good as people say. Despite the initial sticker shock one might feel looking at ticket prices (as of this writing, tickets are still available), this is really worth it, and there's also the Hamilton Lottery [hamiltonmusical.com/lottery], which is running for all Providence shows and can get winners up to two tickets for only $10 apiece. So, don't throw away your shot to see this amazing show.
Hamilton runs July 23-August 11 at Providence Performing Arts Center, 220 Weybosset St Providence, Rhode Island 02903 • Tickets are available by calling (401) 421 - ARTS (2787), and online at ppacri.org.
Related Articles
Andria Tieman is a lifelong theatre fan. She has an MFA in fiction, play & screenwriting and presently works as an academic librarian and special (read more...)