Review: Granite Theatre's Thrilling DIAL M FOR MURDER Delivers Sensational Suspense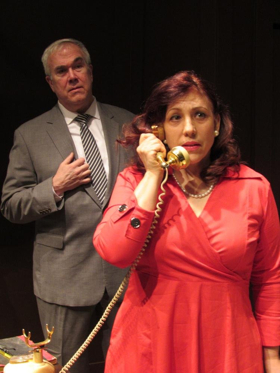 Westerly's Granite Theatre knows how to stage a good mystery. Whether weaving through plot twists penned by Agatha Christie or deftly melding horror and comedy ala Joseph Kesselring, the Granite reliably delivers a solid "whodunit" season after season. This spring, the company lives up to its sterling reputation with a production of Dial M for Murder that absolutely sparkles.
Though the story is best known today through Alfred Hitchcock's classic film adaptation, Frederick Knott's Dial M for Murder first began captivating audiences as a BBC television special and a highly acclaimed stage play. There's little in the way of traditional "mystery" around Dial M for Murder. There's no whodunit to solve - the audience knows the who, how, where, when, and why of the crime from the get-go. Instead, Knott's thriller puts forth one predominant question: Will the villain get away with his elaborate scheming? This original approach creates a pervading atmosphere of suspense that engages and absorbs an audience as completely today as it did when Dial M premiered more than 60 years ago.
The curtain comes up on the seemingly happy marriage of Tony and Margot Wendice. Tony is a former British tennis champion, now retired to a regular workaday job, and Margot appears a happy and contented wife. But Margot has a secret - a past love affair with an American crime writer, Max Halliday. Unknown to Margot, Tony learned of her infidelity more than a year prior, and though Tony found himself gripped by an initial murderous impulse, his keen intellect tempered any immediate retaliation. He simmered down instead to play the long game. Margot's will, after all, names him as beneficiary of a substantial sum of money, so Tony bides his time, plans every small detail, and blackmails a shady university chum into murdering his wife. Tony preens that he's concocted a cast-iron alibi for himself, but as Max inadvertently prophesies, the perfect murder only exists on paper. Soon enough, Tony's most carefully laid schemes crumble, and he must prove a master manipulator to manage each new crisis that springs up around him.
The Granite's cast, under the skillful direction of Brian Olsen, presents Knott's thriller with real style and spot-on pacing. Tony's poise and ingenuity are crucial to maintaining the story's tension, and Rick Bagley makes for a suave, unflappable villain. Tony is an actor's actor, his manner at all times affable and innocuous, and Bagley maintains Tony's aura of composure in every scene, only allowing the barest raised eyebrow to indicate unease as plans go awry.
Veronica Strickland plays Margot with an ideal air of sweetness and artlessness. She strikes a conversational patter in the everyday back-and-forth between husband and wife, brings a gentle fondness to her reminiscences with Max, and offers an appropriately chilling reaction when Margot's attacker strikes. Steve Spartano portrays Max as gentle and gentlemanly - tender with Margot and amiable with Tony - but when Margot's life hangs in the balance, Spartano morphs Max into a decisive man of action. Fergus Milton gives Captain Lesgate a cagey, cautious demeanor, and he plays Lesgate's dawning recognition of and resignation to Tony's act of blackmail with subtlety and skill.
Mark Sullivan rounds out the key players as canny Chief Inspector Hubbard, the levelheaded and intelligent detective pitted against Tony's criminal mastermind. Sullivan ably communicates Hubbard's methodical sleuthing without allowing his character to betray his discoveries. And Olsen makes the most of a few spare lines in an eleventh-hour cameo as Officer Thompson.
David Jepson's set pieces and lighting design are well crafted to support the storytelling, create mood, and build tension. Beth Jepson curated props ideally suited to establish the Wendice residence, including little homely touches like Tony's tennis trophies, family photographs, and Margot's mending basket - small domesticities that play key roles in the narrative. Tailored costumes by Beth Jepson and Paula Brouilette set the play's action in the 1950s without feeling dated or overdone.
Small murmurs from the audience built into outright gasps and minor exclamations as bits and pieces of evidence were revealed during Granite's opening night performance of Dial M for Murder. Theater-goers of all ages, from grandparents to early tweens, could be heard animatedly discussing the play's outcome as they filed out of the building at the close of the show. These reactions are fine tributes to the quality of the story being told and to the actors telling that story. Dial M for Murder is a sure-fire success for the Granite Theatre, a production certain to keep you guessing and give you goosebumps.
---
Renaissance City Theatre, Inc. presents Dial M for Murder at Westerly's Granite Theatre through Sunday, April 8, 2018. Tickets cost $20 and can be purchased online at www.granitetheatre.com or by calling the box office at 401-596-2341. Child and senior discount rates are available. The Granite Theatre is located at 1 Granite Street, Westerly, RI 02891.
Pictured: Rick Bagley and Veronica Strickland
Photo Courtesy Renaissance City Theatre/Granite Theatre