Lakewood Theatre Company Presents The Musical THE HAPPY TIME February 17-18
This year's theme, in honor of Lakewood's 70th Anniversary Season, is "Celebrating Shows Once Performed at Lakewood Theatre Company."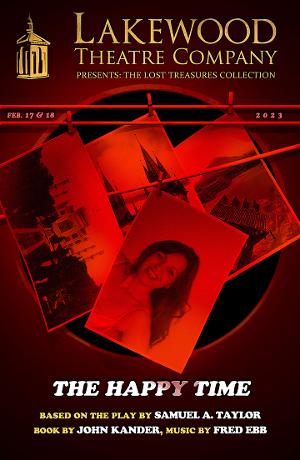 The Lost Treasures Collection, a series of rarely performed musical gems, continues its thirteenth season at Lakewood Theatre Company on its Side Door Stage with The Happy Time, February 17-18, 2023.
This year's theme, in honor of Lakewood's 70th Anniversary Season, is "Celebrating Shows Once Performed at Lakewood Theatre Company."
The shows in the Lost Treasures series are staged in a concert/cabaret style, and are presented script-in-hand, with minimal staging. No sets, no props (free from the usual trappings of a fully staged production).
The Happy Time will have only three performances: Friday, February 17 at 7:00 PM and Saturday, February 18 at 2:00 PM and 7:00 PM. The Happy Time is a musical with music by John Kander, lyrics by Fred Ebb, and a book by N. Richard Nash loosely based on a 1950 hit Broadway play, The Happy Time by Samuel A. Taylor, which was in turn based on stories by Robert Fontaine. It was originally produced on the Broadway stage in 1968 by David Merrick.
At Lakewood Theatre, the production was originally staged in 1970. Lakewood's 2023 production is directed by Dennis Corwin and the musical director is Jeffrey Michael Kauffman. Performances are on Lakewood Theatre's Side Door stage at Lakewood Center for the Arts in Lake Oswego, Oregon. The Lost Treasures series sponsor is Fritz Camp, and the curatorial sponsor is Jack's Overhead Door.
Set in the 1920s, The Happy Time tells the story of a French-Canadian photographer names Jacques Bonnard (Brandon Michael) who has been traveling the world but decides to return to the small hometown of his childhood. There, he is welcomed home by friends and family, particularly his opinionated but loving father known as Grandpere (Ron Daum), and his impressionable pubescent nephew Bibi (Sam Green).
Jacques is discontent, the wandering of his career taking its toll. He has come back home to reclaim his childhood, only to find that both he and the world he remembers have changed. Bibi looks up to Jacques and even offers to leave town with his uncle, himself frustrated with small-town life. The musical is an intimate portrait of a family, and examines the cycle of life, our need to adventure and our need to return home.
The cast of Lakewood's production also includes Jennifer Davies, Mike Dederian, Margo Schembre, Jeremy Southard, and Laura Hiszczynskyj.
Ticket prices are $20 for all seats. Contact the Lakewood Theatre Box Office at (503) 635-3901 or order online at https://cloud.broadwayworld.com/rec/ticketclick.cfm?fromlink=2220499®id=83&articlelink=http%3A%2F%2Fwww.lakewood-center.org%2F?utm_source=BWW2022&utm_medium=referral&utm_campaign=article&utm_content=bottombuybutton1.
Lakewood Theatre Company's Side Door Stage is located in the Community Meeting Room at Lakewood Center for the Arts, 368 S. State Street in Lake Oswego. Light food, snacks, and beverages are available to purchase before and during the show.