Review: CROWNS Is a Rousing Gospel Musical Treat with Tons of Hattitude, at Portland Playhouse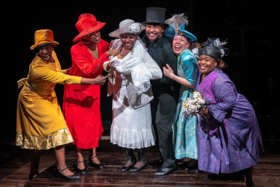 Get ready to clap your hands, tap your feet, and make a joyful noise at Regina Taylor's CROWNS, now playing at Portland Playhouse. This jubilant musical mixes gospel, jazz, and a little bit of hip hop into a celebration of sisterhood, self-expression, and, most importantly, fabulous hats. (Also, there's a dance-off!)
CROWNS is based on Crowns: Portraits of Black Women in Church Hats, a book of photography and interviews exploring the special meaning of adorning one's head. For many African American women, a hat isn't just an accessory, it's the pinnacle of self-expression. And the most important place to wear a hat is to church.
Taylor has woven the interviews together with a simple plot. After her brother is killed, Yolanda, a teenager from Brooklyn, is sent to live with her grandmother in South Carolina. At first, she's not so happy to be there. But her perspective changes as she learns about faith, family, and community from her grandmother and the other women at the local Baptist church. Their stories, which are all about hats, start off light and funny, about things like how to choose a hat and hat etiquette. As the show progresses, the hat stories do as well, exploring love, loss, racism, and more. The result is a rich tapestry of personal, social, and cultural history.
Portland Playhouse, which used to be a Baptist church, is the perfect venue for this exuberant show, full of stirring gospel music and plenty of rousing preaching. Director Patdro Harris has assembled an incredible (and incredibly hardworking) cast. Ithica Tell, Juliana Torres, Shalanda Sims, Marilyn Keller, and Kristin Robinson -- who play the women in hats -- all have roof-raising voices, and when they sing together, it brings the house down. And Kelli Bee gives a vibrant performance as Yolanda, a young woman struggling to deal with the loss of her brother.
But of all of the fine performances, Andre' Neal takes the cake. He plays all of the men in the show, i.e., the men the women talk about in their stories, ranging from dapper young men to aging husbands, fathers, and grandfathers. He also plays the preacher. When he baptized Yolanda, I briefly considered jumping up to be next in line.
And let's not forget the hats, from costume designer Wendy Walden. There are many of them -- some sleek and sophisticated, others adorned with feathers bells, and all gorgeous.
CROWNS runs through April 21. I highly recommend it. More details and tickets here.
Photo credit: Brud Giles