Review: Bag&Baggage's ROMEO & JULIET (LAYLA & MAJNUN) Puts a Classic in New Perspective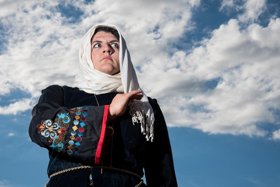 I admit that I don't get too excited about yet another Romeo & Juliet. My favorite of late was recent production by the Oregon Ballet Theatre (which, being a ballet, was free of Romeo's incessant whining). But Bag&Baggage's world premiere production of Romeo & Juliet (LAYLA & MAJNUN), a mashup of Shakespeare's classic and a Persian tale of doomed young lovers, written centuries earlier by Nizami Ganjavi (and which may very well have served as Shakespeare's inspiration) changed my mind.
For this show, which is being performed outdoors at Hillsboro's Tom Hughes Civic Center Plaza, Bag&Baggage Artistic Director Scott Palmer has melded the two stories into a play that's familiar, but still provides plenty of surprises. (During the intermission, I jokingly asked my trusty theatre companion if she'd like to take bets on how it would end. Turns out, we both would've been wrong.)
First, I thought the story and the script were excellent. Instead of Capulets and Montagues, Palmer gives us Christians and Muslims, putting today's religious struggles front and center. He also updates the roles of women, with a female Tybalt and a formidable Lady Capulet. Finally, he really taps into Shakespeare's humor, not just with Mercutio, but throughout, as, I believe, it was meant to be. Palmer weaves Shakespeare's and Ganjavi's poetry together beautifully so that, without a script in front of you, it would sometimes be difficult to tell which lines originally belonged to which story. I found the new adaptation both more engaging and more relatable than most productions I've seen of Romeo & Juliet.
I enjoyed many of the performances. Colin Wood was super as boisterous, bawdy Mercutio, and Signe Larsen was well cast as Tybalt. I also really liked the parents - Lawrence Siulagi as the Sayyid (Romeo's father) and Mandana Khoshnevisan as Lady Capulet (Juliet's mother). I would have liked Nicholas Granato's Romeo/Majnun to be slightly less hysterical. Even for a combination of a whiny Romeo and a mentally unbalanced Majnun, it was a bit much.
Finally, they made excellent use of the vast open space. The stairs and contours of the plaza provided the opportunity to create an immersive experience, and that's exactly what they did.
Overall, I thought Romeo & Juliet (LAYLA & MAJNUN) brought a fine new perspective to a classic. Also, it's pretty great to sit outside and watch theatre during the summer, especially when there's sword fighting.
Romeo & Juliet (LAYLA & MAJNUN) runs through August 5. More details and tickets here.
Photo credit: Casey Campbell Photography