BWW Review: SHIRLEY VALENTINE at Polonia Theatre - It's never too late!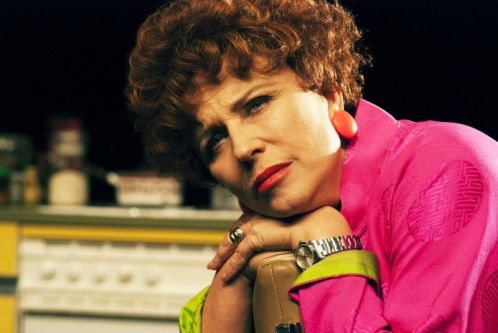 Surprisingly a theatre comedy can be something more than just a straightforward pastime.
'Shirley Valentine', directed by Maciej Wojtyszko, is one of the most famous Krystyna Janda's one-woman shows. She has been performing it for three decades! (the opening night took place at the Powszechny Theatre, but since 2005 it's been played at the 'Polonia' Theatre, the private theatre founded by Janda). It's based on William Russell's iconic tragicomedy under the same title (and there's of course a well-known, award-winning British film from 1989 with Pauline Collins in the leading role).
After years of an unsuccessful marriage, Shirley while preparing the dinner and talking to the wall, discovers how lonely she is, and when her best friend offers her a trip to Greece, she finally decides to change her life.
Janda's role is profoundly impressive. First of all, this actress famous for her dramatic film roles, plays a mature housewife, sitting in her kitchen and peeling potatoes. The whole convention of the play is also worth building up. At the beginning Shirley enters her kitchen and immediately starts talking to the wall, which is situated at the audience's side, so basically, she talks to us. That's a super magical artistic move, which shortens the distance and most importantly engages us in the play. I can only imagine how much Janda's role has changed since the 90's. Back then she was 40 and now in the interviews she admits that her role has matured along with her, and therefore gained a lot of self-irony. She creates such a significant connection on the stage with the audience. While watching the show you laugh all time time but at some point you start to realise that in fact you pity Shirley. You start to detest her tragedy and loneliness. After a thread of preparing a real dinner in front of us (sunny side-up eggs with potatoes), she is offered the dreamful holidays she has never had. Just before the end of the first part, Shirley shows the plane ticket to the wall (us - the audience) and finally asks whether to go or not. There's always a positive response from the audience. In the second part Janda performs a miracle! She takes us to the sunny Greek coastline sitting in the deck-chair in the full sun giving us an impression of being there with her. There are a lot of moving moments where once she is overjoyed, and then she is aware of all those wasted years.
The set of the stage is modest and appropriate. In the first part it's just a bit naffing, panther kitchen and a table with two chairs where Shirley prepares a real dinner in front of the audience. In the second part there's just a sun lounger under the sunshade where we can feel the climate of Mediterranean. Her costume also changes. Her hausfrau look is just perfect (pink blouse, brown wig, big earrings). And at the end she wears a white loose dress and has her hair loose, that all expresses her total freedom now.
There's nothing more satisfying than just a good and true theatrical play. It's stupendous that throughout those years the play still affects people so much. I believe it is because of the connection between Shirley and the audience. Thanks to this universal story we come to a conclusion that we can always change our life. I think there are women, who happened to sacrifice their life aspirations and happiness for their family and can relate the play to their own situation. It reminds of my great-grandmother, who devoted her life to the family, worked very hard while taking care of the house and the children on her own. Now when she's over 90, when some guests arrive, instead of sitting with them in the living room, she stays in the kitchen all the time, keeps repeating that she has some works to do avoiding the company of the guests. Krystyna Janda once said that since the opening night she received countless number of letters from her female fans, who apparently under the influence of this play decided to move out and change their life like Shirley. If that's true, it shows how powerful theatre can be.
(photo credit: Adam Kłosiński)