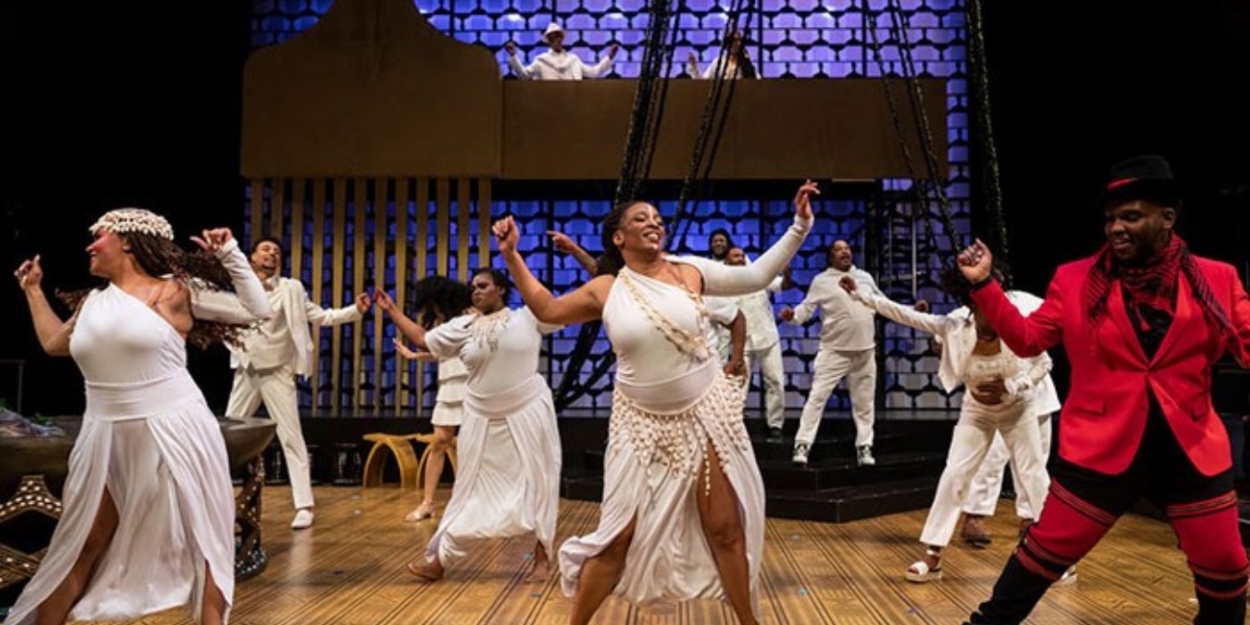 Review: A MIDSUMMER NIGHT'S DREAM IN HARLEM Shakes Up Shakespeare at Pittsburgh Public Theater
Justin Emeka's magical reimagining runs through February 19
Shortly after seeing the opening night of Justin Emeka's A Midsummer Night's Dream in Harlem, which he adapted and directed, I encountered some spirited online discourse on representation in theatre. One passionate commentator suggested that the show should not need, nor receive, the "In Harlem" tagline, and that modern audiences should simply accept, even welcome, that this is just a clever, culturally relevant, black, queer and stylish as hell production of Shakespeare. I get what they're saying. I even support it, in theory, but I don't think Emeka wants that sort of reaction.
The Harlem of the title is a very conscious choice. "Athens is Harlem, and Harlem is Athens," the whole cast chants at the start of the play. The Elizabethans were intentionally fuzzy on past, present and future time-space, thus, Athens of Ancient Greece became an outside-of-time location sharing characteristics of Ancient Greece and Early Modern England equally. As all aspects of the Renaissance western world flowed through the nexus of Athens, so too could one claim that Harlem is the nexus of the Black diaspora in the west. Emeka's production and adaptation certainly suggest this, weaving cultural elements from ancient religion up to modern streetwear, America, Haiti, Jamaica and continental Africa, into his Harlem-based universe.
Right from the start, we are in a world of many worlds: Theseus doubles Oberon as usual (played with a mix of gravitas and almost laughing madness by Keith Lee Grant), but Oberon is in flowing robes that suggest an ancient land, while Theseus wears a snappy white zoot suit. He presides over the familiar betrothal trial scene, but almost immediately there's a change for the better: Lysander is now Lysandra (Amara Granderson), reimagined as a militant lesbian. Though the script is barely changed and homophobia never overtly mentioned, it makes sense as an immediate justification for why THIS romance would be controversial enough to be brought before the magistrate. Saige Smith, Pittsburgh theatre's good luck charm for the past year or so, meshes wonderfully as Hermia with Granderson, giving the character a bubbly attitude and slight southern drawl to bring out the princess vibes against Granderson's rougher swagger. Their romantic frenemies get less nuanced material but most of the comic relief: Brenden Peifer struts and swaggers admirably as the hyper-fashionable Demetrius, and June Alvida Almonte gets enormous laughs as the passionate, guileless and deeply horny Helena. The comic highlight of the entire evening is when Granderson and Peifer both get dosed with love potion; not only does this switch their romantic inclinations, it transforms them into rubber-limbed, perpetually dancing cartoon characters. They both go for broke with the ridiculous aspects of their characters, and it pays off. Amara Granderson's tough, masc affect completely vanishes into the hyperactive horndog who twerks, does the Ed Grimley dance and at one point Naruto-runs across the stage.
Chief among the play's delights is the ongoing subplot of the working-class community theatre troupe. These so-called "rude mechanicals" have had their professions updated in some of the script's few outright changes: Bottom the Weaver (Andre G. Brown) is now "Bottom, Security" with all the requisite bluster and overenthusiasm of a mall cop. Snug the Joiner (Brian Starks) is now "Snug, the Ladies' Man," who turns his half-assed portrayal of a lion not into a timid kitten but a would-be sex symbol. The writer/director Peter Quince is played by E. Mani Cadet in a joyful double role with Egeus: the former is a loose-limbed, dreadlocked flamboyant creative straight out of Key and Peele, while the latter is a tightly-wound and traditional immigant father with a thick accent and graying beard. I didn't realize the two were the same actor until checking my program after the show.
Portia, as mortal queen Hippolyta and fairy queen Titania, rules over both worlds; in an interesting choice, she adopts a more "exotic" accent and affect as Hippolyta than as Titania, who is portrayed in a more naturalistic sense. Titania is always accompanied by her three fairies (Chrisala M. Brown, Kelsey Robinson and Calina Womack, plus swing Hope M. Anthony at opening night), who sing, dance and chant. Their mixture of American, Haitiana and continental African rhythms and melodies, as well as their turbaned hair, immediately brings to mind a more colorful and less grimy version of the Fates in Hadestown. Oberon, on the other hand, keeps Puck, or Eshu, or Legba (Jaris Owens) as his familiar. The merry fairy wanderer has been reimagined as a faintly voudou-inspired deity of many faces, appearing in both mortal and immortal guise. Owens makes Puck a quieter and less chaotic presence, radiating magic and menace more than jollity and frivolity; after all, the show has plenty of that already.
One last element worth shouting out: Emeka's adaptation/production have made a starring role out of a character so small, he has no lines and often does not even appear in the play at all. The African Boy, a mortal thrall Oberon and Titania fight over, is typically portrayed as a child, if portrayed at all. Instead, multidisciplinary artist Akinlana Lowman brings the African Boy to life not as a mere trinket or bargaining chip, but as an artist and court figure. Playing an Afro-Brazilian single-stringed drone instrument the berimbau or jamming on a customized hybrid djembe/drum kit, even demonstrating the slow-motion acrobatics of capoeira, Lowman proves constantly why these two warring royal presences would each want to be patron to this genius artist. As an amateur hand percussionist myself, Lowman's show-opening djembe solo made me want to run home and YouTube him to see if I could learn any of his techniques for myself.
It's no secret that Pittsburgh Public Theater has a history of producing exemplary Shakespeare, but Justin Emeka's Midsummer will likely go down as one of the must-see shows of the 2020s, just like audiences still discuss Othello with Teagle Bougere and Jeremy Kushnier from years back. Even the scenic design by Anka Lupes is worthy of discussion: the gradual transformation of the stage thanks to the presence of "the head" looming above it will be well-remembered and probably often duplicated by admirers. If you like Shakespeare, hate Shakespeare, or just want a fast, funny good-times party atmosphere, go no further: come to Athens, or come to Harlem.