Review: Say Hello to HARVEY at St. Vincent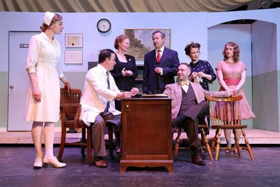 A fascinating duology: when it comes to works of art, there's "of its time," and there's "dated." The distinction between the two, like the famous distinction between art and pornography, is that you know it when you see it. Case in point: the Pulitzer-winning comedy, Mary Chase's Harvey, now showing at St. Vincent Summer Theatre. Like Thoroughly Modern Millie, this show gets a pass for age as it wrings a surprising amount of fun out of a surprisingly not-fun list of topics.
A farcical, lightly magic-realist star vehicle inhabited most famously by James Stewart and later Jim Parsons, Harvey is a surprisingly low-stakes amble through the life of independently wealthy cipher Elwood P. Dowd (Cav O'Leary), who spends his vast inheritance primarily on frequenting the many lower-class pubs, bars and dance-halls in his city. His nouveau-riche sister Veta (Renata Marino) and her boy-crazy daughter Myrtle Mae (Lilli Babb) could put up with this lack of class consciousness; what they cannot put up with, however is Dowd's insistence that he be perpetually accompanied by his best friend Harvey, who Dowd described as a six-foot-tall anthropomorphic rabbit that only he can see. Dowd's gentle eccentricity leads to the involvement of the local sanitarium, and the usual farcical complications arise from there.
It would not be a St. Vincent summer comedy without a starring role for Cav O'Leary (formerly known professionally as Kevin), and he imbues harmless weirdo Elwood with a pleasantly childlike and open demeanor. At least part of the play's central conceit is that Elwood's overly-respectable family, who never touch liquor, suspect that he has a drinking problem, and that Harvey may well be a delusion brought on by excessive alcohol. Here, Mary Chase's script tries to have it both ways: the Elwood that we see is in no ways a drunk, but his primary preoccupation at all times is having a drink, and then another drink, and then going somewhere else and having more drinks with more people. Despite this, Elwood is always written as extraordinary lucid, if at times bordering on a quasi-Forrest Gump idiot savant quality. Credit must be given to O'Leary for avoiding any touch of cliché in his portrayal, skewing closer to Buddy the Elf than any of Dudley Moore's drunken, life-affirming bon vivants. (This is one of those moments where "of its time" edges closer to "dated:" the entire genre of light comedies about inveterate drunks joyously disrupting society and making life better for everyone around them without consequences disappeared in the 80s, and at times Harvey steers close to that convention, but thankfully never quite lands there.)
There isn't a huge amount of physical comedy in the piece, but O'Leary gets plenty of laughs for his extremely natural interactions with the giant rabbit no one else can see, particularly as the unseen Harvey (played by empty air) comes into close proximity- or so we are informed- with the play's cast of straights and squares. Renata Marino, another St. Vincent regular, manages to make the rather unsympathetic character of Veta appealing, almost likable, with a dash of Bernadette Peters and a slow-burn rise to hysteria. Lilli Babb's Myrtle is similarly charming despite being an underwritten character; Babb's delicate comic timing allows her pretension and primping to remain a running theme throughout the show without ever upstaging the material going on around her.
Besides Elwood, the showiest roles go to the sanitarium staff. In the role of young Dr. Sanderson, whose confidence and smarmy bedside manner vastly outstrip his competence, Daniel Krell neatly subverts his lauded role as the analyst in Pittsburgh Public's Equus. Krell's sheer charm and flustered bluster makes the character palatable despite Sanderson's casual misogyny. And even by Mad Men standards, Dr. Sanderson is pretty bad- about half of his lines are him sexually harassing his assistant, Nurse Kelly (Katherine Rogers). Rogers keeps up a strong front as Nurse Kelly, who is inexplicably attracted to Dr. Sanderson despite his constant insults and objectification; it is this resilience, as well as Rogers's period-appropriate good looks, that attracts Elwood to her. Though Elwood is written as a peculiar, almost asexual bachelor, he nonetheless treats all women as fair maidens and bestows special attention and courtesy on Nurse Kelly, to her delight and Dr. Sanderson's confusion. (A side note: is Elwood P. Dowd gay... or at least as gay as the main character in a postwar American light comedy could be? It's easy to read his eccentricities, his fey and dishy manner of speech, and the repeated references to his being a lifelong mama's boy as 1940s-era crypto-homo signaling, which gives the institutionalizing and "conversion therapy" of a harmless eccentric character something of a bad taste in light of today's social mores.)
Rounding out the sanitarium staff is Daniel Pivovar, whose stolid and relatively thoughtful portrayal of orderly Duane gives a certain level of wit to a character only shades away from being a dumb brute on the page. Krell, Rogers and Pivovar each help to overcome some of the material's era-specific shortcomings, giving three-dimensional life to the stock characters of the quack shrink, the ditzy nurse and the dumb muscle. All three play well against Ron Siebert as Dr. Chumley, head of the sanitarium. Arch, aristocratic and slightly mid-Atlantic in that 1940s way, Siebert's shrink supreme is more polished than Dr. Sanderson, but a much dirtier bird in private. As he gradually opens up to the eerily compelling Elwood, coming clean about his desire for a life of consequence-free philandering, he continues to deliver his lines with unflappable smoothness, quasi-Jack Donaghy.
Artistic director Gregg Brandt has plenty to juggle in this piece: a large cast, two rather daunting sets (handled neatly but slowly with a full-stage revolve), and a play that requires commitment to its silly central conceit while avoiding pitfalls of political incorrectness around every corner. Harvey was the season opener fifty years ago, hence its selection for this anniversary; it's easy to imagine a less nuanced production in the 1960s going for broader belly laughs with a kookier Elwood, a ditzier Nurse Kelly, and so on. Perhaps there are aspects of the play that have aged much better than others, but Harvey is no Carousel- it's much more quaint than it is problematic, lecherous doctors and happy-go-lucky tipplers aside. Though the two competing philosophies of "lock up the crazies for the benefit of polite society" and "maybe the crazy ones are just misunderstood; maybe they're even saner than the straights" are both outdated in the wake of today's advances in mental health understanding, the play's good, simple heart compensates. If Harvey had attempted to be a satire on anything- literally anything- it would likely seem dated, maybe even distasteful, today. But the play, like its central character, proves that some simplicity and a kind heart can overcome quite a few social hurdles.