Interview: Cami Richards In ROALD DAHL'S MATILDA THE MUSICAL - A Portrait of A Thespian At A Young Age
Almost Famous Theater Company's young adult production of ROALD DAHL'S MATILDA THE MUSICAL runs from February 24th through the 26th at the Kroc Center in Phoenix.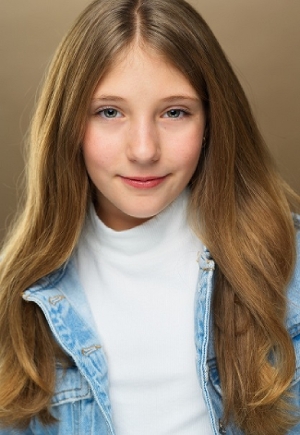 On February 24th, 12-year-old CAMI RICHARDS will have her stage debut in a lead role in Almost Famous Theater Company's production of ROALD DAHL'S MATILDA THE MUSICAL.
Cami is one of thousands of youngsters for whom society's investments in arts education and youth theater pay off in terms of high academic achievement, character building, self-esteem, and leadership development.
With a resume that includes featured spots in commercials (including one during the recent Super Bowl!) and accomplishments in dance (she was promoted to pointe toe in her ballet studies and performed in the NUTCRACKER last year), voice and acting, she has the makings of a triple threat.
This is her first interview and a remarkable opportunity to embrace the voice ~ and likely, a representative one ~ of a younger generation of aspiring thespians who find meaning and fulfillment on the stages of community theatre. She speaks to her motivation, her approach to acting, her role as Matilda, and much more.
We began by asking what got Cami interesting in acting. Like all things serendipitous, her devotion began when she had tonsillitis at six. During her recovery, she reports that she watched THE SOUND OF MUSIC about thirty times (!), fell in love with the show and, in due course, with theatre. It prompted her to start singing...and now, her excitement about theatre is buoyed by its importance and influence in moving her forward in her life.
From there, we explored the next steps in her theatrical journey.
You auditioned last summer on Broadway. That's quite a big deal! You went through six rounds of auditions including three in New York City for casting for the National Tour of ANNIE. While you didn't get the role, you got very close. What did you learn from that experience, particularly about dealing with rejection?
It was a really big experience for me. When I got my callbacks from Broadway, I felt like I was being taken seriously for the first time ever. It was an incredible experience and turned my dreams into a reality.
I found out a few months, after I left New York that I didn't get a part.
But, when I came back to Arizona, I looked at all my friends and how great my life was and thought, do I really want to quit school and travel all over the United States. When I realized the incredible things that I already have, especially being a middle school learner, I wanted to at least finish school before I go on to pursue my dreams.
How do you deal with criticism and how do you use it to help improve your acting ability?
When I get criticism from somebody that's not my director, I kind of just smile and say, thank you. When it's my director, I take it very seriously. I practice the line that she's given me in her notes or the part of a song that she wants me to improve. I do it over and over and over until she approves of it. I think that you also have to be grateful for the criticism because it helps you grow.
Who is your biggest inspiration or role model?
Sara Bareilles. [The Grammy-winning singer-songwriter who wrote the music and lyrics for the hit musical WAITRESS]. I love WAITRESS so so much! Sara is very inspiring. She's an actress, a singer, a director, a writer...she does it all.
I'm also pretty inspired by Alanis Morissette with her new Jagged Little Pill album. Like Sara, she can do it all.
Arizona School for the Arts is a highly regarded center for intellectual achievement, artistic prowess, and character development. You attend ASA. You're in the dance track there (a program affiliated with Ballet Arizona). What is the value of the ASA experience in your development as performer.
Oh, I love my school! It's incredible. I feel like it's helping me manage my time as an actor.
Unlike other top tier schools that some of my friends attend, ASA really supports extracurricular activities. So, ASA kids turn out to be very successful. They end up getting into the best colleges. And I think that they're the happiest people because they haven't been stuck in their rooms after school. They've been allowed to live their social life. That makes me really happy.
You're also working on a 3rd Quarter Project (3QP) that involves creating a 5-series podcast for ASA which centers on teen mental health.
Yes, my podcast is about mental health. I want to put it out there that just because you act one way or you're different from the crowd doesn't mean that you're sick or weird.
Let's talk about MATILDA THE MUSICAL. It's the story of a little girl with astonishing wit, intelligence and psychokinetic powers who tries to rid her school of its evil headmistress Miss Trunchbull. How have you prepared for this role of Matilda?
The first thing that I do after I get a role is to create a back story for my character. I create a scenario of what happened to my character before I do a line and I think about what was happening to her before I come on stage.
Also, every time I read the play, I don't go through the lines and memorize them. I read the whole script every night and I learn everybody's part.
Something that my amazing director ~ her name is Tristin Miller ~ does on the first day of practice is to tell us to pick an animal that we'll try to bring out in our character. So, I picked a monkey, because monkeys are by far the smartest animals. They're very precocious and very funny. That's how I think of Matilda. She can be very strong and caring, but she can also be vulnerable. I feel that I can really relate to her.
In MATILDA, your character sings Quiet after a nasty exchange with Miss Trunchball. As the song progresses and Matilda drowns out the noise, she calms down and becomes more serene. It comes a major turning point in the play. How do you manage the song?
Before I auditioned for MATILDA, I wanted to nail the role. So, I went through every single line of Quiet and thought about what it means to me, what is Matilda thinking about, and what could I bring to the song.
Quiet is the climax of the show. It means love. It means compassion. It means bottling up emotions but then letting them explode. So, when I sing it, I'm thinking about a number of different things at the same time. I'm starting to build up anger and rage and self-doubt. I'm trying to explain something to somebody who has no context or ability to understand what I'm going through. But then, at the end, the song takes me to Matilda's safe space.
What can the audience expect from this show?
I think that the audience shouldn't go in expecting anything. I think that when you go into a show, you should start out with no expectations...nothing at all...even if you have knowledge about the show. Just go in open-minded and follow the characters.
At the same time, I want the audience to be aware that we may make them cry or laugh or want to start singing songs with us. I just want them to have fun.
Between long school days, ballet, rehearsals...how do you maintain a balance between all your commitments?
Calendars! That's the secret! Time management!
Number one, as I mentioned, my school is pretty easy-going with the homework. For dance, I actually do that for an hour on Tuesdays and Thursdays two hours per day. So, I can spend as much time doing theatre as I want to. It makes me so excited that I have the time to do that as well as all my other commitments.
Besides acting, what other interests are you involved in?
I do a lot of extracurriculars ~ art, sports, Instagram. I do tons of babysitting, too...it makes me super happy to see cute little kids running around...so little, so innocent. In fact, I try to teach them theatre at a young age so that maybe they'll get interested in it just like I did.
After MATILDA, what's next on your dream list?
A few favorites. ANNIE, obviously. SECRET GARDEN. And, LEGALLY BLONDE, when I'm old enough.
What would you want to say to other young people who want to be on stage?
I would just say, Go with your dreams. To young people who want to act, I would say, You have to do the work and put all your heart into it.
And there's what my director Tristin has taught me: To motivate myself to be the character. Don't say, "I'm playing the role of Matilda." Say, "I am Matilda!"
CAMI RICHARDS will be Matilda in Almost Famous Theater Company's young adult production of ROALD DAHL'S MATILDA THE MUSICAL, running for four performances from Friday, February 24th through Sunday, February 26th at the Kroc Center, 1375 East Broadway Road, Phoenix, AZ
Almost Famous Theater Company - https://cloud.broadwayworld.com/rec/ticketclick.cfm?fromlink=2226008®id=64&articlelink=https%3A%2F%2Falmostfamoustheater.com%2F?utm_source=BWW2022&utm_medium=referral&utm_campaign=article&utm_content=bottombuybutton1 - Scottsdale Studio: 14202 N. Scottsdale Road, Ste. 203, Scottsdale, AZ
Photo credit to Leighton Agency