BWW Review: Theatre Artists Studio Presents I NEVER SANG FOR MY FATHER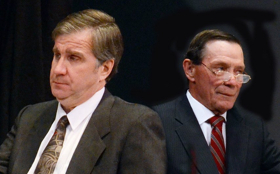 The bookends of Robert Anderson's memory play, I NEVER SANG FOR MY FATHER, echo a haunting refrain about the frailty of love and connection ~ and, in the failure to realize both, the enduring consequences:
"Death ends a life. But it does not end a relationship."
That sorrowful truth is the axis on which Tom Garrison and his son Gene spin in their daunting struggle to gain one another's affirmation and respect.
Theatre Artists Studio is closing its season with Anderson's play. Directed by Steve Fajardo, the presentation is appropriately stark and focused. A simple set with the bare essentials gives the right space to a string of stirring performances.
Charles Sowder plays the raspy patriarch of the family ~ stern and cantankerous, annoyingly recounting remembrances of his more notable past and the early betrayals that shaped his now selfish and antagonistic attitude.
Falling as far from the paternal tree as imaginable is the recently widowed son who stands stuck between filial obligation to his parents and the desire to move forward with his life. Tom Koelbel affects a man torn in two directions, weathered and drained to the point of emotional paralysis, his face a roadmap of pain and uncertainty. If there is a line that tears at the heart and reflects Gene's angst it is this, his pained reflection: "I loved my mother...I wanted to love my father..."
The mother, in this case, Margaret, is understandably easier to love. As portrayed with sweet touches of tenderness and coyness by Judy Lebeau, Margaret is the intelligent and mediating force that keeps the father-son axis in balance.
It is Margaret's passing that forces Gene's moment of truth ~ alone in the wilderness of his feelings, no anchor to steady him: What to do with his ailing father? What, the extent of his caretaking obligation with a man reluctant to accept the outreach?
Encouraged by his visiting sister Alice (Carol Gibson) ~ no love lost between her and Tom who drove her away when she married a Jew) ~ to move on to California and remarry, Gene takes one more unexpected and unappreciated stab at love.
In the wake of Tom's death, Gene stands alone, center stage, embracing the truth that has defined this play, that has left the audience sharing in the grief and frustration of missed opportunities. Sharing, too, in the knowledge, that the scars and the pain of that lonely character will endure long after the lights fade to black.
In life, there are some bridges that cannot be crossed. So it goes as well in families. Not all narratives can have a happy ending, but in stories like Anderson's we are reminded of our humanity. Theatre Artists Studio has done well to end its exceptional Season with such a compelling and relevant ~ and well-delivered ~ message.
I NEVER SANG FOR MY FATHER runs through May 13th at The Studio in Scottsdale.
Photo credit to Mark Gluckman

Related Articles View More Phoenix

Stories

Shows