BWW Review: THE SECRET COMEDY OF WOMEN ~ Gehring And Klein Shine!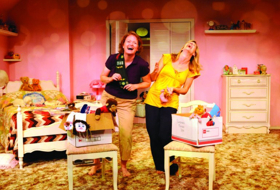 While Standing on the Corner, the 1956 pop song about boys wolfishly wooing girls, is playing ironically in the background, Barbara Gehring dispenses Jergens hand lotion to the women in the front rows of the Herberger Theater Center's Stage West. Her compadre, Linda Klein, is absorbed in filing her nails with an emery board in a bedroom strewn with memorabilia, paraphernalia, and other assorted stuff.
The action is prelude to two women, unabashedly adorned in their undergarments, riffing on the diverse chapters and verses of a woman's life, starting with an upbeat spoof on the airbrushed and enhanced models of fashion magazines and the industrial bras that uplift their images. It amounts to an unequivocal affirmation that "there's more to me than my bra!"
Gehring and Klein, the writers and stars of THE SECRET COMEDY OF WOMEN-GIRLS ONLY®, move on, now clothed, to a series of sketches that range from reminiscences of early childhood (readings from diaries they wrote at age 12) to commentaries that poke at the "progress" women have made from subordination to self-empowerment.
The pair enjoy a marvelous chemistry as they spoof, sing, dance, improvise, and engage members of the audience throughout 105 minutes (including intermission) of clever and sharp-witted takes on the feminine condition ~ the stuff they have to put up with and the distinctive attributes that they can celebrate.
The show really is for women, and as one of only three men in a full house, I can understand why. Gehring and Klein have latched onto moments that are personal and esoteric, wildly familiar to women and quite foreign to a male.
However, as a theatre critic, I saw how their work resonated with the women in the audience. They have touched the female funny bone with relevance wrapped in satire and merrymaking.
An old Folger coffee commercial measures the value of a housewife by the quality of her coffee. A brilliantly conceived History of Women charts women's progress from the stone age to modern times. A video on breastfeeding puts critics in their place. An "Up with Puberty" skit! A blowup of the dreaded scale! Exploration inside their memory boxes! Recounting their relationships with their very special dolls! In every one of these instances and more, Gehring and Klein connect with their audience.
Their improvisational skills shine, especially in wildly imaginative purse exchange. After heading into the audience and borrowing handbags from two trusting souls, Gehring and Klein make hilarious play with the contents.
It is, though, in a brilliantly devised pantyhose pas de deux, perfectly timed to Tchaikovsky's Waltz of the Flowers (from The Nutcracker), that this dynamic duo reveals a stellar display of imagination and talent.
If there is a mystique that defines the feminine and a gap that obstructs understanding between the sexes, Gehring and Klein have probed it with intelligence and sensitivity and loads of good-natured laughs. Leave politics and political correctness at the door so that you can enjoy their invitation into the secret world of women.
THE SECRET COMEDY OF WOMEN-GIRLS ONLY® runs through February 24th at the Herberger Theater Center in Phoenix.
Photo credit to Playhouse Productions, Inc.
Venue ~ Herberger Theater Center ~ Stage West ~ 222 E Monroe Street, Phoenix
Herberger Theater Box Office ~ www.herbergertheater.com ~ 602-256-6995
Featured BroadwayWorld Events
Check out these concerts...
Herb Paine is President of Paine Consulting Services, now in its thirtieth year of operation, specializing in organizational development, strategic planning, turnaround management, mergers, and (read more about this author...)