BWW Review: Empathy Is The Icing On THE CAKE ~ Baked To Perfection At Stray Cat Theatre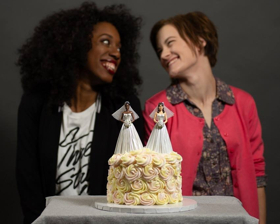 The 2012 incident in Lakewood Colorado, when the owner of Masterpiece Cakeshop denied the request of a gay couple for a wedding cake, spawned not only a landmark Supreme Court decision upholding "religious expression" but also a good slice of satire and rage against self-righteous faith-based intolerance.
The core issues of that controversy have a long way to go before they are resolved. Once again, however, theatre steps in to light a candle in the darkness.
In this respect, Bekah Brunstetter has drawn a different inspiration from the episode and crafted a dramatic masterpiece of her own, THE CAKE, an incisive and deeply empathetic perspective on love and acceptance, the marriages of true minds, and the unspoken impediments to their fulfillment. Rather than indulging in judgmentalism, the playwright has created an absorbing and honest exposition of the ingredients that define both sides of the controversy, but, in doing so, has transcended the issue at hand and put a broader microscope on the complexity of loving relationships.
THE CAKE rises to perfection in Stray Cat Theatre's current production, baked with exacting precision and balance by director Katie McFadzen, and seasoned with outstanding performances by Jodie Weiss, Megan Holcomb, Racquel McKenzie, and Christopher Haines.
Jodie Weiss is a whirling ball of energy and charm as Della, the baker whose faith is tested when Jen (an equally spirited and good-natured Megan Holcomb), her best friend's daughter, returns to her hometown with Macy (Racquel McKenzie embodying the certainty and flair of a rebel), her fiancé, and orders a cake for her upcoming wedding. This is Bible Belt North Carolina where the Good Book, chapter and verse, disparage gay marriage, and a conflicted Della cannot rise to the occasion.
The wisdom of Brunstetter's work is to transform the impasse between old friends into breakthroughs of perception and ultimately alterations in attitude. The result are riveting moments of poignancy, tempered with humor and tears.
To wit: When Jen, in a moment of surprising embarrassment, hesitates to acknowledge Macy as her betrothed. When Macy confronts Della about the worth of her childless marriage in the face of Biblical exhortations to be fruitful and asks with steely bluntness about her love life, prompting a thaw in Della's faith-based certainty and an awareness of the shortcomings of her own marriage. When Della, then, in a painfully uproarious display of self-revelation and seduction is rebuffed by Tim, her dogmatic and mysteriously resistant spouse (portrayed with disarming flatulence and faux machismo by Christopher Haines).
Add to the overall mix the cultured and at times snarky voice-over of local theatre and film critic David Appleford as the celebrity judge of The Great American Baking Show, more frankly the voice of Della's inner conscience ~ and Aaron Sheckler's imaginative set design ~ and you have one tremendous theatrical dessert.
THE CAKE, which really is a must-see eye-opener heart-warmer, runs through November 24th at Tempe Center for the Arts.
Photo credit to John Groseclose
(l to r: Racquel McKenzie and Megan Holcomb)
Stray Cat Theatre performing at Tempe Center for the Arts
700 W Rio Salado Parkway, Tempe, AZ
http://straycattheatre.org or http://tca.ticketforce.com
480-350-2822