BWW Review: Childsplay & Black Theatre Troupe Present AND IN THIS CORNER... CASSIUS CLAY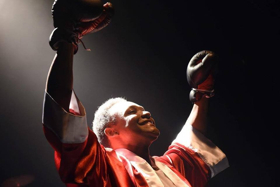 Idris Goodwin, the Producing Artistic Director of Louisville Kentucky's Stage One Family Theater, absorbed the story of a local boy who became a world champion and a legend in his own time and, in 2016, penned a moving homage entitled, And in this Corner... Cassius Clay.
A poet in his own right, as well as an award-winning playwright, Goodwin infuses his work with rhyme, rhythm, and an astute awareness of the troubled times in which the future champ would define himself. It is, as well, a work that connects the events and behaviors of those times with today's ~ enough so, that, in the telling of the story, one may be drawn to drop some tears.
In Childsplay & Black Theatre Troupe's current staging of the play), directed by Michael Jerome Johnson, a superb cast, led by Rapheal Hamilton as Cassius and including some of the Valley's heavyweight talents, packs a solid punch to the heart in an insightful and inspired recounting of Muhammad Ali's formative years.
The champ's mercurial rise from a 12-year-old, full of spit and vinegar and an unimpeachable faith that he would go far (despite his school grades), through his training at the Columbia Gym under the mentorship of Louisville police officer Joe Martin (Louis Farber), to winning a Gold Medal at the age of 18 at the 1960 Summer Olympics and then, at 22, the World Heavyweight Championship ~ these golden moments are peppered with the bruising realities that, blow by blow, shaped a man, an athlete, a hero, and a humanitarian.
Each seminal moment turns on the support and interventions of key figures in Cassius's life. His parents, Odessa Clay (Cynnita Agent) and Cassius Sr. (Khalid Bilton) and brother Rudy (Frederick Alphonso) are the anchors of his early life. It's Joe who takes the lad under his wings ~ after the boy's red Schwinn bicycle was stolen ~ and teaches him the ropes, well enough that he can match and "whup" the local bully, Corky Baker (Kerry Paige). It's the shock of being denied service at a soda fountain by racist employees (Sten Eikrem and Katie McFadzen). His friend, Eddie (Shawn Hansen), is the constant poke at his side, urging Cassius's conscience to awaken to the travesties of Jim Crow (the brutal murder of 14-year-old Emmett Till in Mississippi, a horrifying wake-up call) and the hope that is awakening under the leadership of Martin Luther King ~ to fight not only for himself but others.
As Goodwin weaves the loaded moments of Clay's life into the tapestry of destiny, Rapheal Hamilton delivers a compelling and relatable portrayal of the young man who finds his rhythm in the ring, grows in self-confidence, and overcomes fear. He succeeds in embodying Clay's tone and movements ~ the charming braggadocio, the self-preening, the rope-a-dope.
Sure, the show is recommended for ages 9 and up, but, to be true, there is no cap on how old one should be to see and appreciate this production. In every respect, it is a must-see.
And in this Corner... Cassius Clay, the winner of the 2017 Distinguished New Play Award from The American Association of Theater and Education Award, runs through March 3rd at the Helen K. Mason Performing Arts Center in Phoenix.
Photo credit to Tim Trumble
Childsplay ~ https://www.childsplayaz.org/ ~ 480-921-5700
Black Theatre Troupe ~ http://new-wp.blacktheatretroupe.org/ ~ 602-258-8128
Venue: Helen K. Mason Performing Arts Center, 1333 East Washington Street, Phoenix
Purchase tickets: 602-252-8497

Related Articles View More Phoenix

Stories

Shows