BWW Review: Arizona Broadway Theatre Presents THE BRIDGES OF MADISON COUNTY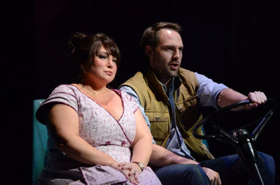 The late Robert James Waller had a winner with THE BRIDGES OF MADISON COUNTY (the first of a trilogy), what with its adaptation from best seller into the 1995 blockbuster with Clint Eastwood and Meryl Streep and then to the stage as a Tony Award winning musical in 2013.
Here's a story that calls out the tissues and warms the hearts of true romantics ~ even if it does center on infidelity: a four-day affair between Francesca, the Italian war bride/farmer's wife, and Robert Kincaid, the National Geographic photographer who happens upon her Iowa home while her husband and kids are off to a fair in Indiana. When the afflicted are soul mates, love conquers all ~ even if it's at the expense of fidelity to family.
When the story is told well, such judgments about right and wrong are suspended, because our humanity recognizes the what ifs of life and the consequences of our taking one road rather than another, of choosing one love over another. When the portrayals of Francesca and Robert are so richly nuanced that we have reason to believe in their mutual attraction and their connectedness, then we may all the more sympathize with their anguish and pain when reality and obligation knock on the door.
When these elements are absent, we have Arizona Broadway Theatre's current production, directed by Danny Gorman ~ good enough to leave you satisfied enough by the powerful vocals of Cassandra Klaphake as Francesca and Bryant Martin as Robert, but wanting more.
Wanting the subtle signs that convince you of the chemistry that draws them together. They move on cue into love but without the emotion that makes you believe they are falling in love.
Wanting some indications that Francesca is conflicted by her betrayal while relishing her romantic liaison. Instead, feeling more sympathy for her cuckolded husband (Andy Meyers) and kids (Callista Walker and Devon Pollici).
Yet, the music and stagecraft are strong enough to create the necessary mood to envelop you into the flow of the story. Glen Sears sets up huge canvases in earthy tones that depict the farmland beyond Francesca's kitchen and bedroom. Carolyn McPhee and Rob Watson add touches of grace and humor in their supporting roles as Francesca's watchful neighbors. Kaitlin Lawrence infuses Robert's recollection of his ex-wife with a sweet rendition of Another Life. Kurtis Overby ensures that scene changes are conducted with gentle balletic motions. And above all, the soaring lyrical melodies and harmonies of Jason Robert Brown's score (so reminiscent of Aaron Copland's majestic Appalachian Spring and so well-articulated under Josh D. Smith's musical direction) evoke the spirit of the heartland and its folk and the yearnings of two hearts.
In the end, Mr. Gorman's Bridges waxes rhapsodic the tear-stained Bridges that cross the streams of Madison County, Iowa and provide haven for two star-crossed lovers. Good enough.
THE BRIDGES OF MADISON COUNTY runs through May 13th at Arizona Broadway Theatre in Peoria.
Photo credit to Scott Samplin
Related Articles View More Phoenix

Stories

Shows