Review: Superb Cast, Serviceable Script Mark The World Premiere of ALL OUT OF LOVE, The Musical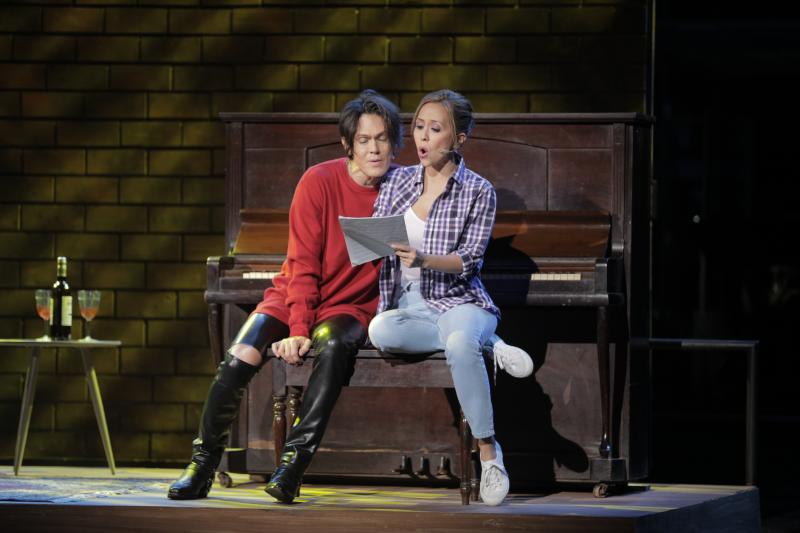 Manila, Philippines--Lonesome is the perch where this avid music fan must critique a genre consumed by a devout subculture. Musical taste is a subjective value, which ought to render all taste buds sacrosanct and perhaps left alone. The task is more involved when said genre becomes a basis for an international musical.
But inasmuch as artistic reviews are also rooted in personal taste, here's hoping for a fair and honest assessment of the ubiquitous sound of Air Supply--and the World Premiere of a musical inspired by the band's chart-busting songs, titled "All Out of Love, The Musical" now playing at Resorts World Manila.
For a legion of fans across the globe, Air Supply was a monumentally successful band in the '80s who defined a specific brand of rock ballad; and for millions of Filipinos, the band's influence reached across a generational divide. With due respect, Filipino masses remain powerless over the seduction of cheap ditties and toxic relations. Among our prominent quirks as a culture is the proclivity for playing mawkish music and for having our tired sentiments massaged in cheese.
Talk about a consummate emotional setting for the band's musical style. Is it any wonder the community has been quick to respond to the theatrical retelling of these venerable songs?
Dressed in stock chord progressions, an enduring melody, and a typically '80s synthetic arrangement (dashed with a customary electric guitar solo), the music of Air Supply tugs at the heartstrings of a vulnerable sap. Most lyrics convey the struggle to preempt any sort of meaningful self-reflection with a desire to languish in the karmic wheel of unrequited love--or sweet love gone rancid, pick your poison.
To be fair, the band is not alone in peddling such codependency (hey, there's a retro buzzword). Tune in to your favorite FM station and pay attention to those lyrics. Take your time.
"All Out of Love, The Musical" makes good business sense, as long as you're a theater company aiming for mass appeal. It's an artistic and philosophical question: How do you transcribe neurotic love into an enlightened theatrical piece that holds lovers to account before they can truly live happily ever after?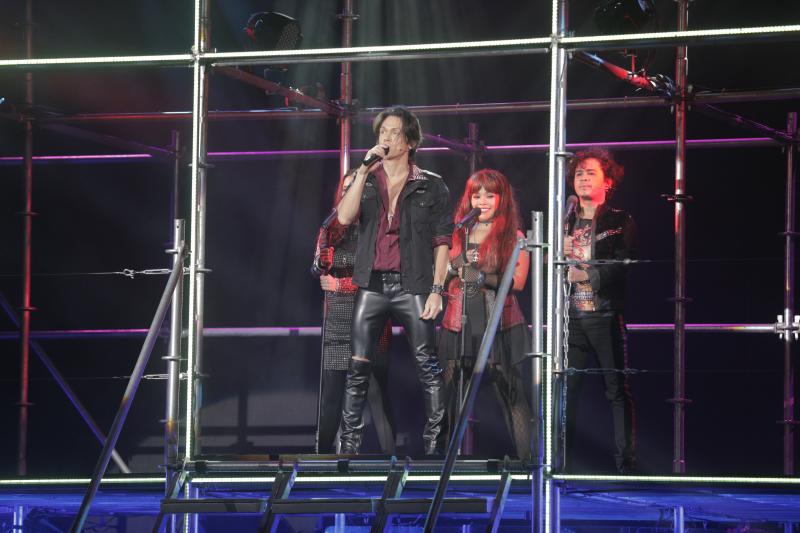 On that note, can we rely on the show to elevate the expectations of a hopeless title (one could think of better alternatives) and bring a transformative resolution built for the long haul?
Full House Theater Company, in collaboration with Ultimate Shows Inc. and Musical Management Asia Pacific, endeavors to solve that problem with an original book by Jim Millan, whose impressive background includes a long series of writing credits ranging from West End to Broadway and beyond. He boasts the comedic seasoning for crafting an engaging dialogue, tinged with brisk one-liners and sharp rejoinders. His characters are defined well enough to justify an otherwise obscure narrative within the song's lyrics.
Alas, talent can only go so far and no amount of rewrites can save a premise long submerged in mediocrity. But a certain amount of empathy is due on behalf of the cast assembled here. These are some of the elite performers in our industry, charged with the nearly impossible task of validating a production that has little to offer in musical substance. You can dress a rabbit with cute accessories from the finest pet store in town, but you must understand it's a superfluous exercise. It behooves you to leave the pet rabbit alone.
Lest you think I'm a snob, I find some of the songs catchy enough to have justified their indelible mark. "Lost in Love" deserved its fast rise to the top of the pop music charts: it's a tender love song and an honest appraisal of one's role in sustaining a functioning relationship. "Every Woman in the World to Me" appeals to those who've ever been jolted by the electrifying impact of romantic chemistry. But the band's homogeneous oeuvre doesn't hold water and it's a stretch to imagine it getting past the Asian market as a theater piece.
While we're on the subject of jukebox musicals, it's my hope that Manila gives this genre a good long rest. But for the sake of theatrical argument, Full House Theater Company's last production of "Ang Huling El Bimbo," which features the music of the Eraserheads, remains a model of a jukebox experiment worth developing. The difference here is clearly the Eraserheads' musical sophistication and storytelling wherewithal, an aspect noticeably absent from this outing.
Be that as it may, we have a cast of superb talents that elevated a serviceable script with a performance you'd expect from seasoned professionals. MiG Ayesa is a soulful presence as Jamie Crimson, a rock star on top of his game but is unable to move forward because of a broken heart. Bereft of inspiration, Jamie is poised to cancel a scheduled tour and risk his musical career because his mind is narrowed in on finding his beloved. MiG Ayesa is perfect for the role--and frankly, a lesser lead player wouldn't be enough to save this show.
Rayne is a rock star in her own right, the object of Jamie's lone desire and an enigmatic love interest played by Rachel Alejandro, who dishes the untouchable sass of an urban goddess not unlike Olivia Newton-John in her famously provocative "Grease" finale. We're not quite sure what part of the American South Rayne is from based on the twang she speaks with, but we'll buy it because Ms. Alejandro does a good job of selling it. And what she might lack in the singing of rock's harder edges, this fine lyric alto compensates with attitude; it's really a testament to Ms. Alejandro's acting versatility.
Tanya Manalang plays Stacie King, a recent Harvard Business grad who is back in New York City where she fancies herself as a record producer and a future partner to her mogul father, Tommy King (Raymund Concepcion). Ms. Manalang is a consistently strong performer; she gives Stacie King the giddy and never-quit disposition that alternately grates on people's nerves and saves everyone's day. She also aims to please her father, who waffles between taking his business to new heights and giving it up entirely.
Raymund Concepcion is well suited as the over-anxious father and record producer. He does a moving rendition of "Here I Am," a surprisingly heartbreaking homage to his departed wife, a number that features a rare, vulnerable moment for a guy who makes his living raging at other people. Rounding out the principal cast members is Jamie Wilson as Kurt Swinghammer, with a sleazy confidence that comes as a welcome contrast to the hyperactive scenes he saunters into. He is the only cast member without a musical solo, but loquacious he is-and boy does he own those entrances. He walks like he talks: an avuncular deviant who kills you slowly with his slimy charm and sweet empty promises.
Surround that cast with an equally talented ensemble and a solid band, put them up on a fabulous multi-level set, provide them with a first-rate creative support, and you just might get away with a middling repertoire beloved by a multitude. And entertain the audience they did; the crowd came in droves to be affirmed, and we know them to be a big part of the journey.
Judging from the rousing ovation last Saturday night, you might need no bigger payoff than that.
"All Out Of Love, The Musical" plays at the Newport Performing Arts Theatre, Resorts World Manila (10 Newport Blvd., Newport City Complex, Pasay City) now through October 28, 2018. Get your tickets (P1,800-P4,500) from TicketWorld.com.ph.
Photos: Musical Management Asia Pacific
| | |
| --- | --- |
| Vote Now for the 2022 BroadwayWorld Philippines Awards | |
| voting ends in | |
Born and raised in Cebu City, Robert Encila Celdran is a professional singer-actor and certified educator. A Fine Arts scholar from the University of Arizona, he is a veteran teacher of secondary a... (read more about this author)