The Media Theatre Presents Theatre Exile's TOMMY AND ME This August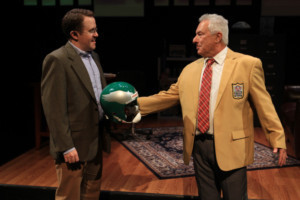 "Tommy and Me" was hailed as "unabashedly sentimental and sincere" by theatre critic Mark Cofta during its premiere at Theatre Exile. The play is an autobiographical account of a seminal time in Didinger's life as he assists his life-long hero, Tommy McDonald, reach the goal of being accepted into the Pro Football Hall of Fame.
Didinger said, "I heard from many people who did not get to see the play they hoped they would have another chance. Now they do! What is really gratifying, though, is hearing people say they saw the play and want to see it again. And that they are bringing a friend, their Dad, or someone along with them. Even non-sports fans have been touched by the show. It's a story that makes people feel good and that's a beautiful thing."
"Tommy and Me" had its first public reading in May 2015 by Theatre Exile of Philadelphia. The World Premiere was also produced by Theatre Exile under Deborah Block, Producing Artistic Director in 2016. The Media Theatre's presentation, August 8-26, will be the first time it has appeared in Delaware County.
The play's writer, Ray Didinger, was a sports columnist for the Philadelphia Bulletin and Philadelphia Daily News for three decades. He was named Pennsylvania Sportswriter of the Year five times. He was the first print journalist inducted into the Philadelphia Sports Hall of Fame. He won six Emmy Awards as a writer and producer at NFL Films. His documentary on the 1960 Eagles championship season won a Telly Award in 2011. He was the 1995 recipient of the Dick McCann Award for long and distinguished reporting on pro football. He is a 2017 inductee to the Broadcast Pioneers Hall of Fame. Ray is a graduate of Temple University and a member of the School of Communications Hall of Fame. He has authored 11 books. He is a talk show host on WIP radio and a football analyst on the Comcast Sports Network.
The show is all about Tommy McDonald, who was born in Roy, New Mexico. He was a wide receiver who was a third-round draft pick of the Philadelphia Eagles in 1957. An All-America choice at Oklahoma, he won the Maxwell Award in 1956 as college football's player of the year. A six-time Pro Bowl selection (1959-1963 and 1966), McDonald played seven seasons with the Eagles (1957-1963), one with the Dallas Cowboys (1964), two with the Los Angeles Rams (1965-1966), and one each with the Atlanta Falcons (1967) and the Cleveland Browns (1968). Now 82, McDonald currently lives in King of Prussia, Pennsylvania.
The director of the show is Joe Canuso, the Founding Artistic Director of Theatre Exile who has directed many of their shows including Ideation, Lost Girls, Who's Afraid Of Virginia Woolf?, Annapurna, A Behanding in Spokane, That Pretty Pretty, Mr. Marmalade, Red Light Winter, The Gin Game, Burkie, and Belmont Avenue Social Club, as well as the world premieres of RIZZO, Last Call, Amputation Nation, Cryptome, Big Blonde, Live at the Apollo Diner, The Frankenharry Plays, and Tommy and Me by Ray Didinger. He was nominated by the Barrymore Awards for Outstanding Direction of a Play three times and was named Best Director in 2009 by The Philadelphia Weekly for Blackbird. He was nominated as Best Director for a Phindie Award for The North Plan in 2013 and won in 2015 for Who's Afraid Of Virginia Woolf? He was part of Exile's Barrymore Award winning ensemble for Glengarry Glen Ross in 2007. And he has performed internationally in London, Prague and throughout Italy.
Bruce Graham was the script consultant for the show. Graham began his career as a playwright at the Philadelphia Festival Theatre for New Plays (PFT) in 1984 with Burkie. Graham became playwright-in-residence at PFT and later served two years as Artistic Director. He has received grants from the Pew Foundation, the Rockefeller Foundation, and was a past winner of the Princess Grace Foundation Statuette. He won the Rosenthal Prize for Coyote On A Fence. He has won consecutive Barrymore Awards for Best New Play (Something Intangible and Any Given Monday) and Chicago's Jefferson Award for The Outgoing Tide. He is the first American playwright to be invited two years in a row to the Galway Arts Festival, which produced The Outgoing Tide and Stella and Lou. Graham is a graduate of Indiana University of Pennsylvania. He teaches playwriting and film courses at Drexel University. In the past he has taught graduate level playwriting at University of Pennsylvania, Villanova University, and Rutgers. He has conducted playwriting workshops in high schools and colleges across the country.
The cast features Simon Kiley as Young Ray, Matt Pfeiffer as Ray, Frank Nardi Jr. as Young Tommy, and Tom Teti as Tommy.
The artistic team includes Set Designer and Lighting Designer Thom Weaver, Costumer Designer Katherine Fritz, Sound Designer and Original Music Michael Kiley, Props Master Flora Vassar, Video/Projection Designer Michael Long, and Script Consultant Bruce Graham.
Tickets are $30-40 and are available at mediatheatre.org or by calling The Media Theatre at 610-891-0100. "Tommy and Me" is scheduled for Wednesday, Thursday, Friday, and Saturday evenings at 7:30pm, as well as a Saturday matinee at 2pm, and Sunday matinees at 1pm and 5pm each week August 8-26.