Student Blog: Joe Iconis + Lauren Marcus at Two River Theater
I wasn't at the first Springsteen on Broadway show, I was somewhere better.
On Saturday, June 26th, crowds flocked to the St. James Theater to see the first in a series of encore performances of Springsteen on Broadway. Springsteen's shows mark the "return of Broadway" in a sense, seeing as they're some of the first performances to take place on a Broadway stage since March 2020. Other New York venues such as Feinstein's 54 Below have also recently reopened. This has all been very thrilling to read about, but since I'm not in New York City for the summer, I haven't quite felt the effects of this "return to normalcy".
That feeling changed this past Saturday. I was not in the audience of the St. James, since I'm not a huge Springsteen fan (and frankly, I don't have $300+ dollars to drop on a concert). No, I was somewhere better: Redbank, New Jersey to be exact. I was there for the second show in a series of concerts featuring Joe Iconis and Lauren Marcus (and special guests, which we'll get to in a minute). This show was part of Two River Theater's Plaza Players series, which takes advantage of their newly renovated outdoor plaza space.
I've written about Joe Iconis before. He's been a tremendous inspiration to me, and has had an enormous influence on my work. However, this was the first time I've gotten to see him live. I spent the week driving everyone I knew absolutely batty, talking about nothing but this concert. After traveling an hour and a half, and running into the man himself in a restaurant down the street from the venue (he kindly stopped to chat with my mother and me, which was absolutely lovely), I was ready for the show.
I had never been to a show at Two River Theater, but like any self respecting 2010s theatre kid, I knew it hosted the world premieres of Be More Chill and Love In Hate Nation, as well as other original musicals. I was ecstatic to be at a place I had so much respect for, to support artists I admired.
They started their set with a slate of original tunes from Lauren Marcus. I'm ashamed to say I wasn't familiar with much of her music before this show, but I sure am now. Her sound is unique and buoyant, and I was absolutely thrilled to find that most of her original songs are hosted on her Youtube channel. In particular, her song "Funeral" has been swirling about in my head since I heard it, and it's quickly become one of my new favorite pieces of songwriting.
Then, Iconis took over, singing a few of his songs solo on piano. Personally, I'm a sucker for hearing composers perform their own work in this style, so that was a really wonderful experience.
For each show in this series of concerts, Joe Iconis and Lauren Marcus, along with band members Eric William Morris (Guitar), Nygel D. Robinson (Bass), and Seth Eliser (Drums), are joined by several "special guests". For my show, they were joined by Jason SweetTooth Williams and George Salazar, frequent Iconis collaborators, and members of the original Broadway cast of Be More Chill. Williams performed the Iconis staple "Flesh and Bone (The Robot Song)", a personal favorite of mine, and one of the first Iconis songs I ever heard. I've seen numerous videos of him performing this song, but it was thrilling to see him perform it live.
Since Two River Theater is the birthplace of Be More Chill, they performed a few songs from that show, one of which being "Michael In The Bathroom". For those of us under say, 30, seeing George Salazar perform "Michael In The Bathroom" is on the same level as seeing Elaine Stritch sing "The Ladies Who Lunch", or Ethel Merman singing "Everything's Coming Up Roses". Personally, I got to see Be More Chill off-Broadway in the summer of 2018, and seeing George Salazar perform "Michael In The Bathroom" live was transcendent and emotional. I stand by that. All in all, it was a night full of joy and tears, and it's one I'll look back on with fond memories for years.
On a personal note, this was the first time since March 2020 that I had left the house to see a piece of art (multiple screenings of In The Heights notwithstanding). This was the first time I had sat in an audience to support living, breathing artists on a stage. And it was magical. My mom cried. I cried. And we're going again next week.

Joe Iconis and Lauren Marcus will be doing another run of shows from July 1st through the 4th at Two River Theater, with a new lineup of special guests. You can (and should, if you're able) get tickets here.
---
Join Team BroadwayWorld
Are you an avid theatergoer in Philadelphia? We're looking for people like you to share your thoughts and insights with our readers. Team BroadwayWorld members get access to shows to review, conduct interviews with artists, and the opportunity to meet and network with fellow theatre lovers and arts workers.
Interested? Learn more here.
---
| | |
| --- | --- |
| Vote Now for the 2022 BroadwayWorld Philadelphia Awards | |
| voting ends in | |
Related Stories
Michael Scuotto is a theatre journalist and musical theatre writer who began writing for BroadwayWorld as a student blogger in 2020. Born in Philly and raised in Brooklyn, Michael has spent his lif... (read more about this author)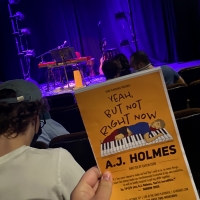 Student Blog: Yeah, But Not Right Now by A.J. Holmes

September 24, 2021

Yeah, But Not Right Now is a deeply personal exploration of Holmes' childhood and past relationships. It was also a meditation on the nature of performance in daily life. How much are we using our talents to find fulfillment in our day-to-day life? As an artist, this through line was particularly impactful to me. Holmes' stories are linked together by musical comedy songs, which allow for a showcase of Holmes' unique writing style. His comedic lyrics are complemented by his complex and gorgeous melodies.
---
Student Blog: Carving Out A Niche

September 9, 2021

Carving out your niche as an artist is difficult. As I think ahead to my career post-college, I'm realizing that goes double for musical theatre writers. There's not a gigantic market for original musical theatre. Unless you're adapting a recognizable property, or centering a star, it's not the easiest thing to get a massive audience invested in your musical.
---
Student Blog: Back on Campus

September 9, 2021

I'm extremely lucky to have all my classes in person (masked, of course). While I'm thrilled for each and every one of my classes, my theatre classes have been particularly exciting. The opportunity to be in a room again with other theatre makers has been magical. In just a few days, I feel like I've established a thriving community of artists and makers who are gonna take this privilege to do wonderful things. There's a sense of joy and excitement vibrating throughout the air, and I cannot get enough of it.
---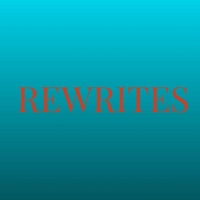 Student Blog: Rewrites

August 11, 2021

Rewriting can sometimes be tedious and arduous. At times, it feels like the joy has been seeped from the creative process. A lot of the work is very technical. There's less spontaneity and opportunity to revel in creative joy. There's also a weight on your shoulders: you're so close to finishing. Finishing the song, the draft, the script. You know the pure euphoria you'll feel upon completion. You know that with a little more elbow grease, you can make a hat where there never was a hat.
---
Student Blog: Can Theatre Be Back?

July 26, 2021

For years, my mother and I have volunteered as ushers at a local theatre. I know some of the folks who perform there, and it's a great way to see their shows for free. As soon as I stepped into the theatre, a surreal feeling washed over me. Standing in an actual brick and mortar theater was overwhelming. As I showed patrons to their (socially distanced) seats, I got more and more excited.
---