Metropolitan Ballet Academy Announces Guest Teaching Artists For THE BRIDGE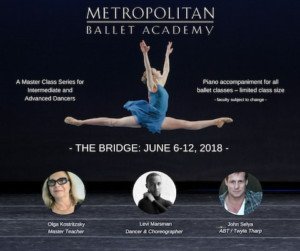 Intermediate and advanced dance students in the greater Philadelphia region will have a unique opportunity to learn with acclaimed guest artists John Selya, Olga Kostritzky and Levi Marsman during "The Bridge" master class series, presented by Metropolitan Ballet Academy (MBA) from June 6-12, 2018. The Bridge will be held at the MBA studios at 700 Cedar Road, Jenkintown, PA 19046.
MBA founder and Artistic Director Lisa Collins Vidnovic says, "We are thrilled to provide Metropolitan's student dancers as well as visiting students with the extraordinary opportunity to study with these three highly regarded artists. The Bridge has become an integral and very popular part of MBA's summer classes. As class sizes are limited, we encourage interested young dancers to register early."
Ballet instructors John Selya and Olga Kostritzky return to The Bridge by popular demand. Dancer and choreographer, Levi Marsman, is new to The Bridge for 2018. All ballet classes are taught with piano accompaniment. Classes for Intermediate students (levels 3, 3X, 4) will be held June 6, 7, 8, 11 and 12, from 4:30pm to 6:00pm and June 9, from 11:00am to 12:30pm; Advanced classes (level 4x, V, Adv) will run June 6, 7, 8, 11 and 12, from 6:00pm to 8:00pm and June 9, from 12:30pm to 2:30pm. Tuition for The Bridge is $175. For information and registration about The Bridge, MBA Summer Intensive, Children's Camp and M3 classes, call 215-663-1665, email collinsvidnovic@verizon.net or visit www.metropolitanballetacademy.com
About The Bridge Guest Artists
Native New Yorker John Selya trained at the School of American Ballet (SAB) from 1980-1988, where he received the Mae L. Wien Award for Outstanding Promise. Invited by Mikhail Baryshnikov to join American Ballet Theatre (ABT), Mr. Selya performed works created by Balanchine, Robbins, Tharp, and Mark Morris, Tetley, Kudelka and Kylian, as well as the classical repertoire, during his 11 years with the company. He also choreographed three works for ABT: Moondance, Disposition and Don't Panic. After joining Twyla Tharp Dance, the noted choreographer's touring company, Mr. Selya created and performed the central role of Eddie in Tharp's Tony Award-winning Broadway show, Movin' Out. His performance earned him a Tony nomination for Best Actor in a Musical, an Astaire award for Outstanding Dancing on a Broadway Stage, and a Theater World Award for Outstanding Broadway debut. Mr. Selya has also appeared as the Mambo dancer in "Damn Yankees," Scranton Slim in "Guys and Dolls" and Sid in Twyla Tharp's recent Come Fly Away. In 2008, Mr. Selya was an Artist-in-Residence at New York's Joyce SoHo, where he created two works: Tweaker and La Voix Humaine. In addition to appearing on stage, he also has performed in the films Everyone Says I Love You, Across the Universe and Romance and Cigarettes. Most recently, Mr. Selya directed the touring company of Come Fly Away.
Olga Kostritzky lives in New York City and teaches worldwide. She is a highly acclaimed Ballet Teacher/Ballet Mistress who served for 20 years as a faculty member at SAB, where she created and developed The Boys Program. Since 2009 Ms. Kostritzky has been a guest teacher and coach for the Novosibirsk State Opera and Ballet Theater. She has also served as Ballet Teacher/Mistress for Morphoses/The Wheeldon Company, founded by choreographer Christopher Wheeldon, and the 2007-2008 Vail International Dance Festival. Ms. Kostritzky received the Senate State of New York Award for her contributions to the arts and the Mae L. Wien Award for distinguished service to the art of ballet.
Levi Marsman is a Boston, Massachusetts native and his extensive training includes Boston Arts Academy, OrigiNation Cultural Arts Center, and Jeanette Neill Dance Studio as a scholarship recipient in their Boston Youth Moves Program. A graduate from the Walnut Hill School of the Arts (Ballet), Levi continued his formal training as a fellowship student at The Ailey School. He received his B.F.A. from Fordham University under the direction of Ana Marie Forsythe and the late Denise Jefferson, which lead to his formal invitation to join Ailey II by former director, Sylvia Waters. Levi's choreographic work has graced many institutions including the Walnut Hill School for the Arts, Sharron Miller Academy for the Performing Arts, Alexander W. Dreyfoos School for the Arts, Marygrove College's Institute of Music and Dance (Festival of Dance), Renaissance High School, Boston Youth Moves at Jeannette Neill Dance Studio and The Ailey School. His commissioned work includes Bitter? for Reed Dance in Pittsburgh, The Rite of Spring? for the Chamber Music Society of Palm Beach, Voices? for the Walnut Hill School for the Arts, Power? for the Ailey Student Performance Group and most recently Runaway? for Ballet Ecclectica at Center of Creative Arts (COCA) in St. Louis. Levi Marsman's awards include Contemporary Dance Silver Medalist of the 4th Seoul International Dance Competition, 2007 Young Professionals Awardee-Martha Hill Dance Fund and Best Performance at the 10th Annual Oakland Dance Festival in Michigan for his ballet, 'Round and 'Round We Go?.
Registration Now Open for Metropolitan Ballet Summer Intensive, July 9-August 10, 2018,
M 3 = Math x Music x Movement Summer Enrichment Program, July 9-13, 2018, and Children's Camps for ages 3-6
Metropolitan Ballet Academy's Summer Intensive half-day classes for beginner and intermediate students will be held July 9-20 from 9:30am to 12:00pm. Full-day classes for intermediate and advanced students run July 16 through August 10 from 9:30am to 3:30pm. From July 9-13, students may "warm up" with a class dedicated to ballet technique and pointe from 11:00am to 2:00pm. Students may enroll in single or multiple weeks; tuition varies depending on class level and length of enrollment.
MBA's Summer Intensive features M3 = Math x Music x Movement, a unique academic enrichment program for children ages 7 to 10, that may be taken exclusively or in addition to MBA dance classes. Students who will enter second, third or fourth grade in September can enroll in M3 which will be held July 9-13 from 12:30pm to 3:00pm. During M3 classes, children discover mathematical patterns through dance and music in a joyous and artistic venue. This innovative course is taught by Janet Blenheim, a former professional dancer, Japan Fulbright Scholar, and retired K-5 Math Department Head at the Upper Dublin School District.
MBA offers Children's Camps for even the youngest of dancers. Two dance classes, snack, craft and story-time will be held from 9:30am to 12:30pm on June 25-29 for students ages 3 & 4 and July 9-13 for students ages 5 & 6.
Related Articles View More Philadelphia

Stories

Shows
More Hot Stories For You