Interview: Performer Joshua Cruz Talks STOMP National Tour
The national tour of STOMP is making stops in Philadelphia, Morristown, Rochester, Clearwater, Kansas City, and more!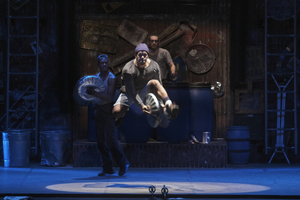 STOMP's percussive rhythms and electrifying performers have been wowing audiences for 30 years, and the stage phenomenon is currently making its way through the US on a National Tour! Blending dance and performance with music created using everyday objects, such as matchboxes, brooms, garbage cans, Zippo lighters and more, STOMP is a one-of-a kind experience you won't want to miss.
STOMP's next stop on its National Tour is at Philadelphia's Merriam Theater on the Kimmel Cultural Campus from Tuesday, December 28th - Sunday, January 2nd.
BroadwayWorld spoke with performer Joshua Cruz about his journey with STOMP, his favorite part about touring with the show, and much more!
For tickets to STOMP, CLICK HERE!
---
First, can you tell me about your background?
I started as a drummer, actually! I grew up in church doing drumming, and that's how I went ahead and later on got a chance to learn more about drumming. In church I had a guy named Ricky I would look at all the time, and I was interested in learning how to play the drum set. And that's how I started. Then, I went to school, I joined a band, and I also got a chance, due to my culture, to dance salsa. I loved dancing salsa on the weekends. So, when I wasn't playing drums in church, I was dancing salsa! And that's kind of how all those elements came together for me to do a tryout and join the show STOMP.
Very cool! How does it feel to be on tour with Stomp?
It feels great! This is my second year doing it. The first year, we didn't get to finish due to obvious reasons, there was a pandemic that happened. So, in March [2020], we got called to go back home. But this past September, we got a chance again to train and get conditioned and get back to it, get back to the rhythms, get back to being on stage with our other castmates, and to doing the show again! So, it's been a lot of fun. We've been going around the US right now, and our next stop is Philly!
Tell me what you do in the show!
There is dancing - but not everyone dances - there is drumming, we make music out of everyday objects, and there is no talking during the show. The castmates, we don't speak at all, there's no speaking lines, no scripts. The music is written. So, how we are, how we act on stage, is all improv. There's a lot of improv in the show, which is pretty interesting. I think a lot of people have seen the show before, or heard of it, or have at least seen a number called 'Brooms'. We start the show with 'Brooms', that's where we all come out and we greet ourselves. And then we go from there to doing other numbers.
There's a lot of different sounds that we have in the show, there's a lot of intricate sounds, the show is not a loud show the whole time. So, you won't have a headache during the show! There are moments where you get to lean in, to listen to what we're playing. It's going to be a lot of audience participation as well. And, that's how we roll! It's a great show, it's a really fun show.
I feel like a lot of people don't know that the show is a lot of improv.
We all play a character, I play a character called Doctor Who. He plays a comedic role, and he provides that comedic relief during the show. So does another character named Mozzie, he's one of the main comedians on the stage. We have the two girls, we have Cornish, she's kind of quirky. And we have another lady named Bin, she kind of holds it down for the women in the show. We also have a male called Sarge. Sarge is basically the conductor of the show, we go based on his rhythm, and on his dynamics within what he brings. We have Potato Head, Potato Head is Sarge's best friend! They go at it with the drumming. We have Ringo, he's a little more laid back. And we have Particle Man, Particle Man is a little fancy, he's doing a lot of the dancing, he's doing the flips.
So, bringing all that together, I think everyone can relate with at least one of those characters that's on stage. With no talking in the show, you see how these characters act, every show is different. The show that you would see on a Friday night is not the same show you would see on Saturday night. The music might be the same, but what happens- and how- on stage, is all improv. So, that's what keeps the show pretty fresh, even for us, the cast. One of my favorite things to do, especially because I play a comedic role, I like to break the other characters, I like to make them laugh. It's a fun experience. We also like to break the fourth wall and invite the audience to be a part of what we're doing. So, if we're clapping, you guys are clapping, if we're stomping, y'all are stomping. Whatever we do in any given time in the show, you get a chance to do it as well.
Building off of that, how has the audience response been? It's been such a long time since we could all be in any kind of space together, never mind a theater. So, what has the response of the audience been like?
It's 100% been a good response. I think we were the first show in New York City to reopen. So, that was a great moment for us as performers, because we've wanted to be creative for a very long time and coming back on that stage really made us happy again. For the audience, the audience keeps buying tickets! They really do enjoy the show. The show has been around for about 30 years now. The audience still loves the show, they love seeing what we do. One of my favorite moments is, if I'm not in the show, sometimes I'm in the back watching the show when I'm on tour. And I'll notice people. Once they leave, I'll notice kids tapping on things, I'll notice the audience clapping, and talking about the show. I love hearing what the audience reactions are. It's really fun to listen in, as a spy in the back! They really enjoy the show.
Absolutely, it's super gratifying, I imagine. How does it feel for you personally to be back performing live again after so long?
For me, personally, it's been good. It's been really good to be back on stage. It's been great to also be around the cast. It's great to be back on stage with the show, it's something I decided that I wanted to do, I went for the tryout, and now I'm back in it. Sometimes you forget and take it for granted, and when you don't do it for a while you wish you could go back to being back in the show. So it feels great to be back. And the times I wasn't in the show, I was watching videos of me being in the show, pictures of me being a part of the show. It feels good to continue my STOMP journey. I'm also a photographer, so I decided that in this tour I would take photos during the show for the cast. Because it sucked during the pandemic. Like you said, it's super gratifying knowing that we're back on sage again. We're excited to be back together as a group.
---
Join Team BroadwayWorld
Are you an avid theatergoer in Philadelphia? We're looking for people like you to share your thoughts and insights with our readers. Team BroadwayWorld members get access to shows to review, conduct interviews with artists, and the opportunity to meet and network with fellow theatre lovers and arts workers.
Interested? Learn more here.
---
Related Stories