Latest News on Veronica Garza
Latest News on Veronica Garza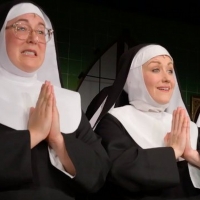 VIDEO: First Look at NUNSENSE at Milwaukee Rep
by Stage Tube - Nov 15, 2019
Milwaukee Repertory Theater presents Nunsense - a musical that has made millions laugh - in the Stackner Cabaret, November 8, 2019 - January 12, 2020.
STAGE TUBE: Watch Highlights of PUMP BOYS AND DINETTES at Theatre at the Center
by Stage Tube - Sep 30, 2016
Five Chicago actor-musicians made their Theatre at the Center debut in this production. Christine Mild as Rhetta Cupp, Shaun Whitley as Jim, Matt Holzfeind as Jackson, Matt Edmonds as L.M. and Cody Siragusa as Eddie are joined by Veronica Garza, who returns to the TATC stage to play Rhetta's sister Prudie Cupp. Directed by Brian Russell with musical direction by William Underwood, Pump Boys and Dinettes will continue through October 16.  Check out some songs from the show below!
BWW TV: How Very... Watch Highlights from Kokandy Productions' HEATHERS: THE MUSICAL
by BroadwayWorld TV - Mar 29, 2016
Kokandy Productions launches its 2016 season with the Chicago premiere of the dark 'mean teen' comedy HEATHERS: THE MUSICAL, based on the hit 1980s cult film of the same name, from the award winning-team of creative team of Kevin Murphy (Reefer Madness, Desperate Housewives) and Laurence O'Keefe (Bat Boy, Legally Blonde). Directed by James Beaudry, with music direction by Kory Danielson and choreography by Sawyer Smith, HEATHERS: THE MUSICAL will play now through April 24, 2016 at Theater Wit, 1229 W. Belmont Ave. in Chicago. Click below to watch highlights from the show!