Latest News on Tom Harris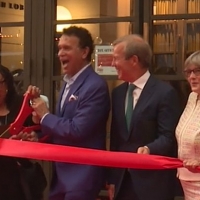 VIDEO: LACKAWANNA BLUES Celebrates Its First Broadway Preview!
by BroadwayWorld TV - Sep 15, 2021
Manhattan Theatre Club reopened its doors today with the first preview of Ruben Santiago-Hudson's Lackawanna Blues, which reopens MTC's Samuel J. Friedman Theatre!
BWW TV EXCLUSIVE: GYPSY OF THE YEAR - Original Cast of GREASE Highlights
by Robert Diamond - Dec 6, 2011
The opening number featured the original Broadway cast of Grease reuniting for a special 40-year anniversary tribute. Among the stars returning to the stage from one of the most popular musicals in Broadway history are Barry Bostwick (Danny), Carole Demas (Sandy), Adrienne Barbeau (Betty Rizzo), Alan Paul (Teen Angel/Johnny Casino) and Walter Bobbie (Roger). Also joining the opening number reunion are original cast members Don Billett (Vince Fontaine), James Canning (Doody), Daniel Douglas (Burger Palace Boy), Katie Hanley (Marty), Tom Harris (Eugene Florczyk ), Ilene Kristen (Patty Simcox), Joy Rinaldi (Pink Lady) and Mews Small (Frenchy). Grease, with book, music and lyrics by Jim Jacobs and WarRen Casey, garnered seven Tony Award nominations and played 3,388 Broadway performances before closing April 13, 1980.