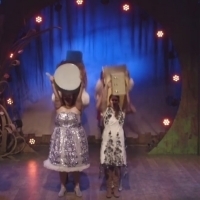 VIDEO: HEAD OVER HEELS at Kokandy Productions
by Stage Tube - Jul 18, 2019
Making its Chicago debut just six months after concluding its Broadway run, Kokandy Production's HEAD OVER HEELS is now open. HEAD OVER HEELS is co-directed by Kokandy's new Producing Artistic Director Derek Van Barham and Elizabeth Swanson, with music direction by Kyra Leigh and choreography by Breon Arzell. Check out video of the production!

VIDEO: Dani Shay Sings 'Bullet In a Gun' from New Musical About Transgender Soldiers, THE CIVILITY OF ALBERT CASHIER
by BWW News Desk - Jul 26, 2017
Permoveo Productions, in association with Pride Films & Plays, presents the world premiere production of The CiviliTy of Albert Cashier playing at Stage 773, 1225 W. Belmont Ave., August 31 - October 15, starring former Glee Project star and America's Got Talent Contestant Dani Shay. Watch Shay perform 'Bullet In a Gun' from the show below!