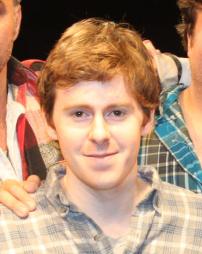 Bio:
Additional credits include: HereAfter Off-Broadway Theatre 80 Eddie, 2012 Silver Nitrate Off-Broadway Blue Heron Theatre Peter, 2004
(read complete bio)
Latest News on Pierce Cravens
STAGE TUBE: Behind-the-Scenes Look at Walnut Street Theatre's LOVE STORY
by Stage Tube - Sep 12, 2012
Walnut Street Theatre opened its landmark 204th season with the American premiere of Erich Segal's LOVE STORY, the musical. With direction and musical staging by Annabel Bolton, this emotionally charged production is a delicate story of life and love and opens tonight on September 12th and runs through October 21st on the WST Mainstage. BroadwayWorld takes you behind-the-scenes in the video below.
BWW TV: NYMF 2009 - PLAGUED
by Eddie Varley - Oct 9, 2009
THE NEW YORK MUSICAL THEATRE FESTIVAL and Kim Vasquez/ GRAY LADY ENTERTAINMENT, INC. team up again with this year's PLAGUED - A LOVE STORY with book and lyrics by VYNNIE MELI and music by CASEY L. FILIACI. Directed by SAMUEL BUGGELN (Bedbugs!) with musical direction by ZAK SANDLER.