Latest News on Johan Persson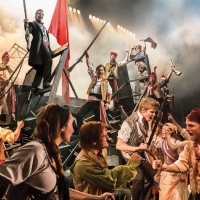 Twitter Roundup: Former and Current LES MISERABLES Cast Members Bid Farewell to the Original Production in London
by Stephi Wild - Jul 13, 2019
Today is the final performance of the original production of Les Miserables in London. Cast members past and present, as well as other well-known names on Broadway and the West End, took to Twitter to bid farewell to this iconic production, and share memories of their time in the show.

BWW TV: Watch An Exclusive Clip of Matthew Bourne's SWAN LAKE Ahead of Cinema Screening
by BroadwayWorld TV - Apr 15, 2019
Matthew Bourne's legendary and award-winning production of Swan Lake, which has returned to UK stages with a fresh look for the 21st century, will be screened in cinemas nationwide on 21 May. Watch an exclusive sneak peek below!
BWW Review: VOICES OF THE AMAZON, Latitude Festival
by Rona Kelly - Jul 16, 2017
What an introduction to Latitude: entering a world unlike anything you've seen or heard before. And I'm not even talking about the Faraway Forest. From Sister's Grimm, Voices of the Amazon immerses audiences in the sights and sound of the Amazon. However, despite stunning choreography, the production doesn't shout so much as whisper