Latest News on Ivan Turgenev
Latest News on Ivan Turgenev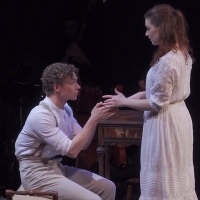 BWW TV: ABOUT LOVE Opens Tonight at The Sheen Center
by BroadwayWorld TV - Mar 4, 2020
Culture Project will present About Love, a new play with songs and music. With music and lyrics by jazz artist Nancy Harrow and script and direction by Will Pomerantz, About Love plays at The Sheen Center (18 Bleecker Street at the corner of Elizabeth Street, NYC) in the Black Box Theater. The official opening is Wednesday, March 4 at 7:30PM. About Love plays a limited engagement through March 22. Tickets are available online at OvationTix.com, by phone at 212-925-2812, or in-person at The Sheen Center box office Monday to Friday noon to 5PM and one hour before performances.
STAGE TUBE: Frederick Ashton's A MONTH IN THE COUNTRY, February 12, 1976
by Barnett Serchuk - Feb 10, 2013
A Month in the Country, considered one of Frederick Ashton's most affecting and beautiful ballets, premiered on February 12, 1976. Based on the late 19th-century play by Ivan Turgenev, the ballet tells the story of the hopeless love of Natalia, the bored wife of a wealthy landowner, for her son's tutor, Alexei, in mid 19th century Russia.
STAGE TUBE: Williamstown Theatre Festival Bids Farewell to 2012 Season with Jessie J Lip Dub!
by Stage Tube - Aug 17, 2012
As previously announced, the complete 2012 Williamstown Theatre Festival season closes this weekend, August 19, 2012. This season included Oscar Wilde's The Importance of Being Earnest, a Preview Production of the new musical Far From Heaven, and a new translation of Ivan Turgenev's A Month in the Country on the Main Stage, with Lucy Boyle's The Blue Deep, Neil Simon's Last of the Red Hot Lovers, Bernard Pomerance's The Elephant Man, and Katori Hall's WHADDABLOODCLOT!!! on the Nikos Stage. The season also included a special workshop production of David Byrne's Here Lies Love, which played at nearby MASS MoCA. In the video below, the whole WTF team bids farewell to the 2012 season with a special lip dub featuring over 200 participants. Click below to check it out!