Latest News on Dan Domingues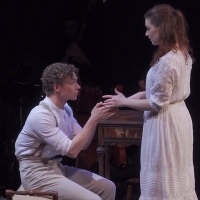 BWW TV: ABOUT LOVE Opens Tonight at The Sheen Center
by BroadwayWorld TV - Mar 4, 2020
Culture Project will present About Love, a new play with songs and music. With music and lyrics by jazz artist Nancy Harrow and script and direction by Will Pomerantz, About Love plays at The Sheen Center (18 Bleecker Street at the corner of Elizabeth Street, NYC) in the Black Box Theater. The official opening is Wednesday, March 4 at 7:30PM. About Love plays a limited engagement through March 22. Tickets are available online at OvationTix.com, by phone at 212-925-2812, or in-person at The Sheen Center box office Monday to Friday noon to 5PM and one hour before performances.   
STAGE TUBE: Watch Scenes from James Lecesne's THE MOTHER OF INVENTION at Abingdon
by Stage Tube - Feb 13, 2017
Abingdon Theatre Company presents a world-premiere play from author James Lecesne (Trevor) and director Tony Speciale - the playwright and director of The Absolute Brightness of Leonard Pelkey - in the June Havoc Theatre (312 West 36th Street). Off-Broadway performances run through February 26. Click below to watch highlights from the show!