Date of Birth: November 25, 1870
Date of Death: November 03, 1937 (66)
Birth Place: North Easton, MA, USA
Latest News on Winthrop Ames
Stage Credits
Productions
[Broadway, 1930]
Theatre Owner
[Broadway, 1928]
Producer
Director
[Broadway, 1927]
Producer
Director
[Broadway, 1927]
Producer
Director
[Broadway, 1927]
Director
Producer
[Broadway, 1927]
Producer
Director
[Broadway, 1926]
Director
[Broadway, 1926]
Producer
Director
[Broadway, 1926]
Director
Producer
[Broadway, 1924]
Producer
[Broadway, 1924]
Producer
[Broadway, 1924]
Producer
[Broadway, 1923]
Producer
[Broadway, 1923]
Producer
Director
[Broadway, 1922]
Producer
Director
[Broadway, 1921]
Producer
Director
[Broadway, 1918]
Director
Producer
[Broadway, 1917]
Producer
[Broadway, 1917]
Producer
[Broadway, 1916]
Producer
[Broadway, 1916]
Producer
[Broadway, 1915]
Producer
[Broadway, 1914]
Producer
[Broadway, 1914]
Producer
[Broadway, 1913]
Producer
[Broadway, 1913]
Producer
[Broadway, 1913]
Producer
[Broadway, 1913]
Producer
[Broadway, 1912]
Producer
[Broadway, 1912]
Producer
Theatre Owner / Operator
[Broadway, 1912]
Producer
[Broadway, 1912]
Producer
[Broadway, 1912]
Producer
[Broadway, 1912]
Producer
[Broadway, 1912]
Producer
Theatre Owner / Operator
[Broadway, 1912]
Producer
Writing
Playwright
Stage
Productions
[Broadway, 1930]
Theatre Owner
[Broadway, 1928]
Producer
Director
[Broadway, 1927]
Producer
Director
[Broadway, 1927]
Producer
Director
[Broadway, 1927]
Director
Producer
[Broadway, 1927]
Producer
Director
[Broadway, 1926]
Director
[Broadway, 1926]
Producer
Director
[Broadway, 1926]
Director
Producer
[Broadway, 1924]
Producer
[Broadway, 1924]
Producer
[Broadway, 1924]
Producer
[Broadway, 1923]
Producer
[Broadway, 1923]
Producer
Director
[Broadway, 1922]
Producer
Director
[Broadway, 1921]
Producer
Director
[Broadway, 1918]
Director
Producer
[Broadway, 1917]
Producer
[Broadway, 1917]
Producer
[Broadway, 1916]
Producer
[Broadway, 1916]
Producer
[Broadway, 1915]
Producer
[Broadway, 1914]
Producer
[Broadway, 1914]
Producer
[Broadway, 1913]
Producer
[Broadway, 1913]
Producer
[Broadway, 1913]
Producer
[Broadway, 1913]
Producer
[Broadway, 1912]
Producer
[Broadway, 1912]
Producer
Theatre Owner / Operator
[Broadway, 1912]
Producer
[Broadway, 1912]
Producer
[Broadway, 1912]
Producer
[Broadway, 1912]
Producer
[Broadway, 1912]
Producer
Theatre Owner / Operator
[Broadway, 1912]
Producer
Writing
Playwright
Winthrop Ames News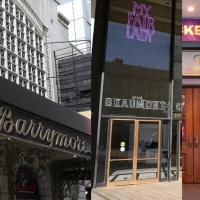 Which Four Broadway Theatres Are Named After Women?
by Taylor Brethauer-Hamling - Mar 26, 2021
We're looking into the history of each of these theatres, plus their namesakes Ethel Barrymore, Vivian Beaumont Allen, Lynn Fontanne, and Helen Hayes.
Photo Flash: Helen Hayes Theatre Celebrates 100 Years on Broadway
by Tyler Peterson - Mar 13, 2012
Martin Markinson and Jeff Tick are pleased to announce that Monday, March 12th marks the 100th anniversary of the Little/Helen Hayes Theatre (240 West 44th Street), which opened on March 12, 1912 with John Galsworthy's play THE PIGEON. The theatre is currently home to the smash hit musical Rock of Ages. A private centennial celebration at the theatre is confirmed for Thursday, May 24, 2012. Owners and employees gathered after Monday's performance of ROCK OF AGES to celebrate the theatre's great accomplishment. Broadway World brings you photos below.
Winthrop Ames Frequently Asked Questions
How many shows has Winthrop Ames written?
Winthrop Ames has written 1 shows including Mr. Samuel (Playwright).